Best Roko products in the Digital camera accessories category
On this page you'll find a ranking of the best Roko products in this category. To give you a quick overview, we've already ranked the most important information about the products for you.
1. Roko LNC10
Super short cable with LANC connectors at both ends. Approximately 10cm long and ideal for connecting remote controls to extension arms or extension arms to camcorders without a lot of cable clutter. 
2. Roko GR-01
Extra long toothed ring for telephoto lenses with extra large diameters up to 110mm or 346mm circumference. Attaches to the focus ring without tools and allows the focus to be pulled using Follow Focus.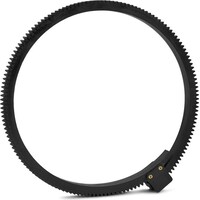 3. Roko UCC90II
20cm short cable with USB-C connectors at both ends, one of which is angled (90 degrees). Ideal for use in confined areas where a cable with a straight plug cannot be laid reasonably. Fast data transfer thanks to USB 3.2 gen 1, can be used to connect an SSD (e.g. Samsung T5, T7) to a BMPCC 4K, 6K or 6K Pro.