Best Gadget Monster products in the Gaming power supply category
On this page you'll find a ranking of the best Gadget Monster products in this category. To give you a quick overview, we've already ranked the most important information about the products for you.
1. Gadget Monster Gadgetmonster Controller Mobile Gaming 2000 mAh Powerbank - Black
The mobile phone gaming mount gives you two extra trigger fingers that you can control using the controller. The built-in fan cools your hands and smartphone when it gets too hot. Plug in your phone and charge it with the built-in powerbank when the battery capacity is running low and you can't tear yourself away from the game.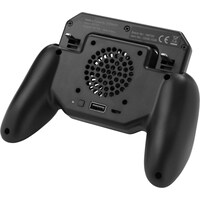 Gaming power supply
Gadget Monster Gadgetmonster Controller Mobile Gaming 2000 mAh Powerbank - Black