Best Concept products in the Waffle irons category
On this page you'll find a ranking of the best Concept products in this category. To give you a quick overview, we've already ranked the most important information about the products for you.
1. Concept Gofrownica VF3040 CONCEPT
Moc [W]: 1000| Ilość gofrów: 2 | Kształt gofrów: protokąt| Kolor: stal nierdzewna + czarny.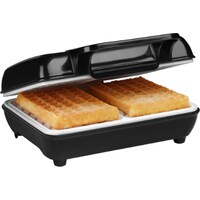 2. Concept VF3050
Testas.
Greitas ir skanus užkandis
Bet kuriuo paros metu ir visomis progomis atsiras gofrų fanai. Ne tik saldžių variantų meistrai, bet ir sūrūs bei pikantiški skoniai bus patenkinti. Tai kodėl tu neužsisakai to kvepiančio ir kvepiančio skonio, kai tik nori? Naudodamiesi 1200 W galios VF3050 grioveliais, galite juos paruošti akimirksniu.

Nepritvirtintos plokštės
Plokštelės turi aukštos kokybės neprilipusį paviršių, todėl jos neužsidega ruošiant vaflius, o paskesnis valymas yra labai greitas ir lengvas.

Techniniai parametrai:
Šildytuvai su Belgijos gofrais
Šildymo signalinė lempa
Termostatas
Neprilipdomas plokščių paviršius
Paprasta priežiūra
Vartojamoji galia: 1200 W
Įtampa: 220 –240 V.