Best Catrice products in the Nailcare products category
On this page you'll find a ranking of the best Catrice products in this category. To give you a quick overview, we've already ranked the most important information about the products for you.
1. Catrice Magic Repair Berry Nail Oil
For double the manicure fun: The CATRICE Magic Repair Berry Nail Oil has two phases and provides intensive nail repair with the help of nourishing ingredients. The weightless texture is enriched with strawberry seed oil, sweet almond oil, macadamia oil and glycerine to moisturize, nourish and regenerate the nails and cuticles.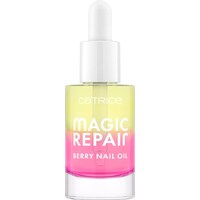 2. Catrice Nail Repair Cuticle Remover
The perfect preparation for the manicure at home: The Nail Repair Cuticle Remover helps to remove cuticles quickly and gently. The transparent texture nourishes and moisturizes with glycerin and aloe vera juice.