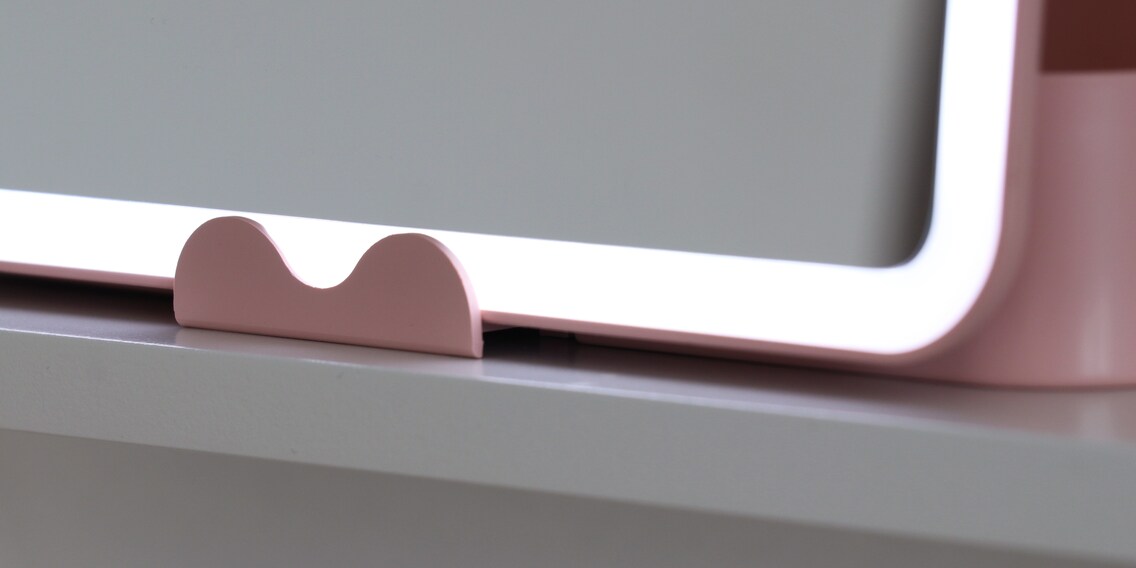 A mirror with benefits?

Natalie Hemengül
Zurich, on 02.09.2021
Translation:
Jessica Johnson-Ferguson
Mirrors have just one job. To reflect my reflection. But a few extras can't hurt, right?
Mirrors are like toothpaste. They're means to an end and not something the shopaholic in me gets excited about. However, the model Ailoria did pique my curiosity. Not only because it's pink – the dominant colour at my place – but also because it has more to offer than just the reflection of my face. At least that's what the product description says.
But what sets apart plastic «Belle» from your standard cosmetic mirror?
Built-in beauty light
This self-proclaimed beauty reminds me of a small tablet and is equipped with an LED frame. It's a cold, white beauty light that lights up my face when I'm putting on makeup or plucking my eyebrows in a dimly lit room. A USB cable and USB adapter are included to charge the battery. The mirror is switched on and off by lightly tapping the light bulb icon on the mirror. My first impression of this feature: weak! I wish it were a little stronger. Or at least adjustable.
Adjustable holder and storage
What's way handier than the light is the storage box with its retractable holder. While I can keep bits and bobs or beauty stuff in the box, the holder lets me prop up the mirror or my smartphone. A very practical feature when you're trying to follow beauty tutorials.
The mount has seven settings that change the angle of the mirror as needed. You can also fully retract it and use the mirror as a lid to cover the storage box.
I've got to admit, «Belle» is more than just decoration. But is it worth spending almost 60 francs for a few extra functions? Hardly. I'll stick to my standard cosmetic mirror with its one and only reason for existing: to mirror.
---



Natalie Hemengül
As a massive Disney fan, I see the world through rose-tinted glasses. I worship series from the 90s and consider mermaids a religion. When I'm not dancing in glitter rain, I'm either hanging out at pyjama parties or sitting at my make-up table. P.S. I love you, bacon, garlic and onions. 
---
These articles might also interest you
Skeleton Loader

Skeleton Loader

Skeleton Loader

Skeleton Loader

Skeleton Loader

Skeleton Loader