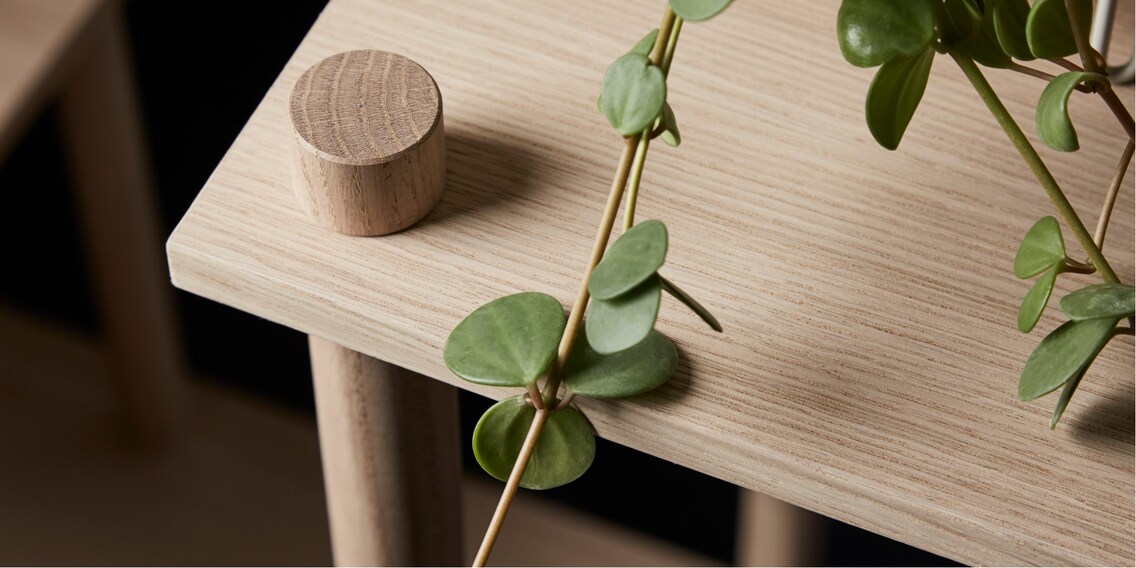 Form follows function: these are the best open shelves – in my opinion

Pia Seidel
Zurich, on 24.02.2022
Translation:
Julia Graham
Design is about more than just what objects look like. It's also tied in with their purpose. This is part of a regular feature where I compile my ten favourites to style your room – that also happen to be practical. And this month we're looking at open shelving units.
[[small:This is the second episode of the «Form Follows Function» series, where I present well-designed furniture from A to Z.
A simple shelf provides so many opportunities. You can attach it to the wall to store or display things on. But equally, it can stand on its own. As a room divider, it separates the room like a screen would but without eating up too much light. The design will also determine how you use your shelf. I've compiled ten models. Five of them stand out for their function, while the other five are the winners of form with their eye-catching designs.
Function
1. Shelving Unit
Whether you use it as a kitchen cabinet or screen replacement, House Doctor's «Shelving Unit» won't fail you. The all-black iron frame is so neutral that you can pair it with a variety of other styles. And as it looks the same on both sides, it's also perfect as a room divider. With its four wheels, the shelf can be moved in no time and easily kept in place thanks to two lockable wheels. What's more, it has a rod on the outside for a roll of kitchen towel or for hanging plants as well as five mango wood shelves. There's plenty of space for tableware, boxes or DIN A4 size files. On the other hand, if you're looking to store smaller books, less space between the individual shelves would be better.
2. Legacy
BePureHome
Legacy (123 x 45 x 220 cm)
The «Legacy» shelving unit from Dutch brand BePureHome is also a stylish cabinet. It's made of powder-coated steel and wood. You can still see parts of the wooden texture exposed beneath the matt finish. Within the unit there are three closed compartments with folding doors, while another houses two drawers. The cabinet doors are perfect for protecting possessions from dust or making them disappear out of sight altogether. Meanwhile, the side walls protect things like books from falling down. Small things fit in the drawers, while big things go on the top shelves. However, these top shelves can seem a bit oppressive in small rooms because of the dark surfaces. It would have made more sense to put the compartments with cabinet doors further down. This is where the height-adjustable legs come into their own if you live in rooms with uneven flooring.
3. Hochstapler
Tojo
Con man set (76 x 32 x 75 cm)
Tojo's classic, a basic module made of wood in white or grey, can be built as high as you like using stackable modules. All without screws or pegs. The sides of the modules are milled out so that they fit on top of each other when stacked and there's no slipping. You can also customise with shelf accessories. For example, an insert that divides a shelf into six to store small things or doors. This makes the design perfect for anyone who has a secret stash. Thanks to the slots on the side, Tojo's design is easy to manoeuvre. But for my taste, it's not so elegant.
4. Variant
Vtwonen
Venceslao (100 x 31 x 220 cm)
If you're looking for a more understated design, the «Variant» shelving unit by the Dutch brand Vtwonen fits the bill. It slots seamlessly in front of a white wall and looks less chunky than other models because of its base. It would make a perfect filing cabinet in your study or work just as well as a bookcase in your living room. There's also a wider version with two high and two low parts. That way you can use it to fill an entire wall.
5. Relaxdays bookcase
The word «relax» in the name of this furniture brand is fitting when it comes to this shelving unit. It ensures you can sit back and chill out. The bars on the back of the free-standing shelving unit protect the wall, which is always a plus in rented flats. They also stop books and DVDs (if you still have any ;) ) from falling down the back of the unit. The bamboo in this shelving is appealing. Compared to metal frames, this wooden unit adds a touch of warmth to the room thanks to the texture of the grain. That being said, it's more in line with country house or boho style than the clean chic of concrete builds.
Form
1. Elevate
Woud
Elevate (120 x 40 x 78.5 cm)
«Elevate» from the Danish brand Woud lets you take your interior to a new level. You only need pegs to add more modules to the shelving unit. Its smooth-shaped rods on the sides provide a different take on classic models that come with corners and edges. This is what makes this unit stylish and playful.
2. Zep
«Zep» is well-designed and collapsible. This means if you move or are hosting a children's party, you can easily create more storage space. When it's opened up, it lends warmth to any room thanks to the bamboo design. The recesses on the top shelf may be small but they're still classy. They create a fantastic pattern that comes into its own in front of a light wall. The only drawback is that the shelving unit doesn't quite have enough storage space.
3. Valued
BePureHome
Valued (90 x 30 x 196 cm)
There's a small but subtle difference. Namely that the shelves on the «Valued» unit are particularly thin. That alone makes it more stylish than your run-of-of-the-mill shelf. Individual rods at the front and back create a geometric pattern that makes the whole unit eye-catching. It's also worth noting that the design doesn't require any screws or pegs. Instead, the individual steel parts are welded together. However, this has its disadvantages as it means you can't disassemble it when you move.
4. Class
The interesting mix of wood and brass is the first thing you notice about the «Class» shelving unit. The second thing is the unusual shape. Each of the individual shelves extend far beyond the brass frame. The latter edges the shelves so elegantly that it looks like they're floating. This classic look gives the impression that the shelves are made of expensive cherry or mahogany wood. When in fact, they're MDF boards (medium-density fibreboards) with an acacia wood veneer.
5. Stories
Umage
Serena (110 x 35 x 148 cm)
Alongside its four changeable shelves, the «Stories» shelving unit by Danish furniture manufacturer Umage also boasts a round edge board that acts as a platform for items you want to highlight and display. It also features a notch for storing small items and brass-finish legs. Moreover, Umage offers matching pieces to go with the oak shelving unit that's also available in dark brown. For instance, you can add three matching Viennese braid or felt baskets.
Survey
Which piece of furniture should I introduce next?
The competition has ended.
PS Follow my author profile so you never miss another «Form Follows Function» article.
Header image: Woud"
---



«There are only two ways to live your life. One is as though nothing is a miracle. The other is as though everything is a miracle. I believe in the latter.»
– Albert Einstein
---
These articles might also interest you
Skeleton Loader

Skeleton Loader

Skeleton Loader

Skeleton Loader

Skeleton Loader

Skeleton Loader