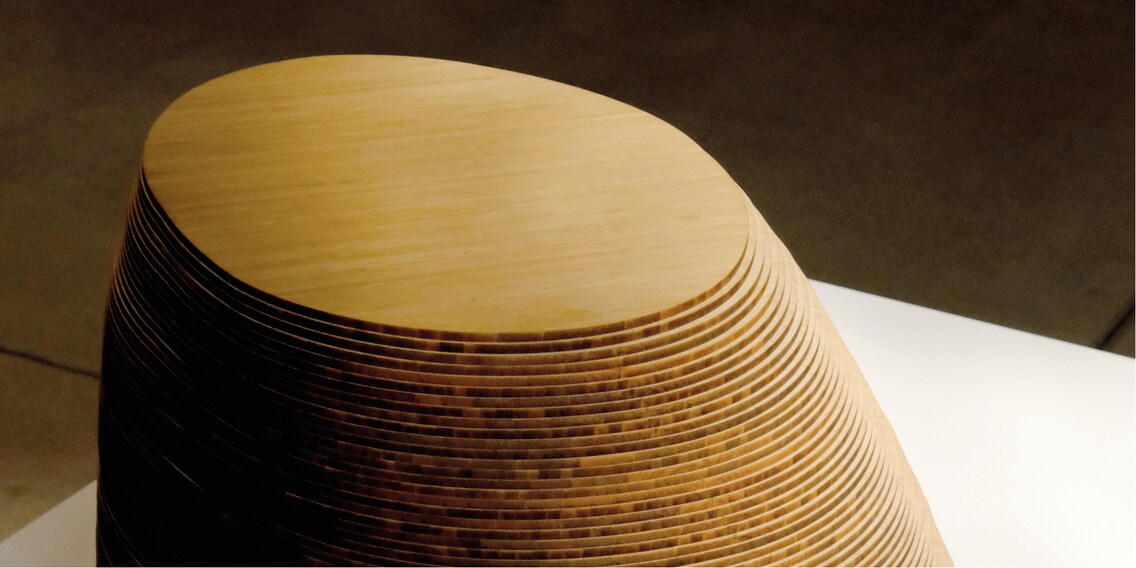 Hollow, but substantial: furniture by Daan De Wit

Pia Seidel
Zurich, on 14.04.2022
Translation:
Megan Cornish
The material for it has always been there, but no one noticed. Daan De Wit makes solid furniture from veneer. His pieces are completely hollow.
Since its invention, veneer has been used to produce furniture as economically as possible and visually enhance lower quality wood. But what else can be done with it? This is the question pursued by interior architect and designer Daan De Wit. He took a closer look at the processing possibilities of veneer and developed a technique that turns the delicate decoration into a tough mass.
Starting from scratch
«You know that we are living in a material world – and I am a material girl.» When Madonna sang these lines in her hit single «Material Girl,» it was kind of cool to glorify the consumer world. Today, we can no longer afford this naivety in the face of ever scarcer raw materials. Not the materials the 27-year-old Belgian uses, but still. He turned his ignorance into a resource.
During his studies, Daan questioned the conventional use of veneer and found a way to build hollow but robust objects from the wafer-thin wood. He founded his own label shortly afterwards in 2019 and presented his first collection at the Milan Furniture Fair last year, where I was able to ask him about his work.
Small to large
The tables in the Stratum series rise layer by layer from a veneer panel made from fast-growing bamboo. Like a timeline. It's made by hand: «Every smaller part comes from a larger one, so every centimetre of the surface is used,» Daan explains. Using lasercutting, he cuts the 5 millimetre thin veneer into pieces and then reassembles them until they form a conical object – like an ice cream cone, just not quite as pointed.
Using this technique, Daan neither uses a lot of materials nor creates a lot of waste, and he uses glass for the tabletop to show the cavity. He forms organic objects to keeps their natural character. «Depending on the perspective, my furniture always looks different. It shouldn't necessarily merge with interior spaces.»
«I want to create a solid sculpture, almost a creature in space, that stands on its own.»
In fact, Stratum tables look like they're from another planet. They were showcased in an old brick building during the furniture fair, but they could just as easily have come from a Star Wars film. Nevertheless, they aren't lacking in functionality, and neither are other designs that he's created according to the same principle. Weeks later, in our video chat, Daan shows me a chaise longue in his studio. He also tells me that many designers prefer to hide the side that the laser cuts. For him, however, the dark areas make the furniture special.
The designer currently makes all the pieces himself. «I only order as many panels as I need for a project and one extra in case something goes wrong.» There's no volume discount for such a small quantity of materials. That and working by hand mean that his design pieces don't come cheap. We're talking four digits, depending on the model. I ask him whether he has considered expanding his concept: «I know that I could make it easier for myself if I ordered more and wider panels. I would be quicker to add on each individual layer. But that doesn't fit with my motivation as a designer. I want to prevent overproduction and prefer to make long-lasting furniture.»
Less is more
For Daan, good design is when he can support the idea, the material and the process. The designer hopes that this mindset will prevail among the public, although he currently only shares his furniture with a small group of design collectors who can afford his pieces. «My work is exclusive and more expensive than Ikea, but making things locally and in small batches is better for the environment.»
Although the designer invented hollow furniture, he would love to see others develop the concept and make it more inclusive. As long as he's still recognised as the one who had the original idea, he's happy with the attention. And he'd be delighted if Madonna updated her lyrics to: «I am a «Veneer Girl» and we all started signing from the same hymn sheet.
Who are the people who are always on the lookout for better design solutions? Who thinks up a new chair or table although there are thousands upon thousands of them already? In this series, I'll introduce you to them. Follow me for the next article.
---



«There are only two ways to live your life. One is as though nothing is a miracle. The other is as though everything is a miracle. I believe in the latter.»
– Albert Einstein
---
These articles might also interest you
Skeleton Loader

Skeleton Loader

Skeleton Loader

Skeleton Loader

Skeleton Loader

Skeleton Loader