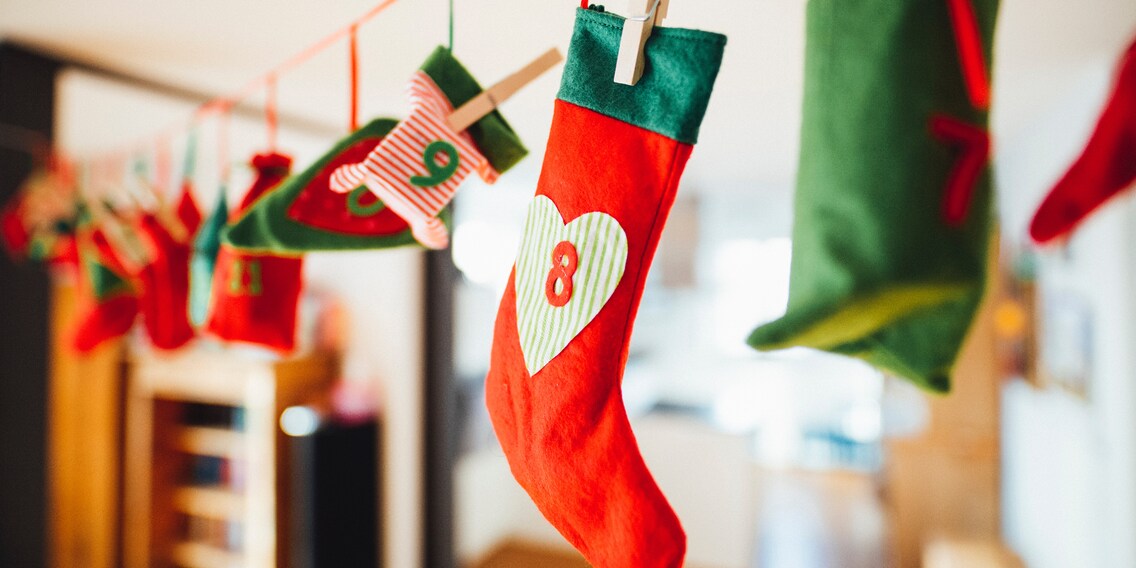 I love the festive season – but not before summer has even ended

Oliver Fischer
Zurich, on 16.09.2021
Translation:
Megan Cornish
The last days of summer are here – and here at Galaxus, people are already buying advent calendars. Already?! You can't just skip the golden days of autumn and dreary November and get on with creating an advent atmosphere. It's a major bugbear of mine.
As of 16 September, it's 99 days until Christmas – well, 24 December, so Christmas Eve. Not Christmas, which is only on the 25th. And the 26th. OK, enough splitting hairs. The point is: I like Christmas. And I love advent. I'm an entirely unreligious atheist and think the whole «birth of Jesus Christ, son of God fantasy story» is total humbug – albeit great storytelling. However, advent and Christmastime are still a wonderful time for me. A warm, fuzzy feeling washes over me from my first sight of the Christmas market, and the scent of gingerbread wafts through the house as we all bake together. I don't find buying presents stressful anymore; I see it as a great opportunity to think about the interests, hobbies and passions of my family and friends.
But that's no reason to buy advent calendars in September. Having said that, advent calendars are currently extremely in demand at Galaxus. Our sellers might like it, but it makes me doubt people's state of mind.
After all, it's still summer. And we still have the golden light of autumn to come, which is the best time of the year in terms of food and fashion. Then comes gloomy, wet, grey November, which brings the mood down and lays the foundation for the warm-hearted glow of advent. All of these stages have to be completed before you can enjoy advent and the festive season to the fullest.
I can't go straight from my last dip in an outdoor pool to Christmas. I mean, c'mon!
Nine advent calendars from product hell
Anyway, my annoyance about such despicable disregard for the sensible order of advent led me to look at the advent calendars in our shop. Without applying any filters, there are 682 products. Don't get me wrong, I've got nothing against advent calendars. I carefully fill one for my daughter every year and also enjoy one with my wife – one with good chocolate or a beer tasting version, for example.
So, I scrolled past LEGO, Playmobil, Barbie and Ravensburger calendars, which certainly look impressive, and stumbled across some crazy stuff. Honestly, I can't and wouldn't want to imagine which marketing bod thought up such a psychedelic thing under the influence.
The product description reads: «Mini Mouse advent calendar with 24 high-quality licensed figures and accessories». Yeah, right. For just over 30 francs, you get 24 high-quality accessories. «Minnie Mouse likes to have fun, is independent and self-reliant.» Yeah, right: purple hair clips, pink hair bands, pink shoelaces, a plastic key ring. So self-reliant. So independent. What a load of rubbish.
Have you heard of the Ehrlich Brothers? I hadn't. When I saw their Magic Ehrlich Brothers advent calendar for merely 39.80 francs (correct as of 15 September), I took a look at their YouTube channel. They have 64,000 subscribers and some of their videos have been watched over a million times, including packed football stadiums and semi-innovative illusions. But really, guys, 24 magic tricks for 40 francs?! That's not magic, it's nonsense.
Every parent's nightmare: a calendar containing 24 slime putties. Need I say more? The slimy mass sticks in the nooks and crannies of your bathroom, kitchen and bed in no time and turns into dust-covered monsters. To put it in the words of former world-class basketball player Dikembe Mutombo: «Not in my house.»
24 moments of mindfulness
I don't really understand this advent calendar. What exactly do I get? I can only guess, but my feeling is 24 round notes with esoteric sayings à la Paulo Coelho.
And now a calendar from the field of personal development drivel – this time specifically for men: «24 spiritual impulses, as short as they are incisive, accompany you through the pre-Christmas period and challenge you again and again to reflect on the essential.» Where could these quotations have come from? Jordan Peterson, Donald Trump or another embodiment of toxic masculinity? It sounds terrible in any case.
Not even advent calendars are safe from cat content these days…
This year's award for the biggest load of marketing bullshit in the product description goes to the 140-franc coloured paper Weihnachtskolorit calendar, which offers nothing more than 24 single-coloured sheets of paper.
«When the festive season is sweetened by stollen and marzipan, the mind seeks clarity. Aesthetes like things minimal – that's where this wonderful, linguistically creative advent calendar comes in. Each day, you'll receive a new colour with a name that gradually builds the Christmas mood. The Weihnachtskolorit features wide-ranging contrasts and colourful hues, from «potato dumpling yellow» to «rouge» and «mixed nut brown». 24 colours that never fade and successfully counter any zeitgeist. Soft shades, familiar nuances and timeless hues – every day from 1 December until Christmas Eve. This is the inspiring tear-off calendar for all lovers of stylish design and creative language.»
I'd really like to know which agency Christmas meal resulted in this cringeworthy crime against advertising copy – I mean, mixed nut brown and potato dumpling yellow. Honestly, it breaks my writer heart.
Wherever there's shadow, there must also be light
I admit that I actually scrolled through all 682 advent calendars, but I didn't by any means click on every single one or battle through the product descriptions – even my powers have their limits. The selection above is therefore subjective and far from comprehensive. But I think I managed to pick out a few real gems. But feel free to disagree with me – or add to the list.
For example, I left out a whisky tasting calendar from 2019 (which should hardly make any difference to the quality of the whisky) and a pocket knife that's incorrectly listed in the shop database.
​​
24 doors till Christmas...
What's your stance on advent calendars?
Chocolate is a must! I need my daily hit.
I don't really care what's inside. I just love opening the doors and being surprised.
DIY all the way! The only true advent calendar is one you make yourself.
Physical advent calendars are a no-no. I open my doors online.
Advent calendars for couples are the way to go. No explanation needed.
It's not my thing, I just buy them for my kids.
The competition has ended.
Of course, I did come across some cool calendars among the odd catastrophe, and a lot that simply left me cold and didn't interest me in the slightest.
And, to be truly honest, I have actually discovered a good reason to start thinking about advent calendars early: delivery times. There are a lot of calendars that you'd better order sooner rather than later if you want to be sure they'll be with you by 1 December.
These include – and this is where I'll end – the calendar that I have to order three of: one for my daughter, one for my wife and one for me – we LOVE Die Maus:
---



Globetrotter, hiker, wok world champion (not in the ice channel), word acrobat and photo enthusiast.
---
These articles might also interest you
Skeleton Loader

Skeleton Loader

Skeleton Loader

Skeleton Loader

Skeleton Loader

Skeleton Loader