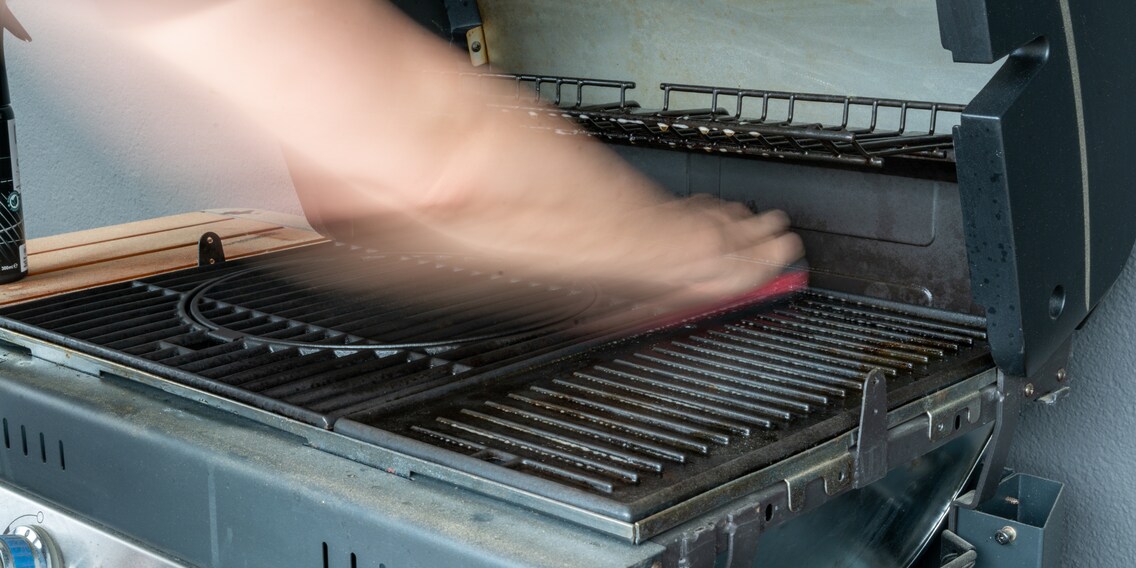 Scrub, brush, wipe, repeat – I spent two hours cleaning my barbecue

Oliver Fischer
Zurich, on 26.05.2022
Translation:
Katherine Martin
As a keen cook, I keep my kitchen pretty clean. Barbecuing, though? That's another story ... Mine hasn't had a good clean since last summer. After a two-hour cleaning marathon, even my wife is willing to let me grill something up for her again.
In order for a balcony barbecue to fire into action on a regular basis, it can't be too far from the kitchen. I'm still looking for the exact formula for a couple of variables, namely the fridge-to-balcony-door distance and the beer-warming coefficient. But I suspect it has something to do with the number 42. One thing's for certain: at my flat, the barbecue and the balcony are too far from the kitchen for me really to have regular barbecues. It's hardly surprising that I'm no barbecue maintenance poster boy.
However, some time around the beginning of this year, our buyers suggested giving a member of the editorial team a barbecue cleaning set to try out – I jumped at the chance. After all, the last time my triple-burner gas barbecue got a basic clean was in the hazy Covid summer of 2021. So, it was high time to restore the cooking grate, warming racks and underside of the hood to their former glory. Armed with a Weber cleaning set for steel barbecues, a bucket of lukewarm water and a heap of old cloths, I plunged into the sticky, burnt on, coal-streaked task.
Here's what the cleaning set includes
As the saying goes: business over pleasure. Well, before you can get down to business, you've got to open the cleaning set. What does Weber think you need to give your barbecue a decent clean?
Here's what:
2 steel brushes 2 sponges 1 scraper 1 mini brush 1 microfibre cloth 1 cooking grate cleaning spray 1 lacquer cleaning spray 1 anti-stick spray 1 set of cleaning instructions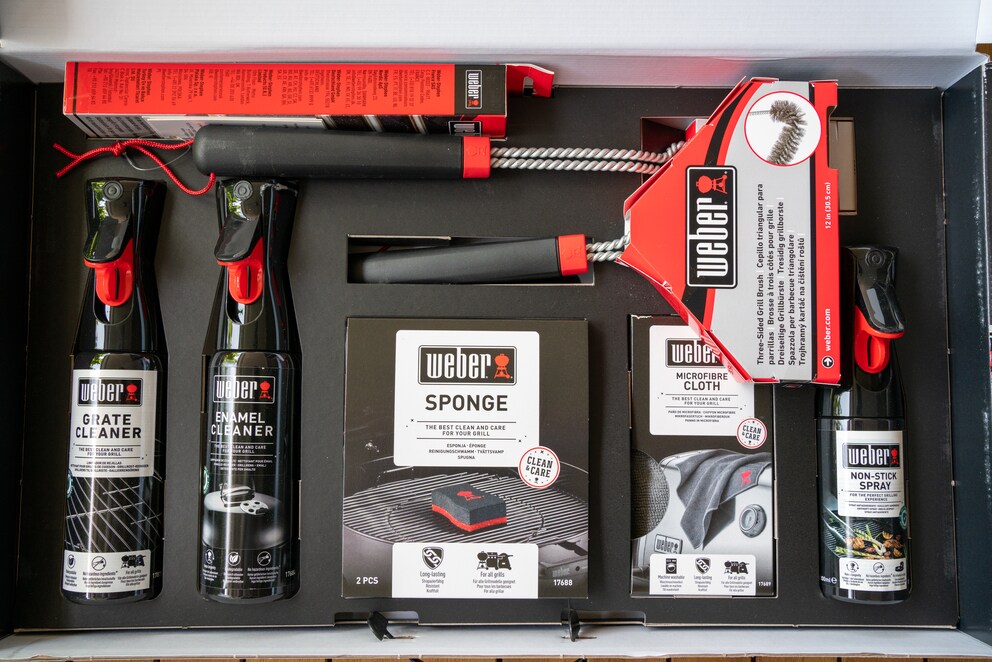 Time to tackle the grease-laden grate
I don't think the grill looks that filthy at first glance. But on the more thorough second and third glances, I have to admit that with all the grease spots and charred residue of who-knows-what, it wouldn't exactly inspire your appetite. So I roll up my sleeves and start tackling the grease, closely following the Weber instructions the whole time.
First, I take the triangular, steel brush and give the grill's metal bars a decent scrub. This doesn't take too long, and it's soon time to apply the cooking grate cleaning spray. Unfortunately, it doesn't say anywhere how much spray I'm supposed to use. So, I'd better go for the generous option:
Leave it to soak for 30 seconds, then give it a good scrub with the sponge. I don't know if it's a question of the sponge, the cleaning agent, my scrubbing strength or whether I've just waited too long to clean the barbecue, but I need to repeat some steps twice to defeat the last of the greasy stains.
Little by little, I work my way through the instructions, spraying, scraping, scrubbing and rinsing. And there you have it – the most meticulous, most thorough possible clean of the grill surfaces, underside of the hood, burners and grease tray. Then comes a layer of anti-stick spray on the grill surfaces to top it all off.
Verdict
I skip some steps in the instructions because some of them involve brushing and spraying bits that my non-Weber barbecue doesn't have. So I've no need at all for the brush which reminds me of an oversized toothbrush.
I also only need the microfibre cloth, which is designed for buffing the hood until it shines, because I've followed the instructions to the letter. Any damp rag and any dry cloth would produce exactly the same result.
The elongated steel brushes are for cleaning the burners. On one hand, I don't really see the need to brush the burners, as both my barbecue and every Weber model are protected against grease and other splatters. On the other hand, I can jump in with the other brush whenever it's called for.
I guess I sprayed way more of the cleaning agent onto the various surfaces than would otherwise be necessary. After this particular job, there's only enough liquid left in the bottle for three, more modest cleaning sprees.
The instructions say that it takes 90 minutes to clean a barbecue, which sounds about right. Although I was at it for about two hours, that also involved constantly taking photos, checking my progress and repeating steps. I think 90 minutes for a first-time clean is realistic with scrupulous planning. Depending on how often you do it, you'll need considerably less time after that.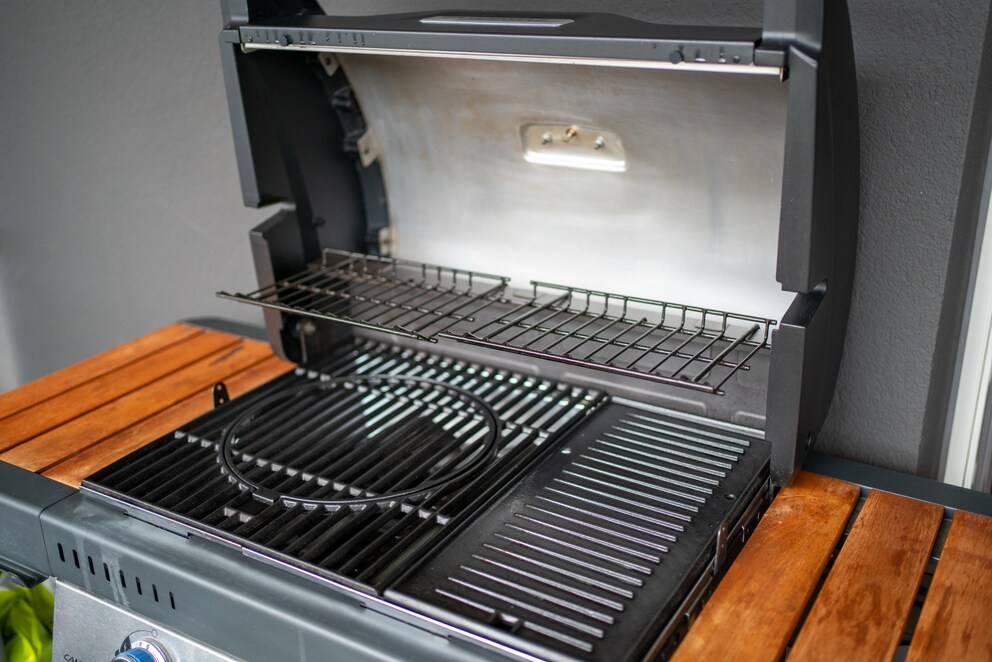 I can definitely say that my barbecue hasn't been this clean in a long time. Probably not since it was first used early in the summer of 2018. However, I still maintain that I don't need the entire set to achieve this result. My clear must-haves are the triangular steel brush, the scraper, the sponges, the cooking grate cleaning spray and the anti-stick spray. The elongated steel brush is nice to have, but not absolutely necessary. And the superfluous stuff? I'd say that's the microfibre cloth, small brush and lacquer cleaning spray.
So, will I be using my barbecue more frequently than the last two summers? I doubt it. After all, my kitchen and my barbecue are still too far apart from each other. Until I've brought all the variables into an equation equalling forty-two, my barbecue will be confined to its role as a bulky-pollen catcher on my balcony. But lift the hood, and it's ready for action any time.
---



Globetrotter, hiker, wok world champion (not in the ice channel), word acrobat and photo enthusiast.
---
These articles might also interest you
Skeleton Loader

Skeleton Loader

Skeleton Loader

Skeleton Loader

Skeleton Loader

Skeleton Loader