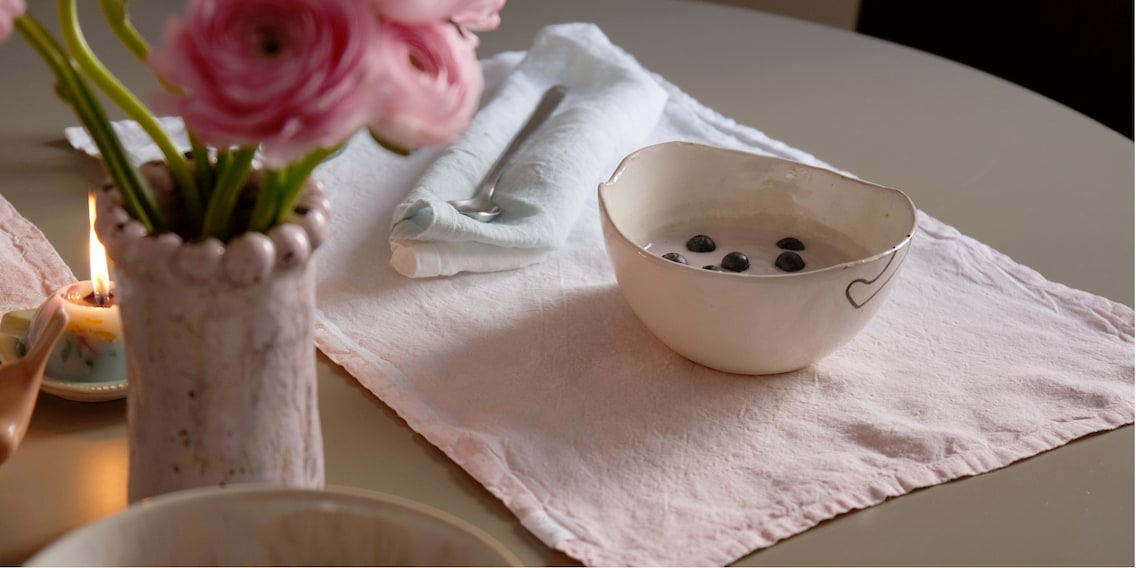 Table sets that tickle your taste buds

Pia Seidel
Zurich, on 30.03.2021
Translation:
Octavia Hurst
I was full and yet still hungry. Until I came across old-fashioned place mats.
Plaid, solid coloured or embroidered with flowers – you can still find them in secondhand stores. Complete table sets sorted by colour and carefully put on hangers like pants. All this for little money and most models look like new. That's exactly what I was looking for when I recently went to the Brockenhaus – or thrift shop – in Zurich. To be honest, I've always found place mats a bit old-fashioned and apparently others have too. Otherwise, they wouldn't have ended up there. But since the lockdown, my taste in interior design has been changing.
Now that almost every meal is eaten in my dining room rather than in the canteen or restaurants, I've grown tired of my grey table. I'm hungry for a change. I'm in the mood for unknown dining tables and restaurant visits. There, I could briefly dive into another world. But you can't now. Nonetheless, I'm inspired. That's why a new look is needed in the dining room. I already own two sets. Thanks to my visit to the thrift shop, I now already own three.
Accessories are the easiest way to make furniture and rooms look different. Blogger Blanca Miro proves that. She shows lots of great table settings on her account called «À table!». Always using the same table. The same goes for Home Director Helena Agustí Sanahuja of the design label «Vasquiat». Whether a bright mixture or only very few colours; both create a feast for the eyes with their beautifully arranged place mats. So beautiful it changed the minds of people like me.
Actually, I thought tablecloths or place mats were unnecessary. Sure, they can save the table from one or two stains, by soaking them up and then never letting go of them, despite washing. But now, fabric on the table is more than a stain guard for me. It's fun to dine with them. I come up with something new for every meal. Sometimes I combine minimalist tableware with dip-dye place mats made of linen fabric. Or I convert pages from old magazines into mats before they end up in the waste paper. To the great delight of my guests. It makes every meal seem more festive, I often hear.
What's also nice about the place mats is that all the loose things strewn around get a permanent place. They bring visual calm and it's easy to set accents through them. I just put them under a vase instead of plates and the flowers are in focus.
Being available in secondhand stores in great numbers may be evidence that place mats are currently unpopular. But once you've acquired a taste for them, any empty table will seem boring. I have now satisfied my eyes' appetite for variety. Thanks to place mats.
Place mats
What do you think of them?
old-fashioned
delightful
The competition has ended.
Click here to see place mats – Bon Appétit.
---



«There are only two ways to live your life. One is as though nothing is a miracle. The other is as though everything is a miracle. I believe in the latter.»
– Albert Einstein
---
These articles might also interest you
Skeleton Loader

Skeleton Loader

Skeleton Loader

Skeleton Loader

Skeleton Loader

Skeleton Loader