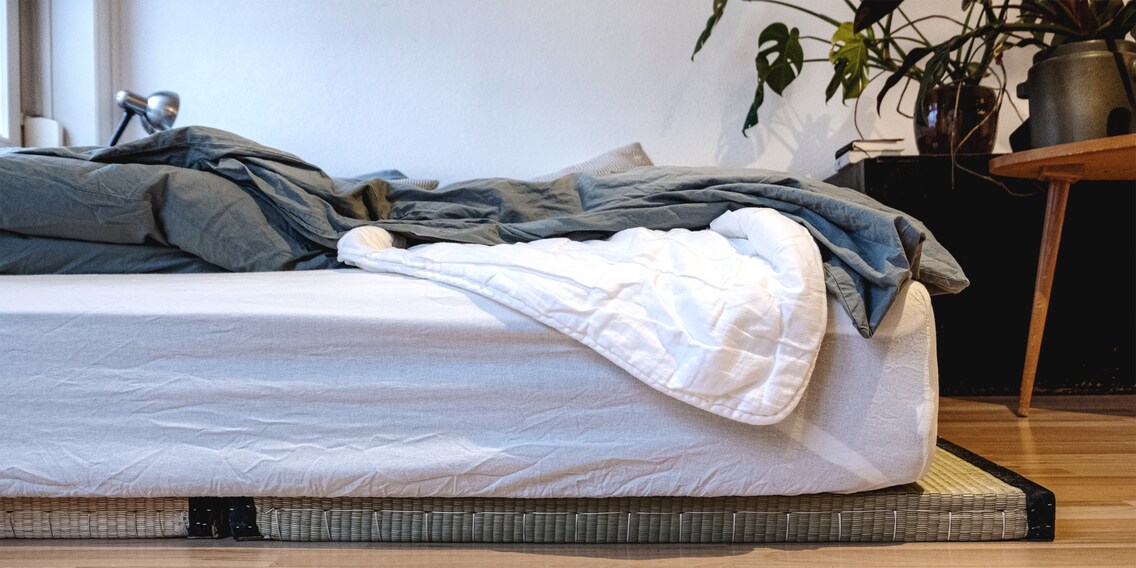 The bamboozlement in my bed

Carolin Teufelberger
Zurich, on 06.01.2022
I've been sleeping with a natural bamboo blanket for a good year now. Well, that's what I thought. Apparently, there is quite a bit of chemistry involved in this so-called «natural» blanket.
Until recently, I was using a thick down duvet from my childhood bedroom. I didn't have any reason to invest money in a new one, even though it was too warm for me. I have trouble replacing things that still work. And above all, I find it difficult to make shopping decisions. When I go clothes shopping, for instance, I sneak past an item forty times, pick it up, hang it back – that's before I've even tried it on. When I wanted to buy a table, my friend had to take a coffee break with me so that I could let all the information and models I'd seen sink in.
A year ago, however, I decided to look for a new duvet. When it comes to heat points, one or two are enough for me. That corresponds to a light duvet. There are many options: Polyester, camel hair, stone pine flakes, hemp and many more. I decided to go for bamboo.
Natural or not?
Bamboo sounded the most sustainable to me, as almost every (alleged) eco-substitute product is made from this material. Moreover, bamboo grows incredibly fast. Moso bamboo, for example, grows almost one metre a day. Because of this quality, bamboo was even used as a method of torture: the person to be tortured was placed over a bamboo shoot, which then pierced through the victim's body within a few days, causing unbelievable pain that could lead to death. Among others, this method was used in Japan during World War II. Let's turn to more positive things: bamboo symbolises many beautiful things in various cultures. In China, for example, it stands for long life. In India, it symbolises friendship.
I'm afraid the textile industry and I, at least as far as my duvet is concerned, are not going to become friends. I feel ridiculed. The bamboo fibres are actually bamboo viscose fibres. That's a big difference. With viscose fibres, only the starting product, cellulose, is natural. Then various chemicals such as sodium hydroxide, sulphuric acid or carbon disulphide are added one after the other to obtain a viscous (hence the name) liquid, which is then processed into filament and finally spun into fibres. The result? A product that isn't natural at all. I only found this out when I closer look at the label because I wanted to wash the blanket.
## Misleading use of eco buzzwords
This fact isn't mentioned or is whitewashed in many product descriptions on Galaxus, as well as on the manufacturer's pages. Confusing words such as «natural product», «sustainable» and «Oekotex 100», a certification that merely states that the product doesn't contain any substances that are harmful to humans, are used. Yes, bamboo itself is natural and also sustainable, as it grows fast. But the viscose fibre is neither of these. For the sake of ethics and transparency, it would be nice to point this out.
Here's an example: when I look at the duvet «Bernina Uno» by Billerbeck, I only find out on the manufacturer's page that the filling is bamboo viscose. And even on this page, this detail is hidden at the very bottom of the page, after the duvet has been put in the «natural» category.
I want to make sure I don't hide any details either: yes, the environmental impact of bamboo is good. It offers large harvests with little land and water consumption, its resilience means that no fertilisers or pesticides need to be used and it binds a lot of CO₂. However, the bad news is the plant's main producer: China. This means both long transport routes and rather poor social standards. The impact of this isn't as major as with other plants, as bamboo cultivation isn't as industrialised as other agricultural goods and is often based on small farms. But viscose production also often takes place in China. And the working conditions in the factories don't meet European standards.
So the so-called regenerated fibres that are in my duvet are not all bad. I really like sleeping under them and they're better than synthetic fibres. Unlike polyester, no petroleum is needed to produce them. Having said that, there is an environmentally friendly process for producing viscose that relies on the organic compound N-methylmorpholine-N-oxide. But do the product details reveal if this process was used to produce my or any other bamboo blanket's fibres? No. If you want to be sure, look for «natural bamboo fibres». These don't contain any chemicals.
Johann Jakob
Luna Vegan (650 g, 160 x 210 cm)
However, I will continue to cover myself with my bamboo viscose duvet that I bought under false pretences. Knowing me, we'll all be sleeping in ice-cold stainless steel containers before I've decided on an alternative.
---

Carolin Teufelberger
My life in a nutshell? On a quest to broaden my horizon. I love discovering and learning new skills and I see a chance to experience something new in everything – be it travelling, reading, cooking, movies or DIY.
---
These articles might also interest you
Skeleton Loader

Skeleton Loader

Skeleton Loader

Skeleton Loader

Skeleton Loader

Skeleton Loader