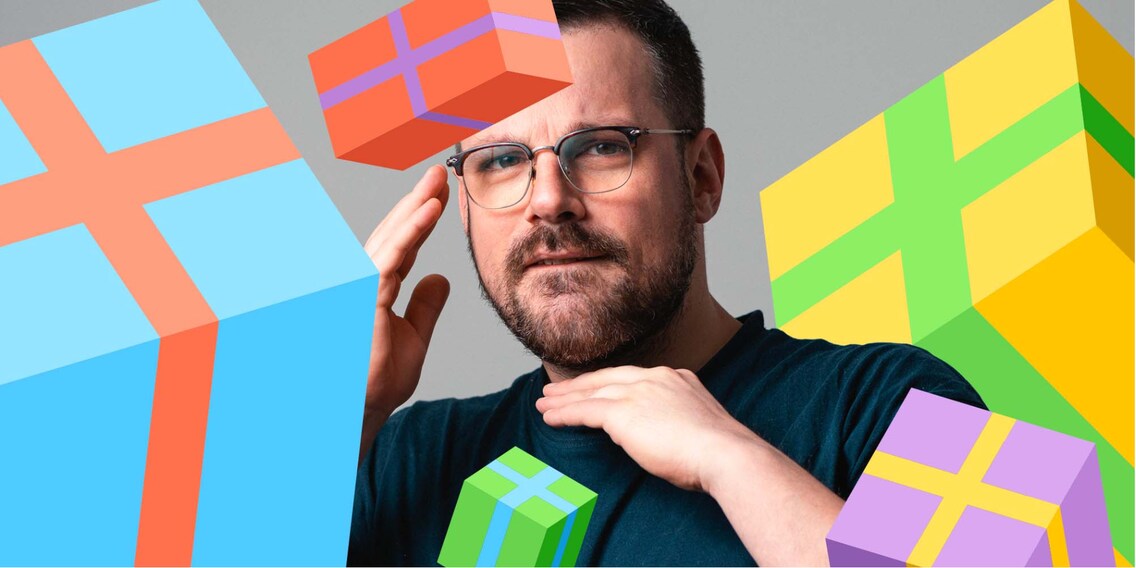 Tips from our editors: kitchen gadgets for people who have everything
Simon Balissat
Zurich, on 07.12.2021
Translation:
Julia Graham
Anyone who thinks they're a bit of a whiz in the kitchen usually already has all the important and not so important appliances. Which begs the question, what on earth should you get them for Christmas? Here are seven ideas.
«You've got everything there is, even a designer colander,» chorused Olli Dittrich and Wigald Boning in the 90s as part of their «Die Doofen» (The Stupids) outfit. In the song, they end up giving the person they're talking about a house made of brawn.
As it happens, it's difficult to find the right present for budding cooks. They usually have everything you could possibly need in a kitchen – even the aforementioned designer colander. So, think of my present tips as supplements or substitutes for their already impressive collection.
1. Mandoline
Not the string instrument, no! I mean the classic amongst the «market crier» products: graters. My V grater lasted more than ten years; now I'm attached to this DeBuyer one. It's huge and nothing slips out of place. That explains how this mandolin also manages to do a good job with carrots and other hard vegetables. Would I recommend it? Absolutely.
2. Tajine
Anyone who fancies themselves a dab hand in the kitchen is likely to have a whole host of pans. If they have the full works, from die-cast aluminium frying pans to stainless steel woks, they're tricky to buy presents for. But if they've never been to Morocco on holiday, a tajine is the perfect present. This Moroccan earthenware pot is ideal for stews, above all its namesake meal, «tajin». But it works just as well for ratatouille, as well as coq au vin.
3. Vacuum sealers
Disclaimer: I've tested multi-use vacuum bags and they've not worked. They're too quick to take on the colour or aroma of the meals that have been vacuum-packed in them. And then you end up having to throw them out. What's more, the vacuum seal on the bags doesn't always work. That's why I'd recommend getting a proper vacuum device that you use with normal disposable bags instead. Not something for the zero-waste fans in your life. Sorry. But it's a much easier way to shrink-wrap leftovers, ferment food and do low and slow cooking.
4. Kitchen tongs
Tongs are my favourite tool to use in the kitchen. Mine come in all shapes and sizes, from barbecue tongs to wooden tongs and tweezers. A kitchen can never have too many tongs, which is what makes them such a foolproof present.
5. Electric pasta maker
I have a Mercato Atlas, which I bought for 49.90 francs in «Vilan». That's what the «Manor» in Baden was called until 1994. In other words, this pasta maker is indestructible. Whether I'm making ravioli, lasagna or ramen, I use my Atlas at least once a month. It also acts as a workout for my right arm. It's no surprise then that my dream would be to find a motorised version of this model.
6. Mincer attachment
For this gift, you'll need to have a bit more information to hand – specifically if the person owns a KitchenAid. If they do, this is the attachment you'll want to get. It works wonders chopping up and processing vegetables as well as meat.
7. Microplane
This is another device that's a must in every kitchen – there's no harm in getting two, or even three of them. Microplane is perfect for citrus fruit and Parmesan. What's more, it comes in lots of lovely colours.
My colleagues in the editorial team have also shared their tips for Christmas gift giving. Find an overview here:
---
Simon Balissat
When I flew the family nest over 15 years ago, I suddenly had to cook for myself. But it wasn't long until this necessity became a virtue. Today, rattling those pots and pans is a fundamental part of my life. I'm a true foodie and devour everything from junk food to star-awarded cuisine. Literally. I eat way too fast. 
---
These articles might also interest you
Skeleton Loader

Skeleton Loader

Skeleton Loader

Skeleton Loader

Skeleton Loader

Skeleton Loader