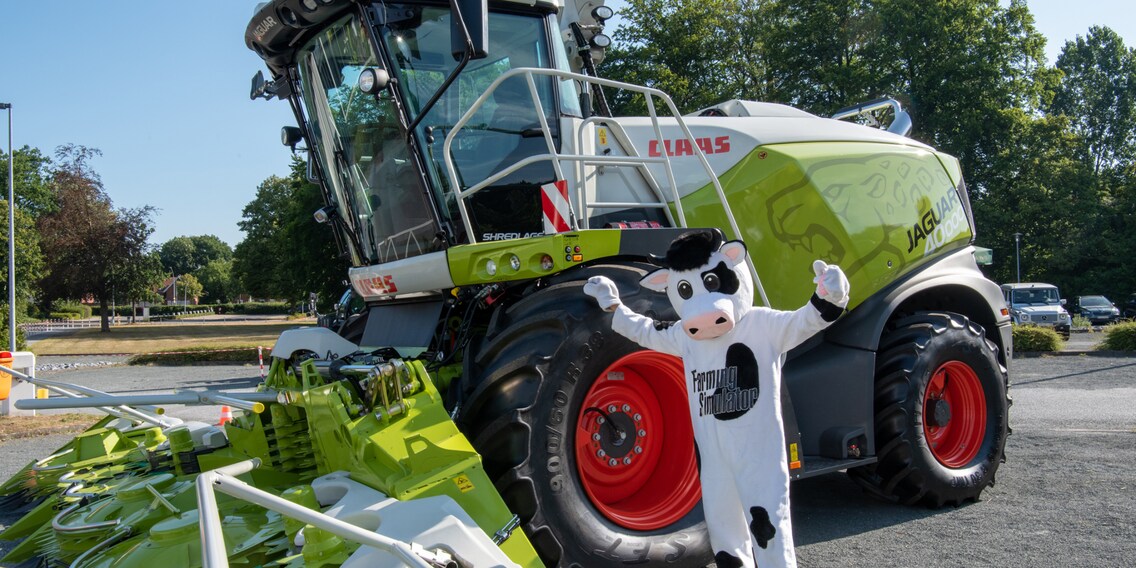 «Watching the wheat grow in real time wouldn't benefit the fun factor of the game.»

Philipp Rüegg
Zurich, on 03.08.2022
Translation:
Jessica Johnson-Ferguson
Is «Farming Simulator» more game or more simulator? And how much do its developers know about agriculture? I asked the crew at Giants Software.
«Farming Simulator» is the oldest and most popular simulator of its kind. It's kept Zurich-based developer studio Giants Software on a road to success since 2008. Millions of players around the globe chug about on virtual fields in their tractors and harvesters. To keep the experience realistic but not too realistic, Giants Software relies on insider knowledge.
Is there much collaboration between Giants Software and the farming industry?
Martin Rabl, Head of Marketing & PR at Giants Software: When it comes to introducing machines to the game, we need to see them in action first. We're in touch a lot with manufacturers and farms.
«If you had to connect all the cables on every trailer, it might be fun only the first time around.»
How much do you all know about farming?
This used to be on the extreme side back in the day. When the company was smaller, our first programmers were from that line of business. So either farmers themselves or related to someone who was. Now that the team's larger, it's also more mixed. We need to keep a balance between fun gameplay and farming.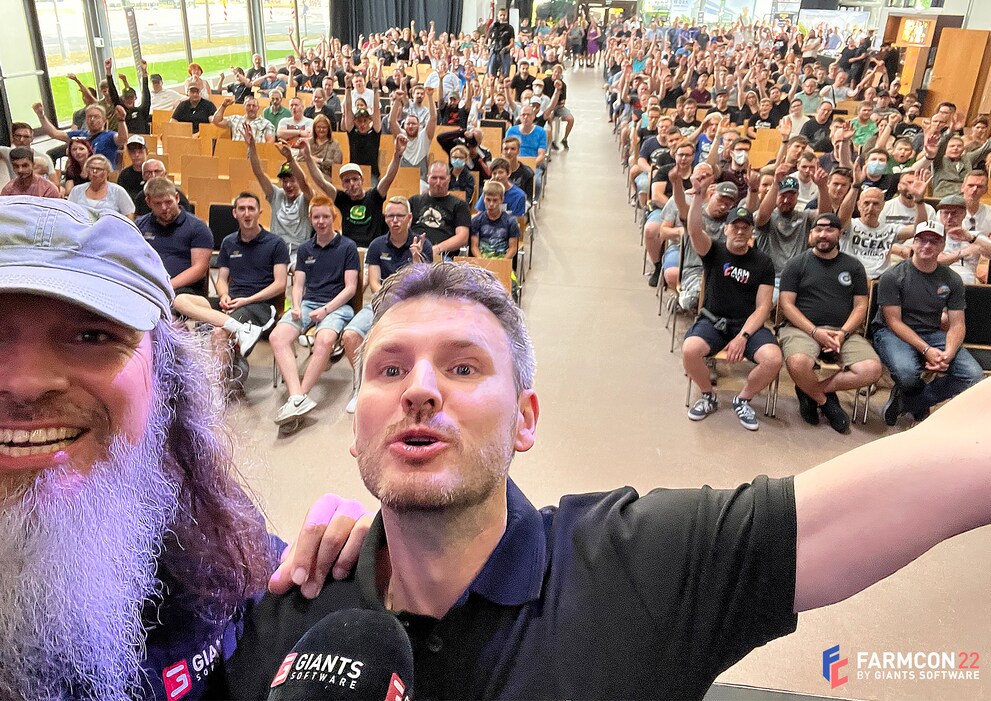 How do you achieve this balance?
There are activities that are often repeated in real life but don't pose much of a challenge in the game. Watching the wheat grow in real time wouldn't benefit the fun factor of the game. If you had to connect all the cables on every trailer, it might be fun only the first time around. We need to try out this type of activity to know if it's still entertaining after many hours of gameplay.
Have you ever overshot the mark?
We once developed a feature that makes the crop rot after a certain amount of time. This caused an uproar in the community. Many players thought it was too stressful to lose their income just because they neglected a couple of fields. They prefer to play a relaxed game. The feature is now optional.
Once you've decided which features and machines you want to include in the game, what's the next step?
It's up to the manufacturers after that. Especially when it comes to important details including the correct animation of moving parts, we depend on their input. Let's say we need to know how a particular part folds out. We'll reach out and ask if they have a video of that they could send over. This helps us recreate things as realistically as possible.
Do you have your own experts or do you refer to external specialists?
Some of us are really deep in it and follow everything that's happening on the market. We all go to Agritechnica, the trade fair for agricultural machinery in Hannover, every year. It's part of our research on new developments. The fair is also where we talk to partners and forge contacts. I've often thought I'd discovered a new type of vehicle only to be told by a colleague that it was already old news a year ago. It's like having your personal guide with you.
Are you given complete blueprints or do you model yourselves?
It depends. Of course, we always hope to get as much information as possible. We then have to edit the plans to make them work for the game. We're talking gigantic blueprints; with the 400 plus vehicles and machines featured in «Farming Simulator 22», that would make any standard PC melt. Older machines often don't come with any kind of documentation. That's when we have to take a different approach and make do with images or take a look at the machine in real life.
How do you record the sounds?
We've got sound experts who are in charge of that. An earlier DLC once featured the Big Bud 747 – the largest tractor in the world. It's a machine that would be far too big for Germany, but there is one in the USA. That's why we sent out a team member to take a look at the tractor and record the sound it makes. After all, Big Bud has two engines that create a unique sound.
Farming is becoming increasingly automated and digital. How does this affect «Farming Simulator»?
We'll be closely monitoring these developments over the next few years. The first autonomous tractors are about to be launched, which is why we're already in contact with the manufacturers. I can't reveal more than that for the time being. But if tractors no longer need farmers to drive them ten years from now, we'll have to rethink what kind of machines are featured in our game.
---



Being the game and gadget geek that I am, working at digitec and Galaxus makes me feel like a kid in a candy shop – but it does take its toll on my wallet. I enjoy tinkering with my PC in Tim Taylor fashion and talking about games on my podcast http://www.onemorelevel.ch. To satisfy my need for speed, I get on my full suspension mountain bike and set out to find some nice trails. My thirst for culture is quenched by deep conversations over a couple of cold ones at the mostly frustrating games of FC Winterthur. 
---
These articles might also interest you
Skeleton Loader

Skeleton Loader

Skeleton Loader

Skeleton Loader

Skeleton Loader

Skeleton Loader