Best ECG products in the Clothes irons category
On this page you'll find a ranking of the best ECG products in this category. To give you a quick overview, we've already ranked the most important information about the products for you.
1. ECG NZ 210
ECG NZ 210 Travel Steam Iron Foldable handle Vertical steam Temperature control White/Blue Product highlights 1000 W power Non-stick soleplate Steam output: 0-21 g/min Water tank capacity: 0.04 l Cable length: 190 cm Ironing with and without steam Stepless temperature control Vertical steam Technical data Travel iron Connected load 1000 W Foldable handle Ironing with and without steam Steam output 0-21 g / min Steam burst max. 10 g / min Vertical steam Stepless temperature control Water tank (ml): 40 incl. measuring cup 40 ml Accessories: Funnel Voltage - 110-120 V and 220-240 V Rated voltage: 110-120 V / 220-240 V ~ 50/60 Hz Connected load: 900 - 1100 W Product description Vertical steam: Yes Display: No Temperature control: Yes Steam control: No Ironing without steam: Yes Drip stop: No ANTI-CALC: No Automatic cleaning: No Quick heating: No Spray function: No Automatic switch-off: No Design Colour: White/Blue Material: Plastic Accessories Filling container: Yes Weight & Dimensions Height (mm): 100 Width (mm): 200 Depth (mm): 90 Weight (kg): 0.73.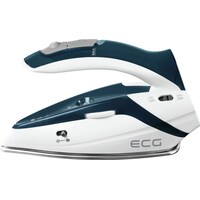 2. ECG Steam
ECG Steam iron Descaling system 220ml water tank Temperature control Drip stop Specification Non-stick ironing sole ANTI-DRIP Drip stop / ANTICALC Descaling system Stepless temperature control Steam burst Spray button 220ml water tank Connected load 2000 W Technical parameters Connected load (W): 2000 Voltage (V/HZ): 230 ~ 50/60 Cable length (CM): 195 Water tank (ML): 220 Constant steam output: 14-20G/MIN Steam burst: 80G/min Product description Ironing soleplate: Non-stick soleplate Mass ironing soleplate: N/A Vertical steam: yes Display: no Temperature control: yes Steam control: no Ironing without steam: yes Drip stop: yes Anti-calc: yes Car cleaning: yes Fast heat-up: no Spray function: yes Automatic switch-off: no Design Colour: Blue/White Material: Plastic Accessories Filling container: yes Weight & Dimensions Height (mm): 209 Width (mm): 277 Depth (mm): 116 Weight (kg): 1.21.