Best Concept products in the Dehumidifiers category
On this page you'll find a ranking of the best Concept products in this category. To give you a quick overview, we've already ranked the most important information about the products for you.
1. Concept OV1000
Concept OV1000. Consumi: 75 W.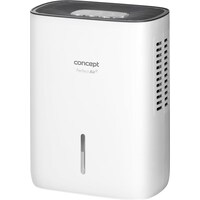 2. Concept OV1110
Concept OV1110. Consommation électrique typique: 23 W. Largeur: 146 mm, Profondeur: 146 mm, Hauteur: 226 mm.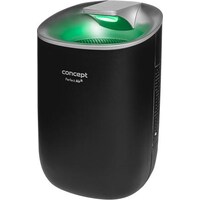 3. Concept OV1210 dehumidifier Black, Silver
OV1210 ORO DŽIOVINTUVAS ir ORO VALYTUVAS "PERFECT AIR CZARNYOZIO" ir oro valytuvas "Concept OV1200" iš "Perfect Clean" serijos idealiai tinka naudoti voniose ir patalpose iki 25 m2. Kondensuojama iki 750 ml vandens per dieną ir tris kartus filtruojant absorbuojama iki 99% oro teršalų. Jis išlaisvins jus nuo virusų ir bakterijų Ar tikrai nori pasijusti saugus namie? OV1210 yra dar vienas draugas, padedantis pasiekti švaresnę ir sveikesnę aplinką tavo namuose. Dėl veiksmingos filtravimo sistemos jis pašalina iki 99% bakterijų, virusų ir alergenų. Sustabdykite drėgmę Per didelis drėgnumas namuose ne tik blogina gyvenimo kokybę, bet ir kenkia sveikatai. Didesnis drėgnis yra ideali pelėsių vystymosi aplinka, galinti sukelti sveikatos problemų. OV1210 džiovintuvas idealiai tinka naudoti voniose ir patalpose iki 25 m2. Per vieną dieną jis gali suskystinti iki 750 ml vandens. Jame yra 1000 ml talpos vandens rezervuaras ir automatinis išjungimas. OV1210 oro džiovintuvas taip pat gali būti naudojamas skalbimui džiovinti. Trigubas filtracjaOV1210 taip pat yra oro valymo įrenginys su triguba filtravimo sistema, kuri sustabdo kenksmingas medžiagas ore ir neleidžia joms plisti. Kiekvienas atskiras filtro sluoksnis sustabdo tam tikrų rūšių taršą, sugerdamas iki 99% ore esančių teršalų ir gerindamas jūsų namų oro kokybę. Filtrų charakteristikos Nuo dulkių apsaugantis filtras iš oro išsiskiria didesnius teršalus. (dulkių dalelės, plaukai, plaukai, žiedadulkės ir kitos priemaišos). HEPA 13 filtras surenka 0,1 mikrometro dydžio daleles, kurių našumas 99,9% (dulkės, žiedadulkės, dūmai, bakterijos, virusai, alergenai, pelėsių sporos ir t. t.). Akmens anglių filtras sugeria toksiškas, dusinančias ir kitas dvokiančias dujas ir garus, pvz., formaldehidą, benzeną ar cigarečių dūmus. Intuityviojoje sterowanieOV1210 yra jutiklinis skydas, kuriuo galima lengvai pasirinkti norimą režimą. Dirbant prietaisas apšviečiamas švelnia žaliąja šviesa, todėl jis tampa patrauklesnis. Modernus designas ir tylus darbasSausintuvas ir OV1210 valytuvas yra labai patrauklūs, todėl puikiai tinka kiekvienam moderniam namui. Kompaktinė struktūra puikiai sąveikauja su aplinka. Didelis šio modelio privalumas yra tai, kad jis labai tylus ir tausus - 45 W.