Best Cane Creek products in the Rim brakes category
On this page you'll find a ranking of the best Cane Creek products in this category. To give you a quick overview, we've already ranked the most important information about the products for you.
1. Cane Creek eeBrake G4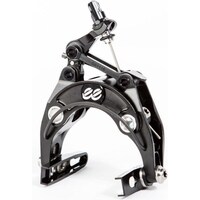 2. Cane Creek 200TT Brake Lever Set
All Cane Creek components have refined refinements that show their effort in the most demanding conditions, from one season to the next. Cane Creek products deliver immediate improvements in ride quality and performance. Cane Creek brakes and levers are honest upgrades - not just different, but different for the right reasons. - Material: aluminium - Compatibility: for aero bars - Brake type: U-brake - Weight: 162 g - Finish: set - Details: - Cold forged road brake levers suitable for Cane Creek 200SL brake - With lasered logos - Special features: Lever ergonomically shaped - Type: brake lever - Brake Technology: mechanical shift lever - Shifting Technology: without brake lever - Brake lever length: full hand - Type: for aero handlebars Scope of delivery - Scope of delivery: pair. 
Rim brakes
Cane Creek 200TT Brake Lever Set
Front + Rear, Brake lever
3. Cane Creek Crosstop brake lever set 26.0 mm
- Weight: 96 g - Brake Technology: mechanical - Details: - Upper link brake lever for cyclocross off - High-quality lasered logos - With 26.0 mm clamping - With 26.0 mm clamping - Type: brake lever - Material specifications: cold-forged aluminium - Scope of delivery (quantity): in pairs - Brake Type: U-brake - Design: set - Special features: tool-less brake cable adjustment shift lever - Gearshift: without brake lever - Brake lever length: 1.5-finger - Design: for road bike handlebars 
Rim brakes
Cane Creek Crosstop brake lever set 26.0 mm
Front + Rear, Brake lever