Best Concept products in the Hairdryer category
On this page you'll find a ranking of the best Concept products in this category. To give you a quick overview, we've already ranked the most important information about the products for you.
1. Concept Concept VV5731
Efficient DC motor The hair dryer is equipped with a high-quality motor that ensures high performance and long-term viability. This way your hair will dry faster and will be exposed to high temperatures for a shorter period of time. The perfect hairstyle The drying cabinet must have two power levels and three temperature settings. You will get perfectly modeled hair with a diffuser that directs the air flow to the desired place. "Cool Shock" is a function that allows you to maintain the durability of the hairstyle. Ionizer Soft and shiny hair without electrification is every woman's dream. This can be done by using an ionizer that sends ions into the hair and adds moisture to it. The hair will not be hidden, it will become healthy and it will comb better. Easy cleaning The hair dryer has a retractable air inlet, so cleaning is a matter of time. Remove the grill, clean it with a brush or wash it with water, dry it and put it back.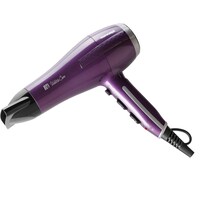 2. Concept VV6030 Hair Dryer 2200 W Black Bronze
Concept VV6030. Type de Moteur: Secteur, Niveau sonore: 82 dB. Couleur du produit: Noir, Bronze, Coloration de surface: Monochromatique, Longueur du câble: 3 m. Puissance: 2200 W, Puissance minimale: 1800 W, Tension d'entrée AC: 220 - 240 V. Largeur: 205 mm, Profondeur: 278 mm, Hauteur: 93 mm. 
Hairdryer
Concept VV6030 Hair Dryer 2200 W Black Bronze
3. Concept Beautiful
Concept VV5740. Colour of product: Pink, White, Cable length: 1.58 m. Power: 1500 W.