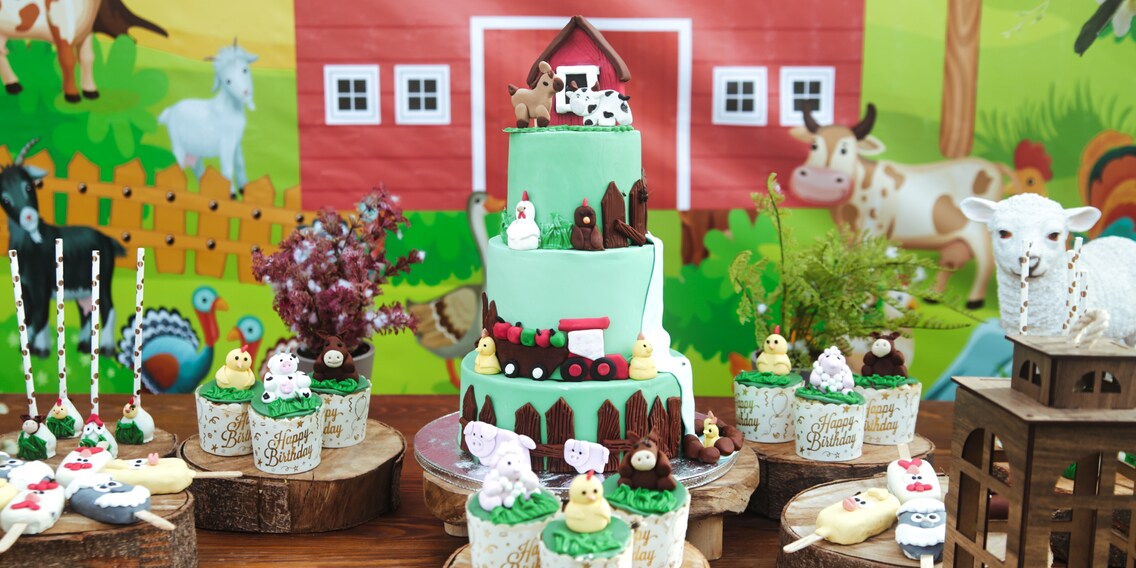 Children's event agency manager: «You can't have a big birthday bash for less than 1,000 francs»
Katja Fischer
Zurich, on 07.06.2022
Translation:
Jessica Johnson-Ferguson
Entertaining kids is her job: Caroline Spoerri is the owner of a children's event agency. She told me all about spectacular birthday parties, jaw-dropping budgets and revealed the magic formula for every party.
For a child, having a birthday party is heaven on earth.
And for the parents it's hell.
Alright, alright, it's not that bad. But let's face it: as heart-warming as a kiddie birthday party may be, it's also stressful and chaotic. At the latest, it'll hit you when the last wee guest has said goodbye and feel like passing out on the sofa. But instead, you spend another hour scraping dried-up bits of cake off the dining room table and fishing out those pesky cotton balls that exploded out of the party bomb from under the sofa.
«Keep calm and carry on» is your only option. The nerve-preserving yet costly alternative? Getting help for your next party from a pro like Caroline Spoerri. The 42-year-old marketing specialist and mother of two grown children is the owner and managing director of the children's event agency «Zauberglanz» in Baden. Together with a team of thirty people, she provides all kinds of entertainment for children – amusing them at company events or weddings, for example. Childcare in shopping centres is also something her agency deals with. Or children's birthday parties.
Caroline, as a mum of two, I'm trying to keep things as simple as possible for our kids' birthday bashes for as long as that's possible. I just want to get through the birthday season as stress-free as possible. Any words of advice?
Caroline Spoerri: (laughs) get «Zauberglanz» on board. But that aside, there's a magic formula for a successful birthday party: physical activity, creativity and a small highlight. Get the kids involved in a physical activity to get any excess energy out of their system before sitting them down to take part in a creative activity. When the party's over, you can send them off with a memento of the day - a glitter tattoo, for example. It's a combination that almost always works.
What would be a typical children's birthday party your agency organises?
Swiss kids' favourite Globi dropped by at the last birthday party we threw. He took part in the games, had cake with the kids and handed out autographs at the end. For us as a children's event agency, this was your typical, relatively unspectacular children's birthday party.
So what's a spectacular one?
It would definitely be more complicated to organise. One of the most spectacular birthday parties we had the pleasure of designing and realising was for a twelve-year-old girl. She wanted a jungle disco party, so we rented a club and turned it into a jungle. There were glitter tattoos, a photo box and activity games. A dance instructor also rehearsed street dance moves with the kids, and there was a limbo dance. For this party, our agency organised absolutely everything.
What does that include?
From creating the invitation to putting together the events of the day to coming up with the giveaways – we're in charge of everything. That particular party was a large-scale job with a big budget.
How much did the party cost?
We're talking over 10,000 francs. Beside the many attractions, there are mainly a lot of work hours behind a party.
Sounds like sack races and musical chairs aren't much in demand these days.
No, no, they still are. The classics are still popular, particularly in the warmer months. Even the famous treasure hunt never went out of style.
Are there any new kids' birthday trends?
Theme parties have been in for a while. However, the themes are constantly changing. «Frozen» parties, for example, have been popular with girls for a long time. But the Disney theme has reached its peak. Unicorns were all the rage once, too. Today, «Paw Patrol» is a big one. But princesses, mermaids and pirates never go out of style. The kids choose the theme and we come up with the central idea.
What about locations? I get the impression that today's birthday parties with friends rarely take place at the child's house.
True. The parties are increasingly celebrated elsewhere. At a climbing park, for example, or a trampoline hall or a pony farm.
Bigger, better, more spectacular: the bar seems to be getting higher and higher. Do you sense any competition among parents?
No, I can't say I do. I don't think parents are trying to outdo others. First and foremost, they want to make their kids' dreams come true. And we're in charge of making that happen.
Plus the parents' dreams, I imagine. Which demands are harder to meet: the children's or the parents'?
We usually join forces with the parents to plan the party. It's usually done in secret, as a surprise for the kids. In other words, the parents are our primary contact, which makes this question difficult to answer. But none of our customers are difficult. Demanding at most, but we are, too.
Who books your services?
We have several target groups. There are the wealthy customers who want something exclusive for their child. Then there are parents who just want somebody to take the organisation off their hands because they're very busy at work and struggling to find the time. Other believe they can't deliver a party at the level they want alone. So they're willing to pay for that. And then there are those parents who're on a tight budget but put their little darling first.
How deep do you have to dig into your pocket for a party?
It's something I have to repeat to customers over and over again: there's not much of a party under 1,000 francs. At the same time, there's no upper limit. Depending on the modules and additional services you want, you're soon looking at a few thousand francs. On average, our customers spend about 1,500 to 2,000 francs.
You have two children of your own. What's a children's birthday party like at an event agency boss's place?
Surprisingly simple and laid back. Although I must admit, when my daughters were at a kiddie party age, I wasn't working for «Zauberglanz» yet. But even back then, it was important to me to organise everything myself. And I always enjoyed the prep work. Our parties were small-scale and always took place at home.
Let's finish by looking into the crystal ball: what will the birthday parties of the future look like?
That's hard to say. I believe traditional values and games will always endure. But I think the parties will be shifted to external locations more and more in the future. The respective offers are growing accordingly. For example, escape rooms and virtual reality games and locations are all the rage right now.
This article is part of a loose children's birthday series in which we examine the topic from different angles, interview experts and share ideas. Do you have any input, requests or suggestions? Let us know in the comments or via email.
These articles have already been published:
---
Mom of Anna and Elsa, aperitif expert, group fitness fanatic, aspiring dancer and gossip lover. Often a multitasker and a person who wants it all, sometimes a chocolate chef and queen of the couch.
---
These articles might also interest you
Skeleton Loader

Skeleton Loader

Skeleton Loader

Skeleton Loader

Skeleton Loader

Skeleton Loader