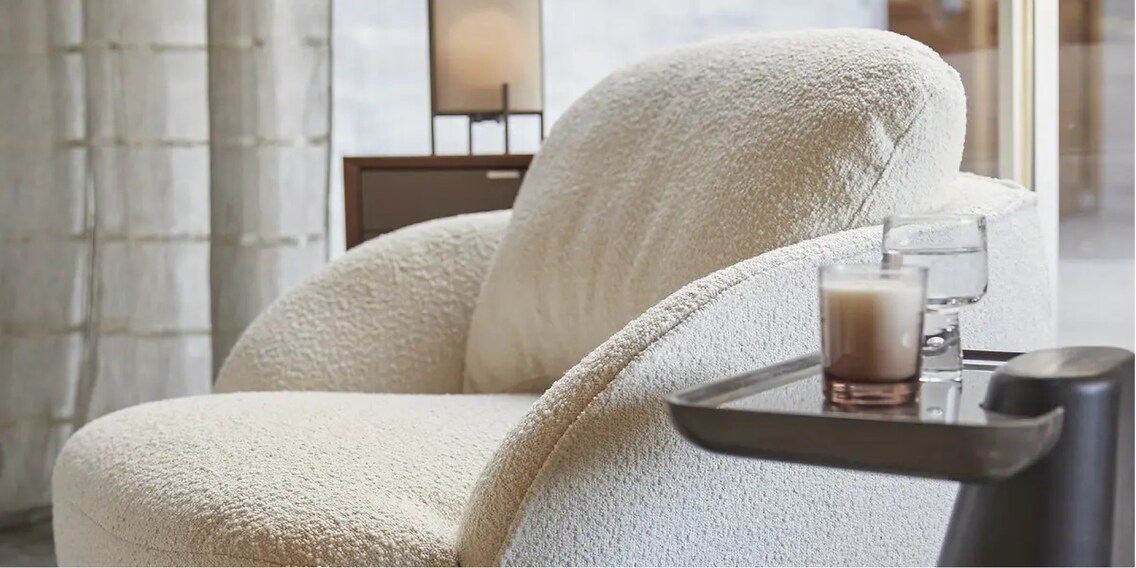 Clever and beautiful sofas

Pia Seidel
Zurich, on 02.05.2022
Translation:
Katherine Martin
From the classic leather sofa to the 70s-style two-seater, these pieces have won me over with their design.
Nice and squishy, but not unshapely. Spacious, but not too bulky. And it needs to look good, too, obviously. One sofa can't possibly please everyone. However, it can serve plenty of purposes; be it as a retreat, a reading corner, a seat in your at-home cinema, a place to nap, or simply as an eye-catcher. I've combed through our range for the best sofas – for both large and small rooms – and picked out my favourites.
1. The «Grade» two-seater
Despite its surface resembling a hairy caterpillar, «Grade» by Bloomingville has got class. The sofa is upholstered in a honeycomb chenille fabric, a flat fabric with a velvety sheen. And at 15,000 Martindale, it's particularly abrasion-resistant. The Martindale method) measures the abrasion resistance of textiles. Only very few brands communicate the Martindale of their fabrics. 10,000 to 15,000 Martindale is considered fine for domestic use, which means «Grade» should keep its shape. What's more, its dark colour will be forgiving of the odd stain here and there. The sofa is certainly comfortable. At 294 centimetres long, with a seat depth of 93 centimetres, it's larger than your average two-seater. You can also add a footstool and prop up the cushions at the back – as long as you've got them at a comfortable height.
2. The «Alpine» two-seater
Am.Pm
Alpine (2 person sofa)
A white sofa can be a bold choice. What if someone spills something on it? But if it's covered in the right fabric, like this one from «Alpine», it's alright for things to go haywire occasionally. The bouclé fabric is coarsely woven, making it hardier than other fabrics. Not only that, but its polyester component makes it water-repellent. True to its 70s look, this low-lying sofa with No-Sag springs nestles into the floor, its rounded backrest leaning into the room. In line with the curvy design trend, it's a homage to seventies' curves. My only quibble with the Am.Pm design is that it could be a touch wider. With dimensions like these, the two-seater is one of the smaller pieces in this series. Have no fear, though, adding the matching armchair will make you feel like you're sitting on top of a whirl of clouds.
3. The «Bean» corner sofa
Although I don't enjoy the taste of cognac, I do like its colour. Applied to sofas such as «Bean» from Dutch brand Woood, it looks warm and inviting. The effect is strengthened by both its low-profile look and its all-over «sandwich foam» padding – a mix of durable rigid foam and elastic flexible foam. Like the brandy, cognac-coloured leather is also timeless. But that's not to say it never changes. In fact, it develops a patina, which is all the rage in the fashion world right now. Its sheen is more noticeable in some areas than others. However, it'll stay soft. And if it gets too much sun, the colour will fade. As the sofa is made of recycled, genuine leather, it's best to clean it with a damp cloth instead of using any fancy chemicals. And careful: don't sit on it when you've just moisturised your skin – otherwise you could stain it. And if even the colour of cognac isn't up your alley, Woood's design is also available in dark green and black.
4. The «Kelsey» two-seater
Hübsch
Kelsey (2 person sofa)
Whatever way you look at it, two-tone designs have one key advantage: you're not obliged to commit to just one colour scheme. With the «Kelsey» sofa, you can coordinate blankets and cushions with both colours: beige and amber. Its rounded edges, embellished hem, tapered metal feet and compact size all contribute to its elegant appearance. That nifty size, however, means it's not exactly roomy. Instead, its narrow seat makes it more suited to a hallway or reception area. Or alongside an existing arrangement of sofas. Danish brand Hübsch also sells this piece in a combination of two shades of gray.
5. The «Sense» three-seater
Thanks to its unassuming shape and subtle colour, the «Sense» sofa by the Dutch brand Zuiver effortlessly matches any interior. It even comes with colour-coordinated cushions. Just like the rest of the sofa, they're made of a thickly woven linen-polyester mix. This gives them a bit of body, while at the same time making them reminiscent of a fluffy, shimmery plush toy. Besides gray, «Sense» also comes in various coffee-coloured shades, including «Cappuccino» and «Espresso». There's also a matching footstool which can be used to form a corner sofa. If that's a bit too vanilla for you, though, you'll have to use cushions to bring a splash of colour into the mix.
6. The «Statement» corner sofa
BePureHome
Dusca (Corner sofa)
With its honey yellow, «Statement» by BePureHome is anything but restrained. That said, it's no neon sign, either. Its rich colour radiates warmth and can easily be paired with cappuccino or earthy tones. Royal blue would make a nice contrast, too. Made entirely of velvet, the corner sofa is soft and shiny, but still water-repellent and abrasion-resistant. It cuts a fine figure in the living room or hallway, is available with an ottoman to the left or right, and comes in a choice of five other colours. One drawback, however, is that the backrest encroaches onto the seat too much.
7. The «Kadri» two-seater
As a result of its gray tones, «Kadri» blends into puristically designed apartments with concrete floors. On the other hand, it may provide some much needed optical calm within a colour-strewn setting, and is compatible with any colour scheme. Whatever the story, the all-over cushioning and No-Sag springs ensure that it's comfortable. On account of its lovely back, the By Living sofa shines as part of a seating area, in a waiting area or in the middle of a home office. Its narrow seat, on the other hand, means it's only a semi-perfect match for families.
8. The «Blok» corner sofa
Corner sofas are so popular because (almost) every apartment has the perfect corner for one. They can be effortlessly incorporated into a room. However, they might also stretch out into it, provided the back is just as pretty as the front and sides. That's certainly true of «Blok», which is flawless in all-over cord. The inside is made of a foam-acrylic fibre combination which, due to its robustness, is mostly used in clothing. In the case of sofas, it also boosts longevity. There's room for two on the block-like seating island of this corner – and if you like, you can add matching cushions. In addition to millennial pink, the Kave Home design is also available in mustard yellow, gray and white – and comes as a two- or three-seater. The only downside is that its boxy shape can look a bit bulky in small rooms.
9. The «Piemonte» two-seater
Het Anker
Piedmont (2.5-seater)
Whether it's for a bachelor pad or a family TV room, a sofa like the «Piemonte» impresses with its long-lasting leather as well its no-nonsense shape and colour. As long as it's regularly cleaned and treated with suitable products, that is. As a generous two- or three-seater, the «Piemonte» can be placed against the wall. Where it really shines, though, is in the middle of the room. That's down to the subtle, striped pattern on the back. If the olive green is too dark for you, you can also choose between taupe and cognac.
10. The «Manou» two-seater
The compact «Manou» brings the best out of any alcove. It fits into narrow hallways and conservatories, but can also be positioned in the centre of any room. After all, it'd be a shame not to show off the elegant, curvy backrest in combination with the Viennese wicker. Since the arm rests aren't cushioned, the necessary comfort comes from the two back cushions, and a seat cushion on the sturdy, black, beech frame. The cushions are covered with polyester fabric, which at 100,000 Martindale, is more robust than most other fabrics. For a family of four to relax in comfort, however, this sofa would need a bit of back-up from other seats.
Poll
Which piece of furniture should I showcase next?
Sofa beds
Lawn chairs
Sideboards
The competition has ended.
---



«There are only two ways to live your life. One is as though nothing is a miracle. The other is as though everything is a miracle. I believe in the latter.»
– Albert Einstein
---
These articles might also interest you
Skeleton Loader

Skeleton Loader

Skeleton Loader

Skeleton Loader

Skeleton Loader

Skeleton Loader