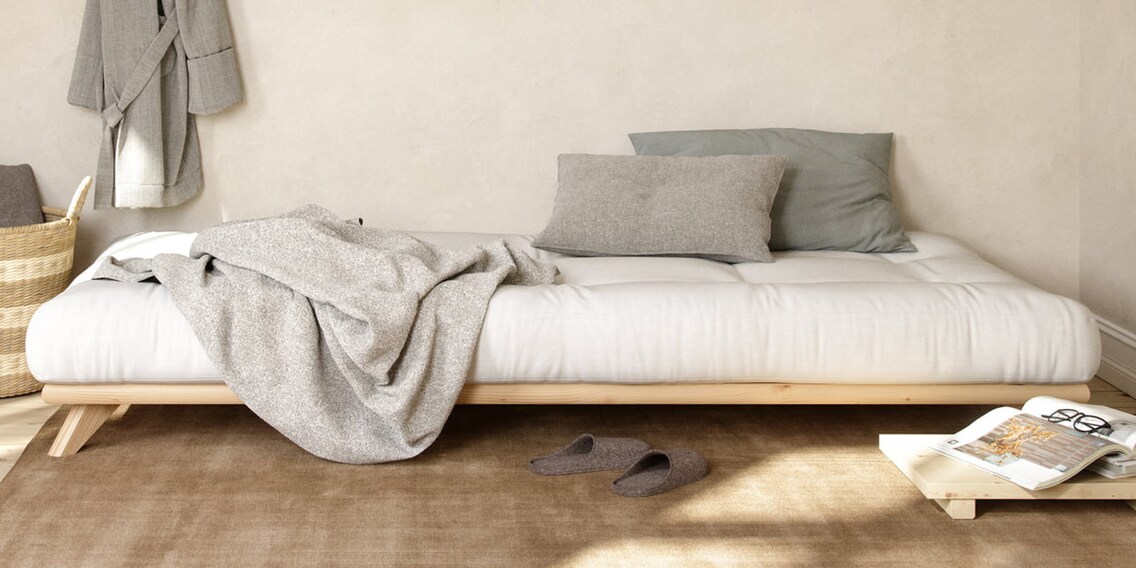 This article was translated automatically.
10 stylish sofas with sleep function

Pia Seidel
Zurich, on 18.07.2022
Sofas with a hidden sleeping function are my favourite. They are a feast for the eyes most of the time and give guests a bed when needed.
Das ist die fünfte Folge der Serie «Form Follows Function», bei der ich besonders gut gestaltete Möbel vorstelle – von A bis Z.
Guest rooms are great. But few people have the space for them, unless they live in houses with empty former children's rooms. The rest of us use the living room as an alternative and look for a - in the best case - tasteful, multifunctional sofa. Here are my favourites, which are nice to look at and still offer a place to sleep if needed.
1. single-seater "Frodo", lying surface: 85 x 200 cm
In cramped conditions, the model called "Frodo" is perfect. With its compact size, it is more or less the hobbit among sofa beds. Because it looks like an armchair when closed, you can make it part of a living room suite or fit it into a corner of the home office or children's room to save space. In pastel pink and with light beech wood legs, "Frodo" looks fresh. But the design is also available in light blue. And if you want more lying space, you can choose the "XL Hobbit", the two-seater (lying surface 140 x 200 cm), which is optionally available with a drawer. This provides space for bed linen, for example.
2. three-seater "Lean", lying surface: 130 x 190 cm
Of course, all sofas are designed for reclining. But one like this is lowered on the back side with a height of 21 centimetres. You can only sink into it. To turn "Lean" into a bed, simply fold down the backrest as shown in the video and you have a surface that is just about big enough for two people. Provided they are not too tall and like to cuddle. The mixed fabric cover made of cotton and polyester is available in many colours. However, the low-profile sofa looks best in beige or grey together with the light pine wood frame. The only drawback: due to the lack of armrests, side lounging is only possible with cushions.
3. two-seater "Be My Guest", lying surface: 160 x 200 cm
BYYU
Be My Guest (sofa bed)
The "Be My Guest" design in post-modern style resembles a day bed. It is a practical seat, but also a work of art. With its geometric shapes and contrasting colour combination, it is reminiscent of an abstract painting by Mondrian, who focused on primary colours. By removing the yellow cushions and folding down the grey seat cushion, you can turn it into a comfortable bed for two. Minus points only because one person sleeps behind bars. The metal frame cannot be adjusted. But together with the cushion sausage - which somehow just makes me smile - it provides support when you want to lie on your side.
4. three-seater "Indun", lying surface: 140 x 200 cm
Innovation Living
Idun (sofa bed)
I've owned the previous model of the "Indun" Skandi look sofa for over three years now and I'm happy with it. Not only because of the bed function, but also because of the seat depth. Two people can lie side by side on this design piece if you change the position of the cushions. The latter also cut a good figure in front of the armrests and leave room for additional decorative cushions in this position. A matching pillow is also available directly from the manufacturer. Despite its size, the sofa does not look bulky. This is helped by the oak feet that lift it off the floor. A plus: the polyester blend fabric repels the odd stain and the wide armrests also serve as a shelf.
5. two-seater "Perugia", lying surface: 95 x 198 cm
The quilting alone makes me think of the sofa version of the Barcelona Chair. Yet the design classic from the fifties by Mies van der Rohe was made of leather and had chrome steel feet. "Perugia", on the other hand, has a velvety polyester fabric and powder-coated metal feet in black. To turn the sofa into a bed, simply tilt both sides all the way down. You can divide the backrest into two or tilt it into three different positions. If forest green is too dark for you, the sofa bed is also available in friendlier colours: "Perugia" rosé or light grey.
6. two-seater "Neiela", lying surface: 107 x 184 cm
Admittedly, the yellow of the "Neiela" model is something for the brave when it comes to furnishing. But it definitely makes the sofa bed an eye-catcher and emphasises the delicate frame construction as well as the line pattern on the backrest. For an evening at the cinema, you fold the foam backrest cushion down one step, and for guests to sleep on, one step further. If you don't dare to use so much colour, "Neiela" is also available in grey. But then the wafer-thin structure is somewhat lost.
7. two-seater "Ghia", 80 x 210 cm
Innovation Living
Ghia (sofa bed, 2 person sofa)
The low cognac-coloured leather sofa "Ghia" looks particularly graphic from the front because it is made up of square and cylindrical cushions. It goes well with modern but also classically furnished interiors. The geometric shape makes it timeless. Only the leather surface will acquire a patina over the years. To slow down the process, it is worth finding a shady spot for "Ghia" and taking care of the leather. In the manufacturer's instructions you will usually find information on the appropriate care product for your model. This design is also changeable. Set up a camp for your guests and tilt down both armrests or use it as a daybed for a power nap. Without cushions it looks airy and thanks to the reflective chrome legs it seems to float.
8. three-seater "Senza", lying surface: 90 x 200 cm
Strictly speaking, "Senza" is a lounger. It gets by "without" a backrest cushion. To turn it into a sofa, it has to stand against the wall. To make it into a bed, it needs a pillow fight. Because then the lying surface for one person comes to light. Because the cushions are a standard size, you can simply replace them to add variety. Or leave them out and place the minimalist daybed in the middle of the room.
9. daybed "Nordic Chic Daybed", lying surface: 96 x 196 cm
Tom Tailor
Nordic Chic (sofa bed)
A daybed like this is practical and adds a touch of glamour to the room. No matter whether you take a midday nap on it - pure luxury - or spend your night's rest. The "Nordic Chic Daybed" is made of oak and a chenille fabric that you know from pipe cleaners. Align it with the wall so that you don't lose much space. Or go all-in: place it prominently in the centre of the room. Thanks to the leather strap that wraps around it and the shapely roller cushion, it looks chic from all sides. And when you're not using it for napping, it's perfect for putting things on. I like to use my daybed for packing suitcases or folding clothes.
10. three-seater "Samsa", reclining surface: 160 x 196 cm
The summeriest sofa in this selection is "Samsa". The removable polyester-cotton cover looks like linen, but is guaranteed not to get as creased after washing. Unlike most sofa beds, this design has a mattress inside that is suitable for two people. To unfold it, first take off the cover and remove the back cushions. During the day, the padded armrests provide the necessary comfort and the seat height of 50 centimetres makes it somewhat easier for you to get up again, unlike the lowered versions.
Survey
Which piece of furniture should I showcase next?
Sideboards
Dining table
Armchair
The competition has ended.
PS: If you follow me as an author, you won't miss my next post on the topic of "Form Follows Function".
---



«There are only two ways to live your life. One is as though nothing is a miracle. The other is as though everything is a miracle. I believe in the latter.»
– Albert Einstein
---
These articles might also interest you
Skeleton Loader

Skeleton Loader

Skeleton Loader

Skeleton Loader

Skeleton Loader

Skeleton Loader