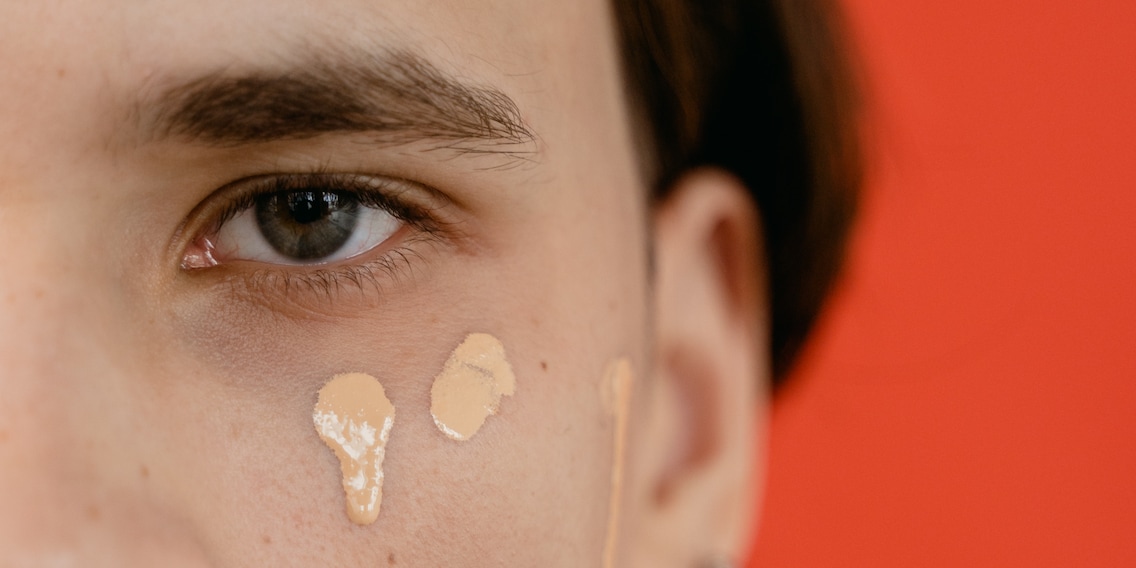 This article was translated automatically.
How to prevent concealer creasing - my 4 tips

Natalie Hemengül
Zurich, on 25.05.2022
Once the concealer settles in the wrinkles, it fails to serve its purpose. With these makeup tips, you can counteract creasing.
Nothing shows me my age better than my concealer. It likes to creep into my wrinkles and fine lines around my eyes and really highlights them. This makes the area under my eyes look drier and more wrinkled than it is. The fresh, awake look that the concealer is supposed to conjure up is no longer visible after a few hours or sometimes even minutes. Do you feel the same way? With the following tips, you can reduce the settling of the concealer - also known as "creasing" - as much as possible.
1. don't apply too thick
The fewer layers you apply, the less creasing will occur. This applies to your concealer as well as to what you wear underneath. For this reason, avoid using a rich eye cream before applying makeup and opt instead for fast-absorbing, gel-like textures. This way, your concealer will adhere better to your skin later on. The smudgier your eye area is, the more the pigments will migrate around. And if you like to apply your foundation before your concealer, you should avoid the lower, crescent-shaped eye area.
2. use tools
An eyeshadow primer keeps your eyeshadow from creeping into your crease, despite constant blinking. Then it might as well ... Right! Apply a transparent eyeshadow primer over or instead of your eye cream. For example, Urban Decay's "Primer Potion." Wait a few minutes before applying your concealer. 3.
3. find the right concealer
The strongest influence has your concealer choice. Unfortunately, it's not that easy to find a product that suits your needs and lasts well at the same time. The more opaque a concealer is, the more visible creasing becomes, as more pigment can accumulate. Products with little coverage, on the other hand, conceal less well and are therefore less visible in the wrinkles. Thin, moisturizing products feel comfortable, but adhere less well to your skin than concealers that dry down to a velvety or matte finish. Often, the phrase "self-setting" is a good indicator of whether a product adheres well. Don't let that phrase mislead you, though: You should still use a setting powder, which brings us to the last tip.
4. don't forget the finishing touch
Fix your concealer with a powder. Less is more, but you shouldn't do without this step - unless you have ultra-dry skin. Go for either a transparent or a slightly brightening setting powder, which also provides light coverage. The finer the powder, the better the hold. I advise you not to use heavy, opaque powder foundations. They intensify creasing.
Auftaktbild: Mart Production via Pexels
---



Natalie Hemengül
As a massive Disney fan, I see the world through rose-tinted glasses. I worship series from the 90s and consider mermaids a religion. When I'm not dancing in glitter rain, I'm either hanging out at pyjama parties or sitting at my make-up table. P.S. I love you, bacon, garlic and onions. 
---
These articles might also interest you
Skeleton Loader

Skeleton Loader

Skeleton Loader

Skeleton Loader

Skeleton Loader

Skeleton Loader