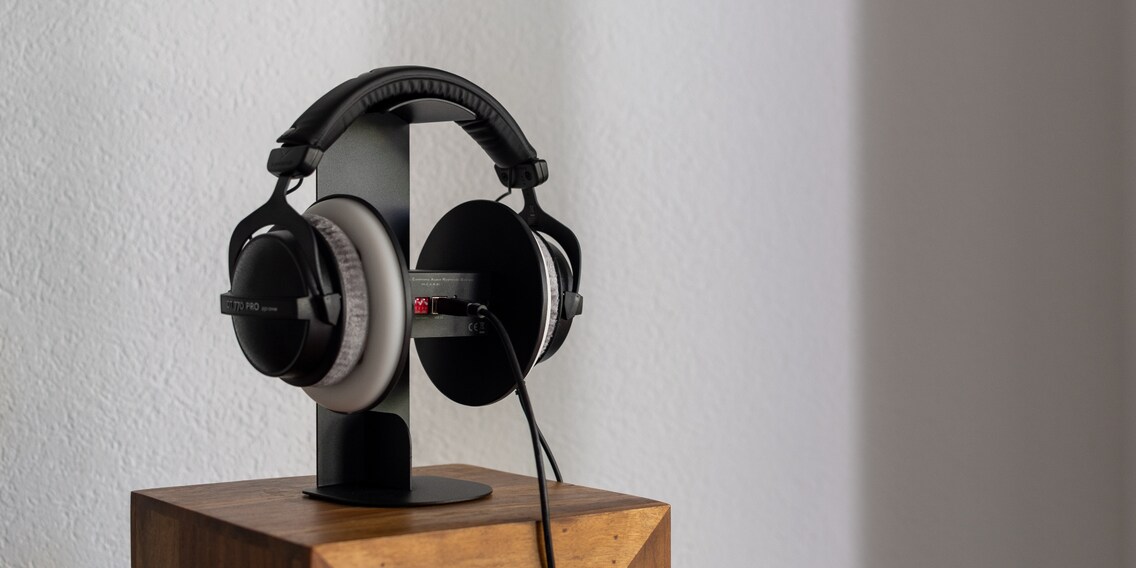 No two people hear alike: of ear cups, glasses and skull shapes

David Lee
Zurich, on 09.08.2022
Translation:
Veronica Bielawski
Special devices can be used to measure the frequency response of headphones. Does this mean we can objectively say how a pair of headphones sounds? Not quite – numerous factors can influence the results.
For a short while now, I've been the proud owner of the MiniDSP Ears meter, which can be used to measure the frequency response of headphones. For each audible frequency, it indicates how high the sound level is. This in turn makes it possible to draw conclusions about the sound pattern of any given headphones. For example, if headphones A have a U-shaped frequency curve while headphones B have a more or less horizontal line, you can tell that headphones A emphasise the bass and treble more and neglect the mids.
This is all very simplified, mind you. The exact interpretation of such graphs is a whole field in and of itself, which I won't be delving into here.
My first result with the Beyerdynamic DT 770 Pro puzzles me: the left channel is much louder in the bass range than the right one. At the lowest measured frequency, namely 20 hertz, the difference is more than 10 decibels.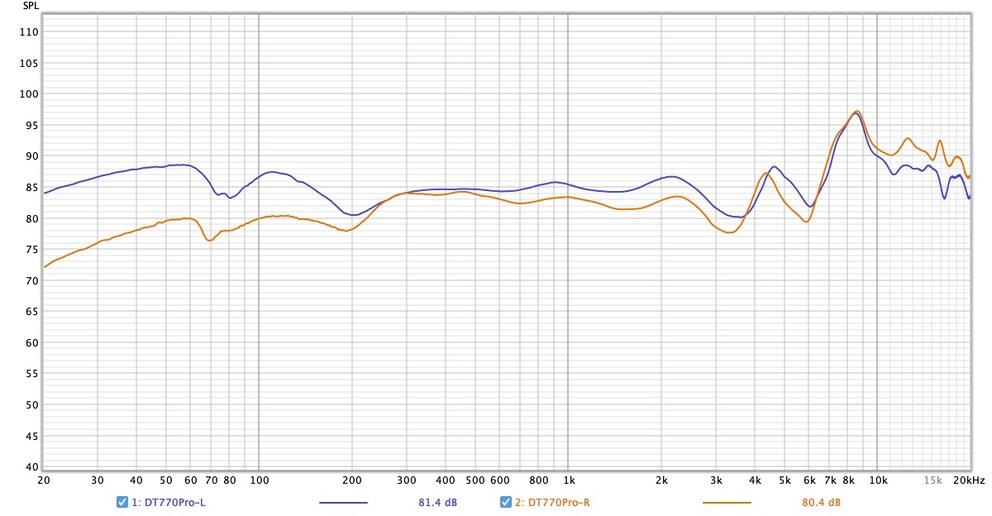 Did I measure wrong? The meter's user manual assures me that differences in the bass range are normal for such measurements, the reason being that there's always some variation in how the headphones are mounted. The headphone driver might be a millimetre further over in either direction, and the pressure of the ear pads isn't always the same either. Depending on this, they seal sound better or worse.
It's recommended to average out each channel over five measurements. The graph below shows the individual measurements. I mounted the headphones anew after every second measurement – i.e. one on the left, one on the right – but more carefully than in my very first attempt. Accordingly, the differences are no longer as extreme.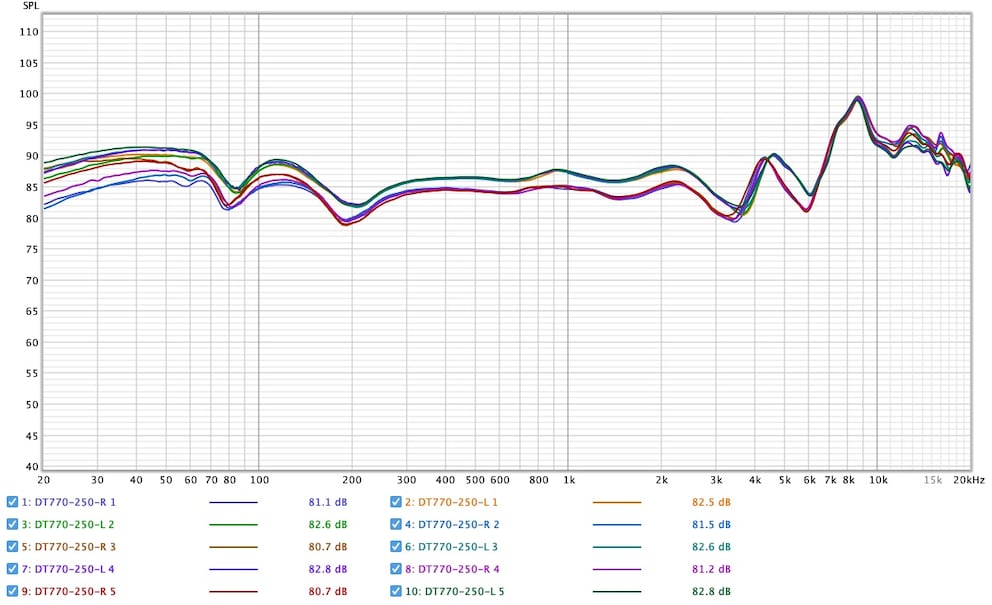 In real life, we don't always put our headphones on symmetrically and identically each time. With that in mind, it makes sense to take the average of several measurements. However, there are many other factors that influence sound.
Over-ears ft. glasses
Anyone who wears over-ear headphones with glasses knows the feeling: the temples of the glasses prevent an all-around seal from being formed, and the headphones sound audibly different. You can definitely see this in the frequency response. I measured the same headphones here several times with glasses, and there's a clear difference to the average without them.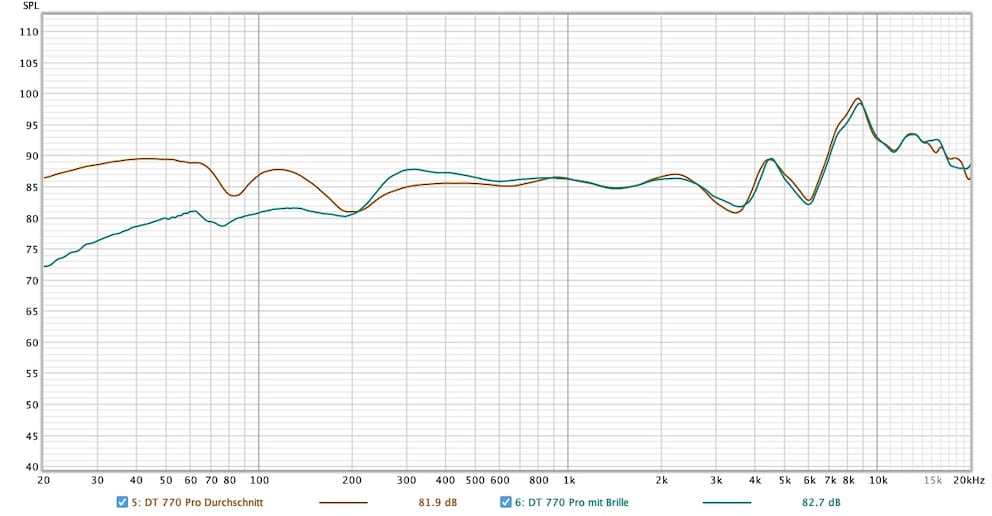 If you wear glasses, you could opt out of over-ear headphones and go for in-ears instead. If you don't want to do that, you may want to go for a bass-heavy model, as that's what tends to fizzle out. However, I wouldn't make a purchase without first trying out the headphones, because just how much bass is lost really depends on the model and the glasses.
Open-back headphones are interesting in this context; they need to manage enough bass without a complete seal around the ears, which is why the volume of the bass varies less.
Here are my five measurements for the Beyerdynamic DT 990 Pro, a pair of open-back headphones. Other than in build, they're very similar to the closed-back DT 770 Pro. You can see here that the individual measurements vary less than with the DT 770 Pro.
Individual anatomy
How well an ear cushion forms a seal also depends on your head – and that can be down to the shape of the skull, hairstyle or beard growth. In this case, averaging out several measurements won't be of much help.
There are also large individual differences in the shape and size of the ears and the auditory canal. These don't affect the bass, but they do affect high frequencies. There's a theory that our brain compensates for these individual differences because they're constant throughout our lives, which would mean that everyone – even people with more significant anatomical differences – hears higher frequencies similarly. However, it's not really possible to measure and prove this. For this reason, the product testing magazine rtings.com measures the frequency response not only using a measuring device, but also on several people.
Since measuring devices are also built differently, they can only be compared with each other to a limited extent. It gets especially bad when the silicone ear of the measuring head is too big for headphones; in this case, the headphones can't be properly mounted to allow for realistic measurements.
New ear cups
The ear pads on most headphones can be replaced, and that can also lead to noticeable changes in sound. Old, broken ear cups naturally create less of a seal than new ones. But replacement ear cups are often different to the originals. On my Sennheiser Momentum 2, the replacements come in a different shape than the originals; they taper out towards the bottom. This makes them close better – at least around my ears – with a corresponding boost to the bass.
Interpreting measurements correctly
All ifs ands and buts aside, are headphone measurements, as taken with miniDSP Ears, helpful in any way at all? I think so. It allows different models to be compared under almost identical conditions, which certainly allows you to determine whether a model emphasises the lower, middle or high frequencies – even if the frequency response may look a little different on your head. The scatter of the individual measurements also shows how well you can rely on the average value. For example, you can rely on the results for the DT 990 Pro more than on those for the DT 770 Pro.
All this to say, the measurements aren't useless, but they're also not gospel. It's important to interpret them correctly, which is why I wanted to write this article. I'll be referring back to it in future measurements.
---



My interest in IT and writing landed me in tech journalism early on (2000). I want to know how we can use technology without being used. Outside of the office, I'm a keen musician who makes up for lacking talent with excessive enthusiasm.
---
These articles might also interest you
Skeleton Loader

Skeleton Loader

Skeleton Loader

Skeleton Loader

Skeleton Loader

Skeleton Loader