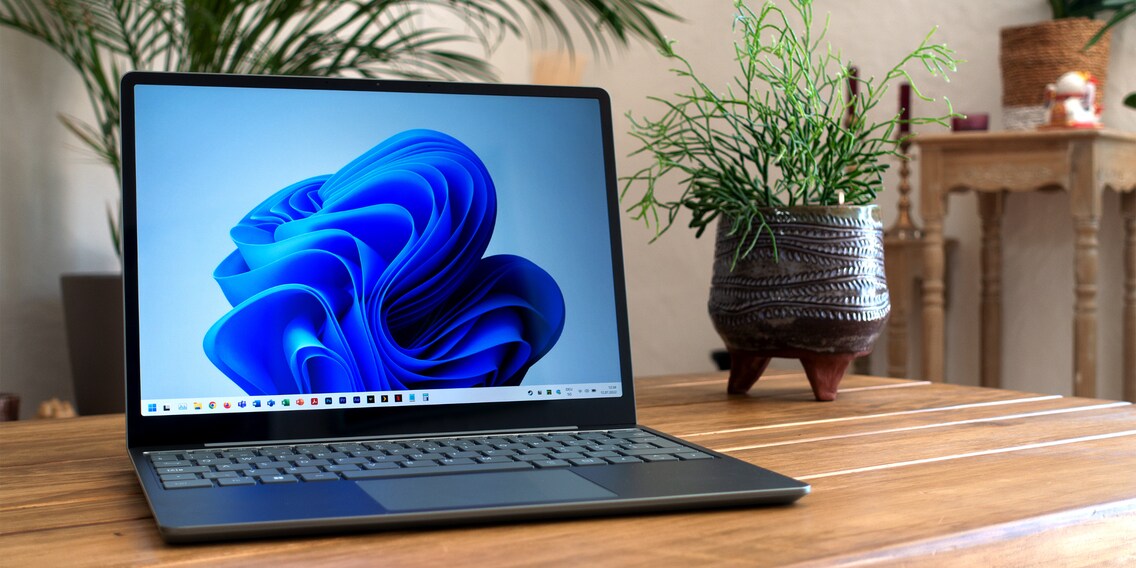 Testing the Microsoft Surface Laptop Go 2 – a better display and more powerful than ever

Microsoft's second go-around at their smallest Surface Laptop leaves a good impression. I noticed improvements in the test, such as a brighter display. There were only a few things I disliked, such as the lack of keyboard illumination.
At 12.4 inches and just 1127 grams, the Surface Laptop Go 2 is purposely designed for travel – or for when you're working on the balcony. It's Microsoft's smallest and cheapest notebook containing a multi-touch display in 3:2. The handy device is ideally suited for traditional office or school work.
Thanks to the eleventh-generation Intel Core i5, this notebook can also handle more demanding tasks. Photoshop is an option, although not optimal due to the small display. If you want to take advantage of the i5 CPU, make sure to provide it with eight gigabytes of RAM. Only then are Adobe programs somewhat enjoyable – as well as surfing with many open browser tabs.
So please don't buy this laptop with four gigabytes of RAM, even though Microsoft offers both a four and eight GB version. Four-gigabyte RAM notebooks should be banned. The second option, besides RAM size, regards memory. It comes with a 128 or 256 GB SSD.
For my test, I purchased the following device in a Swiss keyboard layout from our warehouse:
CH
DE
Specifications for the test device at a glance:
| Prozessor (SoC): | Intel Core i5-1135G7 (Quad-Core, 11th Gen) |
| --- | --- |
| Integrated graphics: | Intel Iris Xe graphics |
| RAM: | 8 GB LPDDR4 |
| Memory: | 256 GB SSD (M.2 2230, PCIe 3.0 x4, NVMe) |
| Display: | 12,4" IPS Multi-Touch Display (PixelSense Display), 1536×1024, 3:2 ratio, 148 PPI, high gloss |
| Connections: | 1×USB 3.1 Type-C, 1×USB 3.1 Type-A, 3,5-mm audio jack, ethernet slot (Surface Connect type) |
| Audio: | Stereo loudspeakers (360-degree loudspeaker with Dolby Audio Premium), two far field studio microphones |
| Camera: | 720p front camera (f2.0) |
| Wi-Fi, Bluetooth: | Wi-Fi 6, Bluetooth 5.1 |
| Sensors: | Light level sensor, fingerprint sensor (integrated in Power button) |
| Operating system: | Windows 11 Home |
| Battery: | 40 Wh lithium-ion battery |
| Power supply: | 39 watts |
| Dimensions: | 27,82×20,62×1,57 cm, 1127 g |
My device came in Sage. I chose this colour as it's the only new option. Otherwise, the laptop comes in Ice Blue, Sandstone and Platinum. All available models can be found here.
Design and ports
Apart from a new colour, nothing much has changed on the outside when looking at the second edition entry-level notebook. I like the timeless design, typical for a Surface product. It's impressively beautiful – despite the fact that the bottom of the base is made of plastic.
The rest of the casing is made of aluminium and shows a different colour depending on the incidence of light – from shimmering greenish silver to just silver. When I touch it, it's easy to grip and doesn't slip out of my hands – and when I flip the lid open, I'm pleased that it opens without having to hold the base.
Furthermore, there are only a few ports on the left side. One USB-A, one USB-C and a 3.5 mm headphone jack. The notebook receives its power from the right side.
The display bezel is around seven millimetres on the sides and top. A 720p webcam is installed in the upper edge, best suited for video calls when supplemented by two microphones. An infrared camera for facial recognition is amiss, otherwise a standard feature in Surface devices. However, a fingerprint sensor is integrated into the power button. The device could always be unlocked easily and quickly my two weeks of testing.
A display with touch support
Testing the 12.4-inch IPS touch display, I see an improvement over its predecessor. It's become brighter. How much brighter will follow shortly. Apart from that, it still only has 1536×1024 pixels (148 PPI). This is sufficient for a sharp picture when working due to the rather small display area. Still; native playback of 1080p video material isn't possible with it, which I don't consider acceptable these days.
However, I am a fan of the 3:2 format, which appears quite generous. As for the rounded display corners, I have now grown to love them. When testing my first Surface Go laptop, I was still torn as the curves cut into the image a bit. What I'm less keen on: the display is shiny.
Brightness, uniformity and colour reproduction
To test how bright and evenly the display lights up, I used Calibrite i1Display Pro Plus. I also used it to measure how accurately the display shows colours.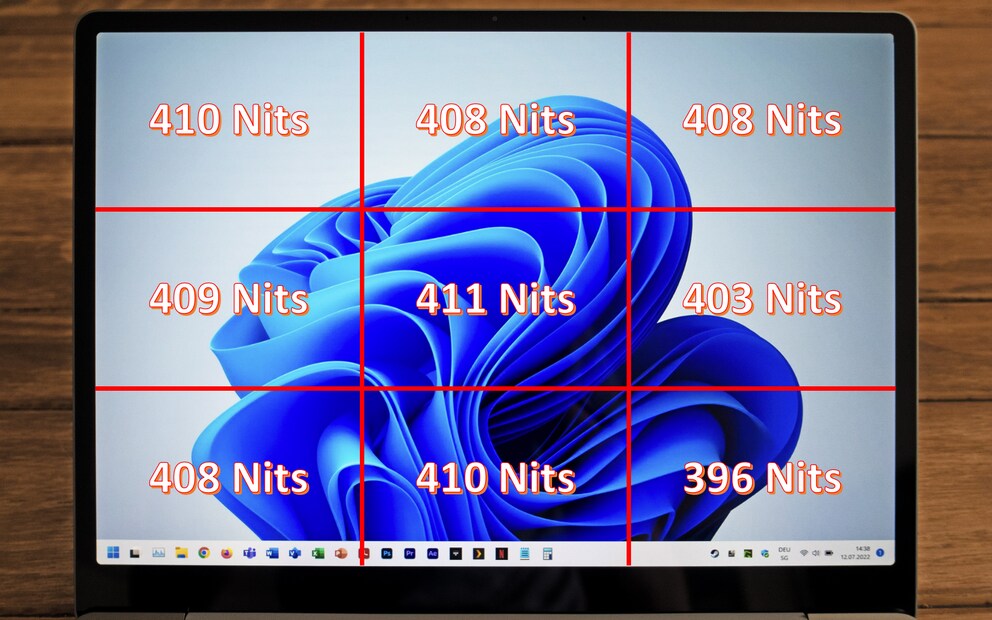 The display has become a lot brighter with 407 nits. That's 76 more than the predecessor. Especially in summer it's a nice plus, I like to work on my balcony. Direct exposure to light should nevertheless be avoided, especially since it reflects due to the glossy surface. Display uniformity came out well during my measurement. The largest difference in brightness was 14 nits, which cannot be seen by the naked eye.
When measuring accurate reproduction of the most important colour spaces, the screen is again roughly in the same league as the predecessor. I measured a coverage of 93.1% in the sRGB colour space, common for working and surfing, which ensures a mostly correct representation. It's also exactly the same reading as in the first Surface Laptop Go. The DCI-P3 colour space, which is important for digital film production, is displayed worse and only achieves 68.5 per cent, compared to 69 per cent in the predecessor. And the Adobe RGB colour space, important for creating print templates, comes in at 64.8 per cent – compared to 67.1 per cent.
I calculated a static black and white contrast of 1091:1. Besides the higher brightness, this is the second improvement in the display, since the first laptop still had a static contrast of 911:1. By the way, I didn't measure the dynamic contrast, since this value doesn't make sense anywhere except in marketing.
Keyboard and trackpad
Thanks to white lettering, I can recognise the laptop's keys even with little light. Little or no light, however, is still only a good idea if you've mastered the ten-finger system. Microsoft doesn't use a backlight for its second generation keys.
That being said, I like to type on it. The keys are rubberised, travel 1.3 millimetres and have a clear pressure point when first being activated. Another plus for an open-plan office: the keyboard is quiet as a dormouse.
As with all Surface products, I have no complaints regarding the trackpad. The mouse pointer still glides well and is controlled precisely even with slightly sweaty fingers. It measures 10 × 6.7 centimetres.
No upgrade to the speakers
As with the normal Surface Laptop, Microsoft also installed stereo speakers invisibly in the base of the Go and Go 2. However, they're less impressive in the Go than in a Surface Laptop 4. I find the trebles and mids relatively clean, but the bass is too lean across the board. This makes listening to music only slightly enjoyable.
A word about the processor and graphics unit
Is it just me, or does Microsoft really like to lag behind by a processor generation when it comes to their devices? Why 11th Gen when the 12th Gen of Intel Core processors is already available?
Not that the eleventh generation doesn't have enough power. It's annoying nonetheless. At least the processor in this device is one generation newer than the one in its predecessor. The Surface Laptop Go 2 is equipped with an Intel Core i5-1135G7. It contains four cores and eight threads. The processor runs at 2.4 gigahertz in the Surface Laptop Go 2, with Turbo up to 4.2. It's supported by an eight-megabyte L3 cache, its thermal design power is at 28 watts.
Intel's Iris Xe graphics, which contains 80 execution units and a maximum dynamic frequency of 1.3 gigahertz, is also installed on the system-on-a-chip.
Battery and cooling performance (stress test), heat development and noise level
Before I turn to the performance of the device, I'd like to know how long the 40 Wh battery lasts. I streamed videos for hours, worked in the office for days and tested how long the laptop would last at maximum CPU performance. Further, I tested how the processor behaved under permanent load. That is, how well the cooling worked, how loud it was and how hot the processor and case got.
Continuous video streaming
For comparison's sake, I streamed videos in continuous loops over the Internet and set the screen brightness to around 150 nits. That's a bit brighter than CRT monitors were in the late 1990s. This made watching Netflix in a slightly darkened room easier. I started Stranger Things and went to bed.
After waking up, the thing was still running. The magic three-per cent battery mark, hailing an automatic shutdown, was only reached after an extensive shower and a dreamy foamed milk coffee. After a total of 7 hours and 55 minutes. For context, the first Laptop Go only lasted 6 hours and 7 minutes during the same test.
The newer 11th Gen Intel processor has paid off. It's more economical using the same battery. I'm curious to see what a third version of this laptop will do with the 12th, 13th or 14th generation.
Battery life with office work
Without Tidal, YouTube and the like running in the background and without making extensive video calls, the battery lasts between 11 and 12.5 hours in the office depending on the day. Not that I work nearly as much, but yes.
It's decent considering the rather small battery and a processor with x86 architecture. Besides that, the predecessor only lasted about nine hours.
Stress test: CPU performance and cooling power under continuous load
During my stress test, I used AIDA64 to keep the hardware busy. In a first short test, I pushed the CPU, GPU, FPU, cache and RAM to their limits to find out whether the processor can be fully utilised. With 11th and 12th Gen System-on-a-Chip, that's often not the case in laptops. Same goes for this test device.
If I simultaneously put the GPU and processor at full throttle, the graphics run at 100 per cent, but the CPU throttles to 92 per cent right from the start. I therefore left the GPU out of my actual stress test – I wanted to know how long the CPU can give one hundred per cent and how low it would clock down to during the test. How long the battery lasts is secondary.
CPU load and battery level during the stress test
The processor provided full power for four minutes. It started throttling from minute five – over ten minutes it went down to 82, one per cent every minute. Four minutes it was at 78. And after 37 minutes of continuous use, it finally reached 71 per cent. The CPU stayed there until the end of the test. An automatic shutdown at three per cent battery life occurred after 1 hour and 47 minutes.
The fact that cooling prevents the processor from running at full capacity for longer than four minutes is no big deal. Nor is its tendency to clock down to 71 per cent. This isn't tragic, since hardly anyone buys this notebook for jobs where more power is needed. If you have large rendering tasks or want to do other intensive computations, you'll hardly reach for the Go 2. Still, it's a pity that the hardware isn't completely coordinated.
Temperatures at full load
At the start of my stress test, the temperatures of individual cores briefly rose to 95 degrees Celsius. After that, they oscillated between 62 and 72 degrees Celsius.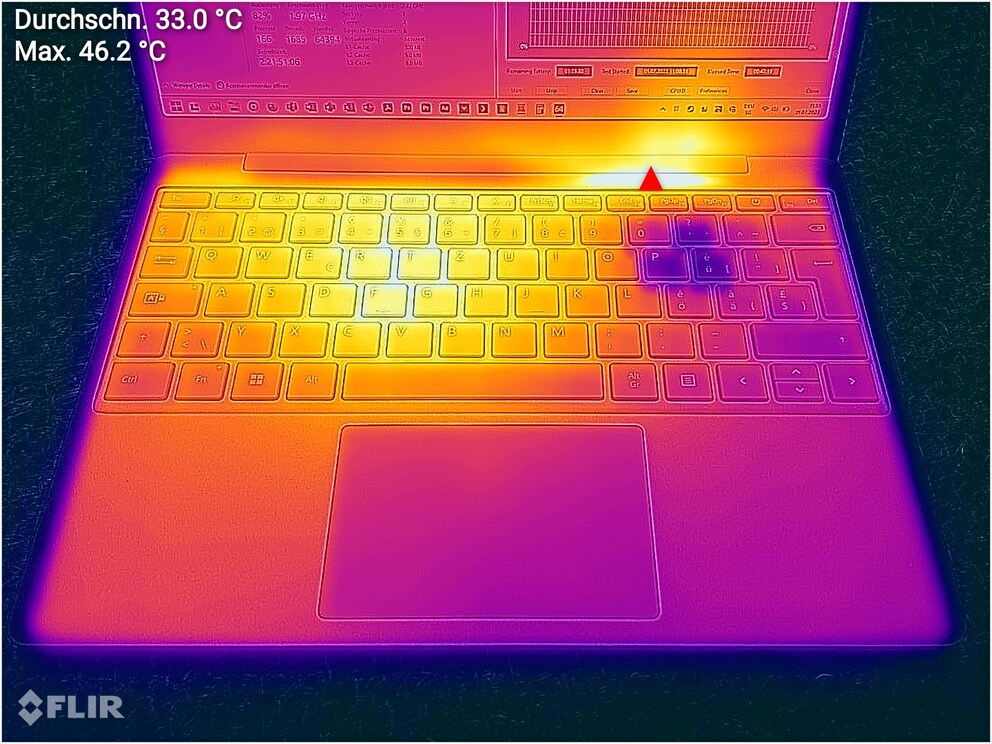 According to a thermal image from the FLIR cam on my Cat S62 Pro, the M2 case reached up to 46.2 degrees Celsius during testing. The warmest spot was on the right side near the display hinge. An aluminium case can also reach over 60 degrees Celsius depending on the cooling and processor. From that point of view, cooling does a good job.
Volume at full load
Most of the time, I didn't hear any fan noise when working with the laptop. Only when installing an update or loading some files into Photoshop. A comparatively quiet noise can be heard at full load. Using a sound level meter from Testo, I measured 37.6 decibels from a sitting position. At a distance of 30 centimetres, it was 42.3 decibels.
Performance: what the processor and graphics are capable of
As mentioned, the laptop has more than enough power for what it's intended for. But actions speak louder than words, which is why I tested the performance with benchmarks. The processor using Cinebench and Geekbench, the graphics with gaming benchmark 3DMark Night Raid. Thirdly, I used PCMark 10 to find out how well the system performs typical office tasks.
Processor performance: Cinebench and Geekbench
Maxon's CPU benchmark Cinebench tests how well a processor performs when rendering 3D models. In the latest version R23, results are no longer determined on the basis of a single pass by default, but on the basis of work performed within ten minutes. An improvement, as it makes poor cooling concepts perform more realistically. Since this test didn't yet exist when I took a closer look at the predecessor, I also ran Cinebench in version R20 for comparison.
I ran Geekbench 5 as the second processor benchmark. Based on simulated, real-life scenarios, the CPU is tested for single-core and multi-core operation. Testing only takes a short time and can therefore lead to relatively good results even with poorly cooled devices. The benchmark runs on Windows, MacOS, Linux, Android and iOS. This also makes cross-comparisons between different processor architectures possible, which should be taken with a grain of salt. In x86-based processors, only one thread and thus not the entire (performance) core is utilised in single-core mode. ARM systems, on the other hand, use an entire core and thus have an advantage. It's just another point to keep in mind when comparing results in Geekbench Browser.
Benchmark
Surface Laptop Go 2
(Core i5-1135G7, 8 GB RAM)
Surface Laptop Go
(Core i5-1035G1, 8 GB RAM)
Cinebench R23 – CPU Multi-Core
3450 points
not tested
Cinebench R23 – CPU Single-Core
1313 points
not tested
Cinebench R20 – CPU Multi-Core
1409 points
1136 points
Cinebench R20 – CPU Single-Core
501 points
399 points
Geekbench 5 – CPU Multi-Core
4154 points
3456 points
Geekbench 5 – CPU Single-Core
1329 points
1153 points
In a direct comparison to the first Surface Laptop Go, the newer processor performs 24 per cent better in a multi-core Cinebench R20 test. It's 25.5 per cent for single-core. In Geekbench, it performs 20 per cent better for multi-core and 15.3 per cent for single-core.
Graphics benchmark: 3DMark Night Raid
3DMark Night Raid is designed to test the graphics performance of devices with an integrated GPU. It's basically a performance meter for PC gaming at the lowest level.
In this test, the eleventh Intel generation got one over the tenth. The test device achieved a Night Raid score of 13,571. Calculated from a Graphics Score of 18,011 and a CPU Score of 5662. The first Surface Laptop Go achieved a Night Raid score of 6801 points – a plus of 99.5% for the Go 2. Still; even with this doubling, the graphics play in the little league.
Office benchmark: PCMark 10
PCMark 10 by 3DMark lets you test PCs and notebooks with a variety of essential office tasks. That is, how fast programs open, how well video calls work, and much more.
One last time, this test device proves that it clearly performs better than its predecessor. It scores 4270 points compared to 3317. An increase of 28.7 per cent.
Verdict: a higher-quality upgrade at a fair price
Microsoft has only disappointed me in one aspect with its new Surface Laptop Go 2, which is bearable. By that I mean the lack of keyboard illumination. The fact that cooling for the processor is a bit under-designed isn't a big deal in my opinion, since Microsoft isn't alone here, and it doesn't detract from the device's purpose.
On the contrary, the notebook benefits from its 11th Gen Intel processor and proves this impressively in benchmarks with up to a quarter more CPU power compared to its predecessor. I'm also impressed that the display managed a brightness of 400 nits. You'll benefit from this especially when working outdoors, in the sunshine. Its glossy display is only too reflective in direct sunlight.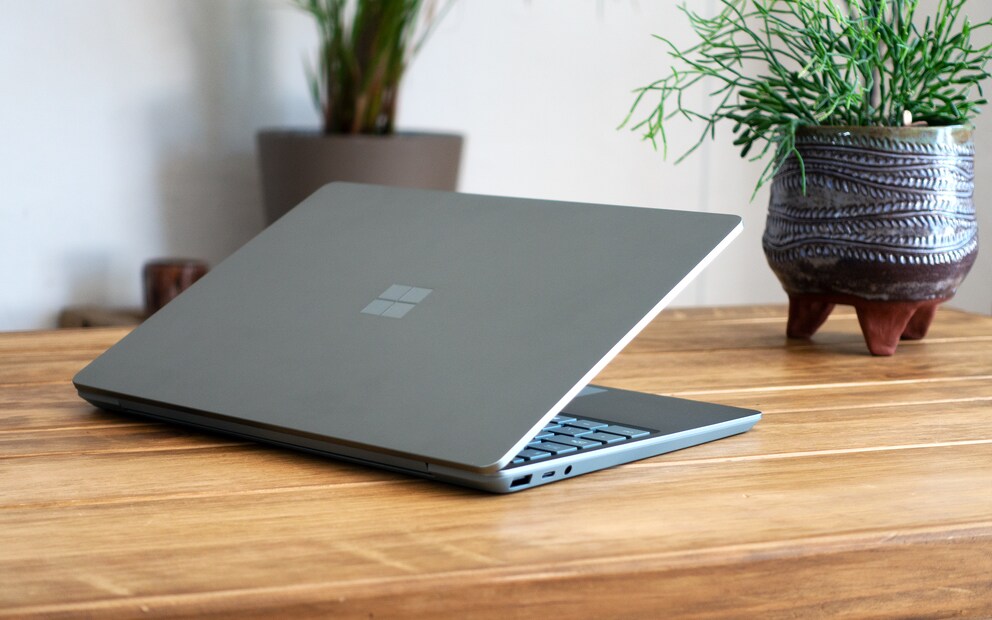 Compared to other Windows notebooks with Intel Core i5 and a small stature, Microsoft is in a better place today than two years ago. Much better, even. After all, the competition isn't any cheaper when it comes to laptops with similar innards. Added to this is the impeccable workmanship, with which the Surface Go 2 also convinces visually. Therefore, I can recommend the device with a clear conscience – to beginners as well as experienced office users.
---



I find my muse in everything. When I don't, I draw inspiration from daydreaming. After all, if you dream, you don't sleep through life.
---