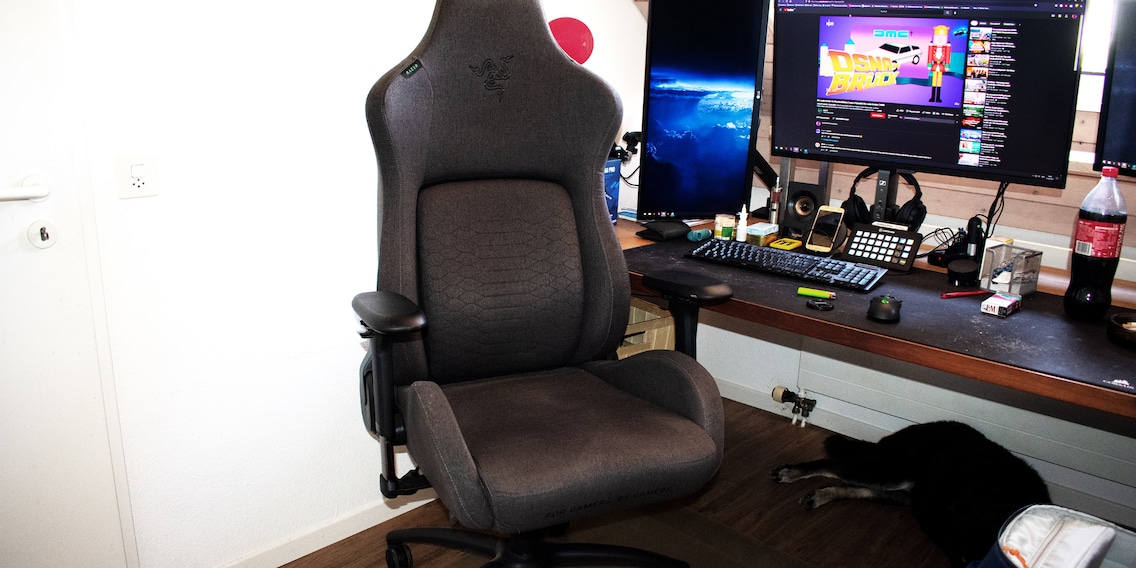 Testing the Razer Iskur XL: the chair for (slim) heavyweights

Martin Jud
Zurich, on 05.07.2022
Translation:
Patrik Stainbrook
Razer's Iskur XL gaming chair offers freely adjustable lumbar support. The XL in its name suggests size, which, as becomes evident from our test, the chair partly lacks.
Jens is sitting on a veteran wobbly gaming chair from Noblechairs. It wobbles because the gas spring doesn't cooperate as it should – same with the armrests. But Jens is used to that – gaming chairs only last two-three years for him. And that, although his current chair is supposed to withstand up to 150 kilograms – Jens weighs 130 kilograms.
Perhaps the 32-year-old car mechanic and hobby gamer from the canton of Solothurn has just had bad luck with your average model. But maybe there's something to the fact that XL chairs for gamers are less durable than manufacturers promise. In any case, Jens finally wants a chair that will last «permanently». I've chosen him as my XL chair tester. He pointed out his fit as a test subject in a community comment some time ago. Now that I've met him, let's embark together on our search for the perfect chair for the larger individuals among us. Our first test candidate is Razer's Iskur XL, the subject of this article.
What an XL chair should be able to do
The gaming chair promises to withstand up to 180 kilograms and offers freely adjustable lumbar support in addition to the usual features. Properly adjusted, it supports the lordosis – the natural curve – in the lumbar region of your back. Your lower spine is relieved, hopefully preventing back pain.
Razer provided the Iskur XL with a dark grey fabric cover for our test:
The Iskur XL with lumbar support is also available in black faux leather and black stitching – as well as faux leather and neon green stitching.
The manufacturer's specifications are, as is so often the case with gaming chairs, rather sparse. Information about the size of the seat, the adjustable seat height or the chair's weight is missing. Therefore, before our test, we hope that this XL chair also lives up to its name.
What we do know is the already mentioned maximum load capacity of 180 kilograms – the recommended height is 180-208 centimetres. Nevertheless, being smaller is usually not a problem – only the neck pillow might slip out of your desired position. The chair is made of fabric, high-density moulded foam, metal, plywood and plastic. Other specs include: a backrest tilt angle of 139°, a continuously adjustable and lockable rocker mechanism, 4D armrests, gas pressure spring class 4, a metal base, neck cushion and the already mentioned continuously adjustable as well as fully formed lumbar support.
A good first impression: assembly and material check
That this particular model makes it into our first XL chair test is no coincidence. Jens requested the Iskur XL for testing, as the normal Iskur already convinced a lankier chair tester.
ReviewOffice

Razer Iskur: testing the ergonomic gaming chair featuring full lumbar support
Jens needed about 15 minutes for assembly. Thanks to the step-by-step instructions on an enclosed poster, it's a straightforward process that doesn't require any special tools or particular craftsmanship. Jens examined the result with satisfaction. He's used to faux leather so far, so the fabric feels unfamiliar but surprisingly comfortable. Like soft jeans that still offers robustness. He likes the look and colour – the chair makes a good first impression.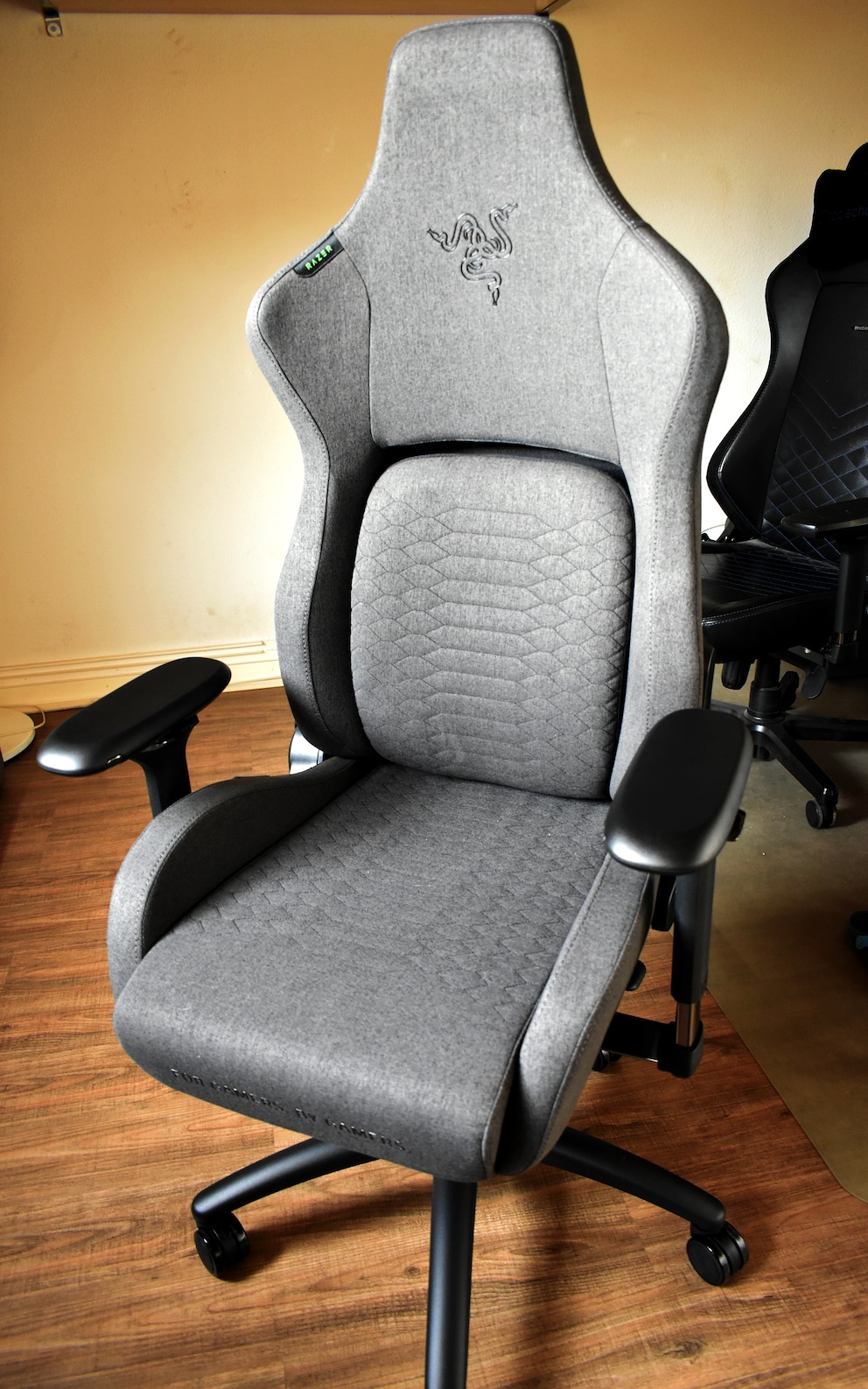 Another positive feature: not only the frame, but also the base and armrests are out of metal. Hopefully, this will increase its longevity. Jens enjoys the pleasantly rubberised backrest surfaces. But how does it feel to use – what happens when Jens sinks into the chair?
Sitting on the XL Razer
After a long day at work, Jens is looking forward to his first gaming session in the Iskur XL. He sinks into the chair and is greeted by a soft creak. The noise occurs irregularly somewhere under the seat when weight is shifted, but isn't really annoying.
When adjusting the chair, Jens and I both noticed a difference to the normal Iskur. The lever for the extendable lumbar support is positioned in such a way that it's difficult to operate. It's located in front of the right armrest under the seat. This makes pulling the lever difficult while simultaneously feeling out the perfect position with your back. In the XL variant, all other controls are also difficult to reach while sitting.
When the support is adjusted correctly, it feels wonderful. Jens is thrilled. Like a beer belly, it extends from the chair and supports the midriff while sitting to avoid back pain. And initially, the rest of the chair seems to fit Jens well, too. The seat is neither too hard nor too soft. Ergonomics is a given thanks to the correct seat height and armrest position. After two hours of gaming, Jens feels perfectly comfortable in the Iskur XL.
A few days later, Jens didn't simply limit his sitting to gaming sessions. He tinkers with a server for hours on the weekend. Admittedly, after a few hours both his thighs began to ache. The cause is quickly identified: after some time, Jens sits in the chair with his legs spread. However, the seat is a bit too narrow for that and his legs rest on the side cushions. Stupidly, there's a steel tube in the upholstery, a source of unpleasant pressure points.
Jens grabs the measuring tape. The seat is 45 centimetres wide and 52 centimetres deep. This makes the Iskur XL more like an Iskur L in width. A shame, but less bad than initially thought.
At this point in the story, I was on hand to advise Jens. Personally, I advised him not to test the chair further if it's uncomfortable. But Jens was loath to give up the chair because of this little thing. A few days after banishing the chair, he brings it back to the office. He got used to the chair and its seemingly useless metal bars – professing he could sit a little less wide-legged. And so, four months after screwing it together, he reported to me that he quite liked the product and continued to use it daily. The best thing about the chair, he says, is that he and especially his back feel good in it. Back pain isn't an issue.
However, there is a new flaw: the upholstering has already suffered after four months. The fabric cover shows signs of wear. However, when running my fingers over them, they're only optical – the fabric doesn't seem rougher. Still; it probably wouldn't have happened with the leather version.
Nevertheless, the fabric also has its positives, as it makes the chair more breathable. Consequently, Jens doesn't sweat when sitting.
Verdict: a decent chair, with two asterisks
The Razer Iskur XL is a good chair with neatly thought-out ergonomic features such as lumbar support. However, given that it's supposed to withstand up to 180 kilograms and has an XL in its name, it's cut a bit too narrow for our taste. Therefore, before buying it we strongly recommended clarifying whether 45 centimetres is enough for you. Furthermore, purchasing a fabric version comes with its issues, since it already showed discolourations on the seat after four months of testing.
Shame, this test hasn't completely satisfied us yet. We'll therefore be taking a look at a new XL Gaming Chair soon. If you have any suggestions on which model might work well, we're all ears.
---



I find my muse in everything. When I don't, I draw inspiration from daydreaming. After all, if you dream, you don't sleep through life.
---
These articles might also interest you
Skeleton Loader

Skeleton Loader

Skeleton Loader

Skeleton Loader

Skeleton Loader

Skeleton Loader