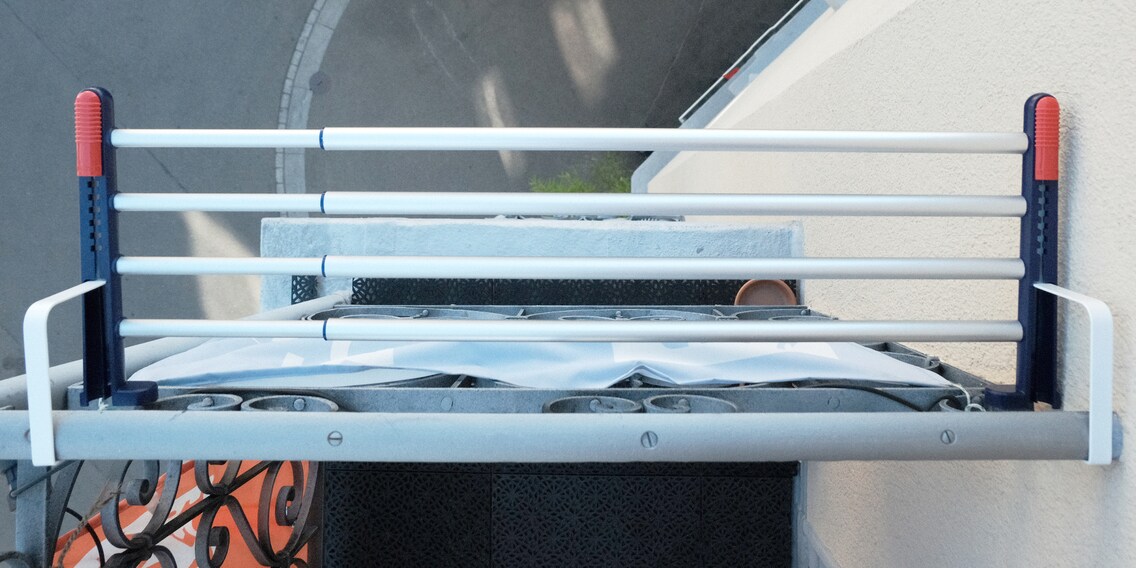 With this rack, you can dry your laundry the Italian way

Carolin Teufelberger
Zurich, on 05.07.2022
Translation:
Katherine Martin
The Italian way of life doesn't always call for gelato and pasta. A drying rack mounted to your balcony railing creates a summer holiday atmosphere, too. But is this even allowed in Switzerland?
I have a drying rack that more closely resembles a tower than a classic foldable model. This frees up space, but it's also kind of annoying. For instance, when long trousers or towels need to be hung up, they instantly take up two levels. And it won't fit on the balcony unless I lug my table indoors first.
Inspired by Italy
But in summer especially, drying the washing outside in the sunshine is miles faster. My product search was inspired by a headline in the online edition of the Austrian daily newspaper «Der Standard», which reported an impending clothesline ban in Naples. «Oh, that's too bad!», I thought at first, only to quickly turn to more self-centred concerns. «I wonder if you can get clotheslines like that for the balcony as well?»
I had a look at the «drying racks product category» on Galaxus and found a handful of mobile drying racks for the balcony railing. They don't accommodate nearly as many linens as the permanently installed Italian ideal, but there's still space for a few bits and bobs, at least. I opt for something that can be quickly delivered – a Leifheit model. It's supposed to be able to fit onto railings between one nd eleven centimetres in size, and the rack itself can be extended from 55 to 105 centimetres.
I read the article about the clothesline ban while I'm waiting for my package. Apparently, the mayor of Naples drafted a local law seeking to ban clotheslines running between buildings on opposite sides of the street, which then went viral on social media. All because, in his opinion, hanging the clotheslines displays a lack of decorum. An outcry quickly followed. For the people of Naples, these washing lines are an expression of their tradition and identity.
Is this even allowed in Switzerland?
Full of understanding for the indignation, I'm suddenly worried that if clothesline bans are up for debate in Italy, the dryer I've ordered will pose even more of a problem in Switzerland. So, before recommending a product that's banned, I decide to check with Mieterverband Zürich (Zurich Tenants' Association) first.
«If the drying racks on the balcony railing are facing inward, we're clearly talking about permissible activity on the part of the tenant», says Larissa Steiner, head of legal counsel. Sounds fine to me. On windy days in particular, this'd be an option. However, I actually wanted the dryer to face outwards, so I wouldn't have to give up any balcony space. «The position of the Tenants' Association is that mounting a clothes rack in an outwardly direction is temporarily permissible i.e. for the length of time it takes to dry laundry. In practice, the issue doesn't seem to be that clear-cut.»
Supposedly, your landlord could, in theory, bar you from hanging your laundry on the outside of the balcony even for short periods. If that happens, the Tenant's Association recommends complying with your landlord's demand, as there's nothing to be gained from arguing this particular point. In practice, many landlords don't have an issue with mounted dryers, provided they're only hanging on the railing for as long as it takes the laundry to dry. After all: «What's not allowed, or subject to your landlord's approval is permanently installing a drying rack by mounting it to face outwards and screwing it to facade», says Steiner.
It's smaller than expected
Now that's cleared up and the package has arrived, it's time to try the gizmo out. I'm initially amazed at how small my chosen model (which had the shortest delivery time) is. At least it can be extended. Mind you, I'll never be able to get a whole load of laundry spread out on it. That's why I go for clothing that'll take the longest time to dry.
Gravity alone is reason enough to do this. Even light gusts would send underwear and socks fluttering down onto the street. With that in mind, I immediately add a couple of wooden clothespins to my shopping cart. T-shirts and trousers actually stay hanging on the rack without intervention and, of course, dry faster than ever before.
However, the hanging drying rack is a little unstable when fully extended and the plastic bits look a little on the cheap side. Instead of thin wires, Leifheit makes use of metal tubes, which don't leave the typical tell-tale imprints on your clothes. On the other hand, the risk of something slipping off the rack is slightly higher.
Verdict: a good idea for small balconies
All in all, hanging racks like this are enormously practical for people who, like me, don't have a garden. In summer, they allow you to dry your clothes in a quick and environmentally friendly way, that's economical on space. Since you're supposed to be learning from my mistakes, I'd recommend a drying rack with a few more metres worth of line. That's if you don't just want to hang three t-shirts and a few pairs of underwear (with clips!), anyway.
By the way, the Mayor of Naples backed down in the end in the face of pressure from residents. Which is good. I've always envied the Italians for their clotheslines and the look that goes along with it. At least my mounted drying rack is bringing a touch of this southern way of living to Zurich. Although, there's definitely some room for improvement in the aesthetics department.
---

Carolin Teufelberger
My life in a nutshell? On a quest to broaden my horizon. I love discovering and learning new skills and I see a chance to experience something new in everything – be it travelling, reading, cooking, movies or DIY.
---
These articles might also interest you
Skeleton Loader

Skeleton Loader

Skeleton Loader

Skeleton Loader

Skeleton Loader

Skeleton Loader