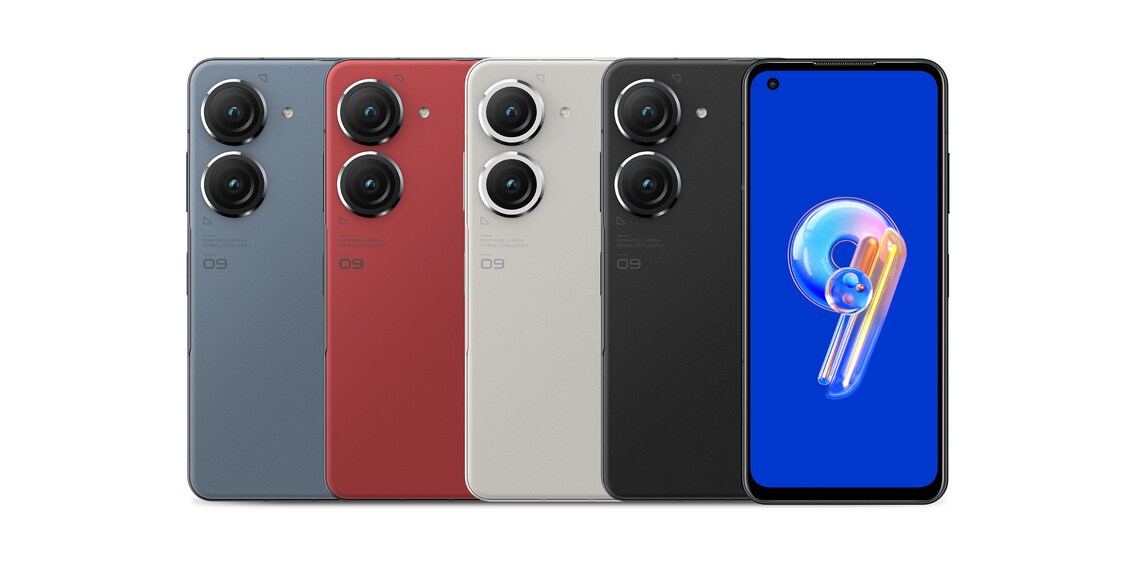 This article was translated automatically.
Asus Zenfone 9 presented: Small smartphone for one-handed operation
The Zenfone 9 is supposed to be different from other top smartphones primarily because of its small size. Asus has optimised it for one-handed operation - but it has to make at least one compromise.
With a diagonal of 5.9 inches, the 120 hertz AMOLED display of the Zenfone 9 is currently one of the small smartphones - less than six inches has become a rarity, especially among the top devices.
One-handed operation
The Zenfone 9 should not only be easy to operate with one hand because of its size. Asus has turned the power button into a multifunction button. The fingerprint sensor is located in it, which is not unusual on its own. However, you can also assign two functions to the button for double and long presses. There is also a touch sensor on it that recognises swipe movements. You can use it to scroll through web pages, for example. In addition, there are one-hand options in the Zen UI user interface, which Asus superimposes on Android 12.
With the Snapdragon 8+ Gen 1, Asus ensures that the Zenfone 9 has the same processor as other current top smartphones. The working memory comprises up to 16 gigabytes and the internal memory up to 512 gigabytes. The IP68 waterproof casing is available in a choice of four colours.
Dual camera and small battery
There is less room for a camera sensor in a small smartphone. Thus, the Zenfone 9 only has two cameras on the back. The main sensor is the Sony IMX766 with 50 megapixels of resolution. The ultra-wide-angle camera has twelve megapixels. The front camera also offers the same resolution. When taking photos and videos, the main camera can rely on a gimbal with six axes for stabilisation.
The battery of the Zenfone 9 offers a low capacity of 4300 mAh for a top smartphone. 5000 or more have become established. Nevertheless, you should be able to watch videos on the smartphone for up to 18.5 hours. When playing games, however, the specified runtime is reduced to 8.1 hours. Fast charging at 30 watts is also comparatively slow. But a bigger battery and the technology for faster charging go against the idea of a handy smartphone.
In terms of sound reproduction, the Zenfone 9 entices with two speakers and still offers a 3.5 mm jack for headphone cables in addition to Bluetooth.
Price and availability
Asus plans to sell the Zenfone 9 from 12 August 2022. In Germany, the recommended retail price starts at 799 euros (8/128 GB) and rises to 849 euros (8/256 GB) and 899 euros (16/256 gigabytes). Prices in francs for Switzerland are not yet available.
---



When I was but a young student, I'd sit in my friend's living room with all my classmates and play on his SuperNES. Since then I've had the opportunity to test out all the newest technology for you. I've done reviews at Curved, Computer Bild and Netzwelt, and have now arrived at Galaxus.de. 
---
These articles might also interest you
Skeleton Loader

Skeleton Loader

Skeleton Loader

Skeleton Loader

Skeleton Loader

Skeleton Loader