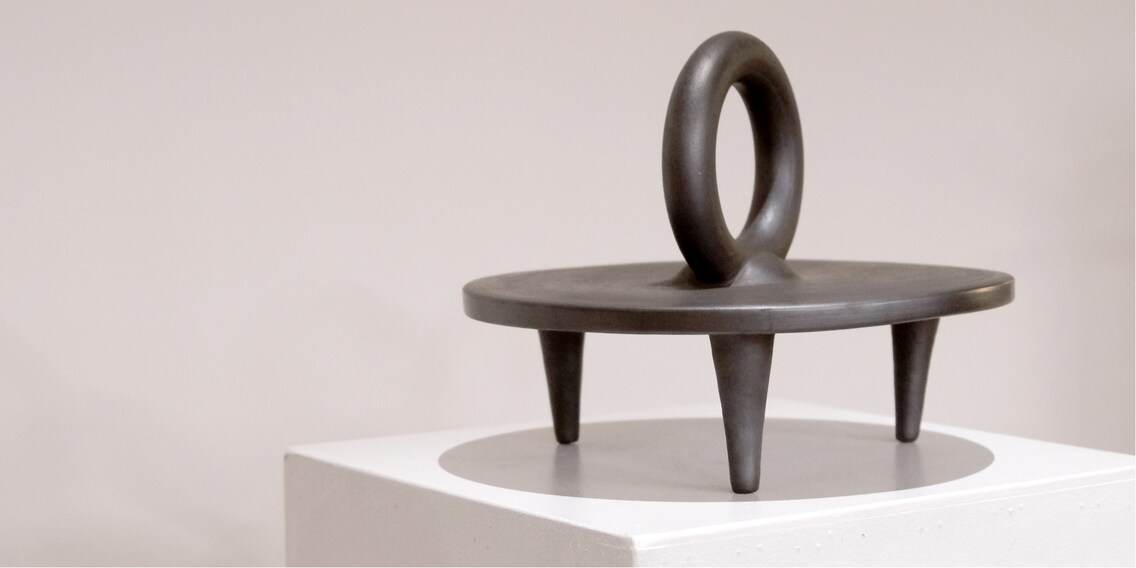 This article was translated automatically.
Design objects with surprise egg effect

Pia Seidel
Zurich, on 05.05.2022
Fun, games, excitement - design? Some furniture and home accessories are like a surprise egg, just without chocolate.
My last visit to the furniture fair "Maison et Objet" was inspiring and also a game. There were numerous novelties on display that kept me guessing because I was unsure what they were made of. Unlike the surprise egg, however, I could not shake, weigh or listen to infer their material. I could only look, ask, and listen. When designers explained to me how tableware, lamps and the like were created, it was a surprise every time. Because with my first guess I was actually always wrong - and some materials I didn't even know. Sometimes I only believed what I heard when I was allowed to touch the objects. I can't let you do the latter. But I can at least let you guess along before I tell you the contents of the "design-eggs".
Guessing game
What material do you think the beautiful pieces in the pictures are made of? Give your guess - you'll find the solution right after you scroll down.
1. Danuta Kril
Puzzle 1
What material is this design object made of?
Glass
Ceramics
Metal
The competition has ended.
2. Yuma Kano
Puzzle 2
What material is this design object made of?
Chocolate and glass
Rust and glass
Oil paint and glass
The competition has ended.
3. Satomi Minoshima
Puzzle 3
What material is this design object made of?
Silicone
Leather
Cotton
The competition has ended.
4. monika debus
Puzzle 4
What material is this design object made of?
Silicone
Porcelain
Linen
The competition has ended.
5. djim berger
Puzzle 5
What material is this design object made of?
Porcelain
Stone
pumice
The competition has ended.
6. nacho Carbonell
Puzzle 6
What material is this design object made of?
Metal and LEDs
Synthetic resin and LEDs
Mushrooms and LEDs
The competition has ended.
Resolution
1. Guculia Tini
The first thing I got wrong was Danuta Kril 's collection. I thought her dinnerware collection called "Guculia Tini" in smoky look is made of metal. In fact, this is ceramic. The metallic black layer is created when smoke enters the clay during the firing process.
The tableware was created using the so-called Havarechchyna pottery technique, which originated in the village of the same name in western Ukraine. The technique is hardly practiced today and only a handful of people have mastered it. The designer wants to change that and revive it with her black smoked pottery.
2. rust harvest
Whether it's rich turquoise or yellow, I was banking on this finish on the stained glass being Arcyl or oil paints. But as the English name "Rust Harvest" later tells me, there is rust behind it. Yuma Kano mixes rust with an acrylic resin to make a new material suitable for coating and beautifying surfaces.
Everyone wants to remove rust stains as soon as it eats its way through facades. Except Yuma Kano. The designer likes to invite the unpopular guest into his home and turn him into an eye-catcher: the stained glass scores with unique patterns and also turns the room into one: it constantly casts new light patterns on surfaces depending on the time of day.
3. skin tote
In Yuma Kano's case, the title of the work gave clues about the material. With Satomi Minoshima 's handbags, on the other hand, I'm glad the name of the collection is only symbolic. "Skin Tote," translated as "skin bag," hints at the designer's source of inspiration: she took her cues from the shapes of the human body and designed handbags made of silicone - not leather, as I first thought.
The bags are meant to express the diversity of skin color. That's why Satomi Minoshima colored the silicone in different shades. She considers our skin as an interface with the environment, which is imbued with tactile information like a bag and contains who we are. She also expresses this message through a series of photographs.
4 Memory II
I initially mistook Monika Debus ' work "Memory II" at 1831 Art Gallery for a table lamp with a printed fabric shade. However, when I search in vain for an illuminant, I am enlightened: there is none. The object is made of stoneware, in which the starting material is clay of a high purity and with a high aluminum oxide content.
The German ceramic artist did not print the marble cake-shaped object, but painted it. And that was before it was fired at a low temperature in a salt firing process. How well this emerges in the end, and how light and dark some of the areas become, is a matter of chance and cannot be controlled in the process.
5. lightweight porcelain
For me, the stool by Dutchman Djim Berger was made of stone. However, at the latest with the name I knew that I must not have a heavyweight, but the opposite in front of me: The series "Lightweight Porcelain" is made of porcelain. The designer mixes porcelain and polystyrene beads together in an atypical ratio that experts long thought impossible due to the high amount of added materials.
Once each piece is in the kiln, the fire burns the polymer and reveals the novel porcelain, which may not be as strong as a stone, but is certainly stronger than standard porcelain. This property makes the material ideal for furniture construction. Visually, the structure resembles a beehive or pumice stone.
6. luciverase XXXVII
The experimental works from the collection "Luciferase" by the Spaniard Nacho Carbonell seemed like mushrooms of light to me, until I discovered their cable connection on the back. They are made of epoxy resin mixed with sand and sometimes covered with plaster dust or metal dust.
The "light carriers," as the artist and designer calls them, have a velvety yet firm surface. This is misleading, as is the interior: In contrast to the soft shell, inside there are thorns made of stone, illuminated by hidden LEDs. This guesswork is precisely what makes Nacho Carbonell's work, as well as the others, so exciting. They all push the boundaries between different materials, design and contemporary art, functional use and sculpture, and trigger the Ü-egg effect in me.
---



«There are only two ways to live your life. One is as though nothing is a miracle. The other is as though everything is a miracle. I believe in the latter.»
– Albert Einstein
---
These articles might also interest you
Skeleton Loader

Skeleton Loader

Skeleton Loader

Skeleton Loader

Skeleton Loader

Skeleton Loader