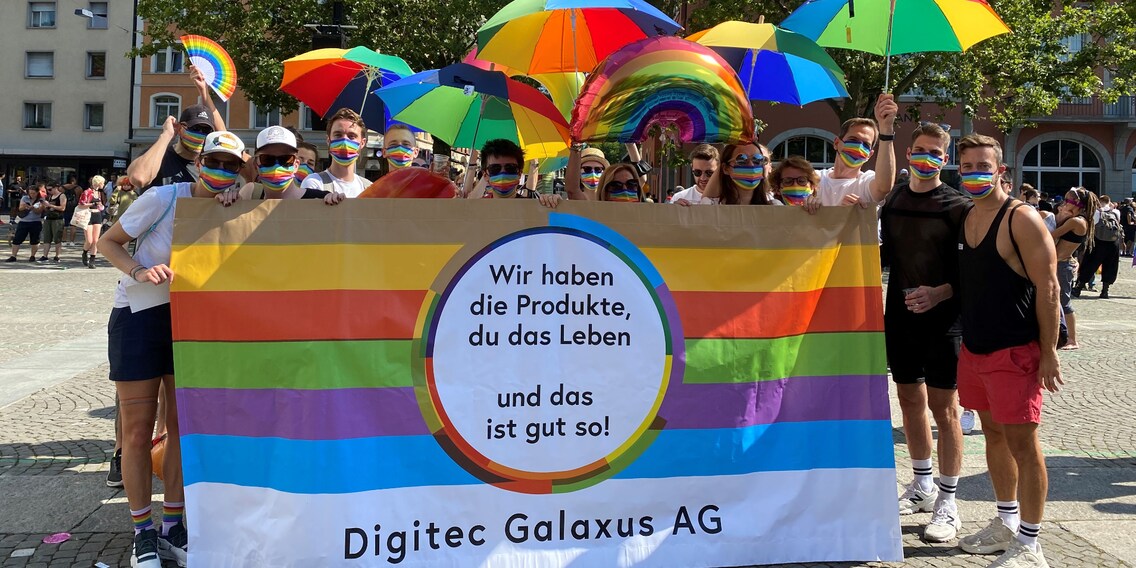 Diversity at Digitec Galaxus: still room for improvement
Stephan Kurmann
Zurich, on 05.05.2022
Translation:
Jessica Johnson-Ferguson
In the shuffle of daily business, Diversity & Inclusion are topics that are prone to be overlooked. To prevent this from happening, Digitec Galaxus has a so-called guild that's been dedicated to D&I matters since 2019. Its members regularly launch projects and ensure that thei subject remains on the agenda. Here's an update on current pain points and our rainbow-coloured commitment.
Sustainability, supply bottlenecks, internationalisation, Covid – the list of challenges keeping us on our toes is long. All the more important to make sure less high-profile matters don't fall through the cracks. For this reason, Digitec Galaxus has numerous interest groups, or «guilds» as they're referred to internally. Their members are dedicated to a particular topic on top of tackling daily business. Depending on their interests, resources and expertise, employees are free to join a guild.
Guild members meet up on a regular basis to promote their subject. And things are no different in the D&I guild. The group formed three years ago and currently has eight members. This year, the group has even gone international thanks to reinforcement from Serbia. Their goal is to put diversity and inclusion on the corporate agenda and advance the cause.
What's D&I about?
D&I in a nutshell – skip this bit if you're already a buff. Diversity & Inclusion are two interrelated concepts. Diversity in the workplace means that the company and its workforce reflect society in all its facets. These include characteristics such as gender, ethnic background, sexual orientation, age, status, etc. Inclusion is all about understanding and respect. The overriding goal is to create an inclusive work environment in which all employees feel included and are treated equally.
What was up in 2021
Although we're well into spring, let's take a look at last year in review. 2021 was yet another busy year for the D&I guild – jam-packed with projects. What's important to know is that the projects are usually located in other departments, such as HR, People & Organisational Development (POD) or Corporate Communications. The guild sees itself as a sparring partner – driving projects and launching initiatives bottom-up. Due to resource constraints, ideas can't always be implemented. And yet, significant progress was made in D&I last year.
Better pay transparency
An ongoing issue that was also a priority last year is equal pay for men and women. An important step was to determine the status quo. The foundation for this was laid with two analyses: a pay equity analysis and a large-scale employee survey called DG Sonar.
The HR department conducted a pay equity analysis, the results of which are encouraging. The unexplained pay gap between men and women at Digitec Galaxus is 0.9 per cent. This number refers to the wage difference that can't be explained by objective factors such as occupational status, education or industry.
In other words, on average, women make 0.9 per cent less than their male peers. A value below 1% indicates that there's no systematic wage discrimination, but probably other fluctuations instead. According to the Federal Statistical Office, the unexplained pay gap in the private sector in Switzerland is 8.2 per cent. So our results prove we're on the right track.
Professional development coaching and money towards further training
But it's not just fair pay that's important for employees to feel good about their jobs. Our POD experts know this too. For this reason, they launched an internal online survey called DG Sonar in 2021. It showed that the work culture at Digitec Galaxus is perceived as open, appreciative and transparent. Other key traits describing the company culture are a strong sense of belonging and a high level of employee motivation and loyalty.
To maintain and further strengthen this positive, inclusive work culture, it's important to support the development of every employee. Digitec Galaxus, for example, places great value on performance appraisals, a strong feedback culture and personalised further training. To boost the latter, all employees receive an annual training grant called EDU points. The amount varies from country to country. In Switzerland, employees receive CHF 2,000.– or 2,000 minutes that can be put towards further training.
Controlling with a twist
Another important goal of the D&I guild is to create more transparency with regard to diversity in the company. 2021 was a breakthrough year for diversity controlling. We know how many women and men work in every department. And we also know what the percentage of women is who apply for a job with us and actually get it in the end. These are key figures for ensuring gender-equal recruitment and HR development. And for taking measures where necessary.
Wanted: women in retail
And measures is what we took in our retail department, which includes all Digitec Galaxus store staff in Switzerland. Why? Because the proportion of women dropped by just under 10 per cent last year. Compared to other departments, such as Logistics and Product Development, where we are seeing an upward trend.
We now advertise all retail positions at 80% to 100%, instead of exclusively full-time as we did before. Job titles are now written in a gender-neutral fashion, as will the full job ads be in the future. In addition, gender awareness talks were held with managers who regularly recruit staff in our retail department.
These and other measures are intended to encourage women in particular to apply for jobs in retail.
Self-reflection is the key to success
Another goal of the D&I guild – both last year and this year – is to raise awareness among employees and third parties. Whether it's taking part in and reporting on Zurich Pride 2021, or updating you on the activities of the D&I guild with articles like these.
What's more, HR development in cooperation with the D&I guild has launched an e-learning module for managers to raise awareness of this issue specifically at management level. The module playfully reveals how unconscious bias shapes our actions. These biases are often based on stereotypes and play a central role in recruitment, among other things. Here are two examples: it's assumed that an older applicant is probably not familiar with new technologies, and so a younger person is hired. Or jobs are given to Ms. Smith or Mr. Jones instead of considering candidates with less common names.
Becoming aware of these unconscious biases and challenging them is the key to more D&I in the company in the long term.
What's up in 2022?
Last year's main topics were seamlessly carried over to 2022. This year, the D&I guild continues to advocate for a higher percentage of women in the company and in retail in particular. In addition, the guild is strengthening its collaboration with Corporate Communications. By joining forces, they aim to promote diversity and inclusion matters with internal and external stakeholders. And the most important thing? Getting our hands on hard figures. It's the only way to determining if we're on track when it comes to D&I.
---
Studies claim that we have a shorter attention span than goldfish. Ouch! My job is to get your attention as often and for as long as possible. How? With content you enjoy. Outside of the office, you'll find me on the tennis court, curled up with a book, Netflixing or travelling. 
---
These articles might also interest you
Skeleton Loader

Skeleton Loader

Skeleton Loader

Skeleton Loader

Skeleton Loader

Skeleton Loader