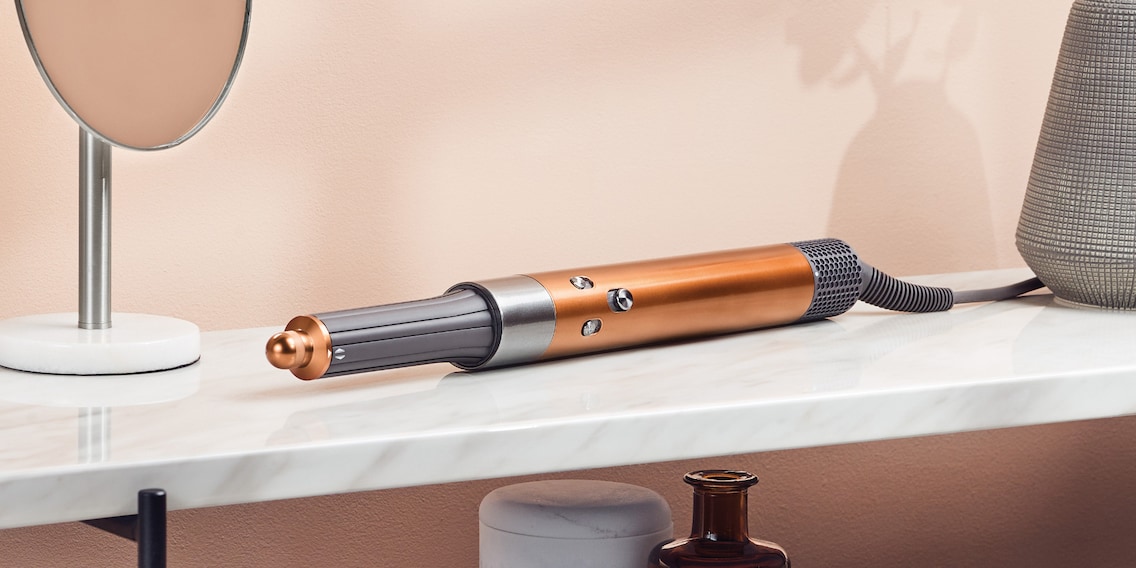 This article was translated automatically.
Dyson Airwrap: Everything you need to know about the update

Natalie Hemengül
Zurich, on 23.03.2022
Dyson has optimized the Airwrap and added new attachments. Here you can find out what has been changed in the hair styling tool and whether your first generation model is now passé.
I admit it: I couldn't help a brief eye roll when I was presented with the Airwrap "2.0" during Dyson's virtual press event. A new, improved version of the multi-hair styler I already bought for a lot of money in 2018. It's designed, as Dyson writes in the media release, to provide "faster, easier" styling that's suitable for "even more different hair types, styles and lengths." Something in me must have been anticipating an entirely new tool before that briefing.
At second glance, however, Dyson's attempts at optimization don't look bad at all. Yes, even interesting. At least in theory. The innovations are expected to go on sale this May. But what exactly is new and better? And what if you, like me, already own an Airwrap? I've summarized the answers to the most important questions for you.
What has Dyson changed about the Airwrap?
The changes only affect the attachments. Some of them have been further developed and improved, while others are completely new. The handpiece itself has not been tinkered with. Therefore, all attachments still fit on the device you already own. However, it is a pity that the iconic fuchsia color will no longer be available. Instead, Dyson is going for copper-nickel and midnight blue. While these are very pretty, they are only a moderate visual match for the pink embossed handpiece from the first generation.
Which attachments have been optimized and which are new?
The following attachments were previously available for the Airwrap:
Drying attachment
curling attachments in different sizes: 30mm short and long / 40mm short and long / 20mm long
large and small round volume brush

one soft and one firm smoothing brush in two versions each: narrow and wide

All four smoothing brushes have been revised. The previous models left small hairs sticking out quickly. Now the brush attachments are designed to blow the strand of hair closer along the curvature of the attachment by means of airflow. According to Dyson, this provides more precision and control during styling, which should lead to a smoother and sleeker result.

All five curl attachment formats have also been given a general overhaul. Previously, two curling attachments per format were always needed to style hair strands in different directions. Now one attachment is enough to curl the hair clockwise as well as counterclockwise. A small switch on the tip allows you to change the direction of the airflow without having to change the attachment itself. This saves time and space. Dyson will no longer continue the first-generation attachments in its lineup.

Brand new additions include the Coanda drying attachment and the wide-toothed comb attachment. The former will replace the regular drying attachment. With the push of a button, you can transform it from a hair dryer into a tool that tames short, flyaway hairs at the roots by hiding them behind longer strands. The product is the equivalent of the Flyaway attachment available for the Dyson Supersonic hair dryer. The comb attachment, on the other hand, is specifically designed for curly and frizzy hair and is meant to add shape, volume and length as it dries. This attachment is already available for the Dyson Supersonic hair dryer.
In what form and at what price will the products be available?
You'll be able to customize the attachments for your set, according to Dyson. There will also be a full upgrade kit available at a suggested retail price of CHF 199, which will allow you to add the new attachments to your first-generation Airwrap. According to the manufacturer, the recommended retail price of the complete kit is CHF 649.
I will find out what the new features are worth in a future review. You can find all my previous Dyson Hair reviews here:
Shopping guideBeauty

Dyson hair care: the collected reviews
Something still unclear to you? Ask your question in the comments column.
Auftaktbild: Dyson
---



Natalie Hemengül
As a massive Disney fan, I see the world through rose-tinted glasses. I worship series from the 90s and consider mermaids a religion. When I'm not dancing in glitter rain, I'm either hanging out at pyjama parties or sitting at my make-up table. P.S. I love you, bacon, garlic and onions. 
---
These articles might also interest you
Skeleton Loader

Skeleton Loader

Skeleton Loader

Skeleton Loader

Skeleton Loader

Skeleton Loader