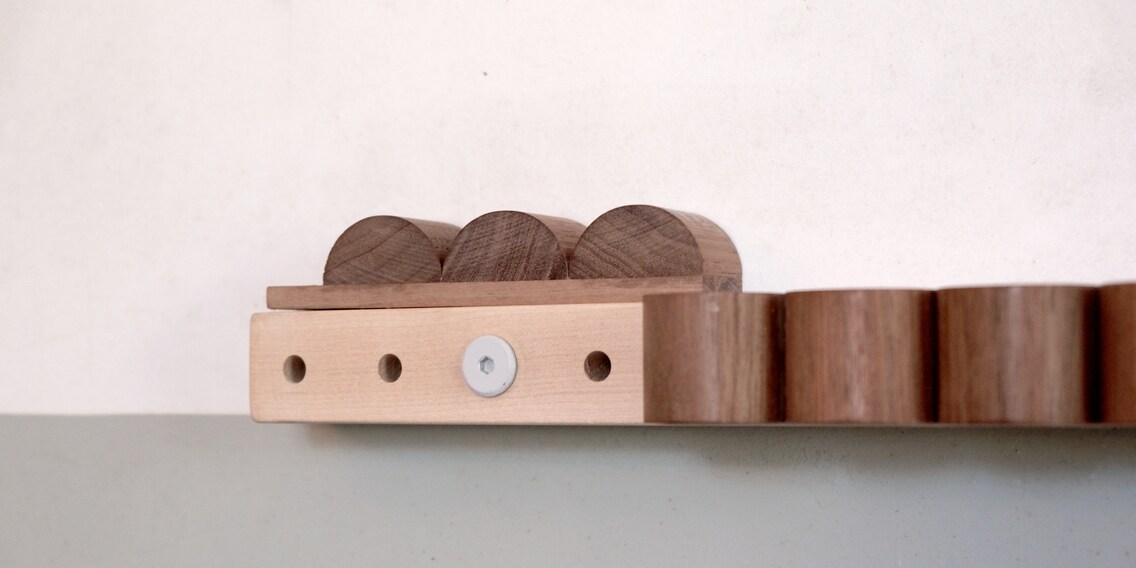 This article was translated automatically.
Furniture with Swiss army knife approach

Pia Seidel
Zurich, on 14.06.2022
One size is out: The trend is towards an individual furniture system for all interiors. This is shown by these three exemplary collections that were on display at Milan Design Week.
One-size-fits-all clothing is already controversial in fashion. Now creative minds are questioning whether the concept should then be a good solution in the furniture world. Loose Parts, Tijana Kostić and Feltrin De La Miranda - all three design studios reject conventional furniture and design ones that have the qualities of a Swiss Army knife: timeless, practical and flexible. With their work, they also invite you to rethink (your) interior design.
Original Assembly Kit: furniture for unfamiliar living conditions
There's a Bob the Builder in all of us. Designer Jennifer June is convinced of that. She's watched us constantly tinker with our interiors and thinks we should be able to do the same with our furniture. That's why she developed a changeable furniture assembly kit for her label Loose Parts. Original Assembly Kit (OAK) consists of loose parts like rails, metal hardware, and shelves that you can assemble into different pieces of furniture. Whether it's a coat rack, shelf or day bed, you build each piece in at different heights as you assemble it. So it should also fit in another apartment if you ever move.
The idea for OAK came to Jennifer June in the aftermath of the first Lockdown. On the one hand, she was shocked by all the discarded furniture on the street, but on the other hand, she was inspired by the improvised solutions: "It was inspiring (...) to see how many companies were building temporary outdoor extensions of their store fronts from simple pop-ups to fully grown environments," she explains. In this, the designer has seen what she calls a forward-thinking "landscape." One made up of untethered walls and loose furniture that expands or contracts as needed, but certainly doesn't end up in landfills.
Subversion: coffee table book tables
Many give their books away after reading them. Not so Tijana Kostić. She makes them a functional part of a table. Her collection Subversion is a collection of changeable furniture pieces. The twist is that all the pieces are adaptable. You just choose which book, material or tabletop size you want and you create your own design with the help of clamps. In this way, the trained architect wants to encourage you to reuse broken or unused things and give them a new life.
Moments in which you react ad hoc in everyday life inspire Tijana Kostić. As an architect, she has observed them especially often on construction sites. She liked the improvised furniture that is provisionally constructed there during construction. "Functional, unselfconscious, changeable and ambiguous enough to tell stories," she finds.
No More Less Chair: a chair for old age
You may not know much about design, but you sure know when you own a bad one: the supposedly beautiful piece either breaks quickly or simply doesn't fit your lifestyle. Studio Feltrin De La Miranda wants to counteract that. It makes a start with the No More Less Chair. The chair is decorative as well as functional, but is also meant to grow with you and remain user-friendly. Thanks to its many adjustment options, it adapts to your body. And because it breaks down into flat individual parts, you can easily transport it from A to B.
"Taking care of our tried-and-true belongings should be as elegant as owning the newest ones," is Francesco and Francisco's motto. That's why you can not only adjust the chair individually, but also easily maintain it yourself. The duo wants to address a neglected category in the furniture industry: Design for the elderly. After interviewing people in their sixties about their physical and emotional relationship with their furniture, the designers decided to launch the "No More Less Caring" project. The chair is said to be just the beginning. "We envision a world where there is more caring and we want to support that with our detail-oriented thinking."
---



«There are only two ways to live your life. One is as though nothing is a miracle. The other is as though everything is a miracle. I believe in the latter.»
– Albert Einstein
---
These articles might also interest you
Skeleton Loader

Skeleton Loader

Skeleton Loader

Skeleton Loader

Skeleton Loader

Skeleton Loader