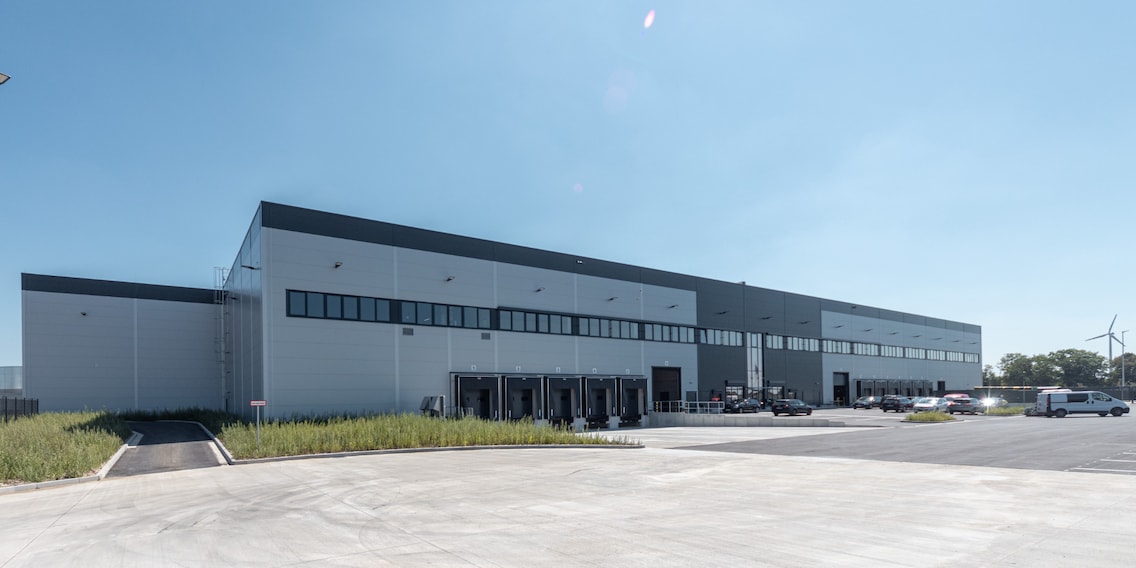 The second hall in Krefeld created more than 14,000 additional square metres of storage space in 2022
Galaxus.de turns 5: time for a trip down memory lane

Galaxus in Germany is celebrating its fifth birthday. 1.6 million customers and over 170 million euros in sales in 2022 – the first few years in Germany have been promising for Digitec Galaxus, Switzerland's largest online retailer.
«Nobody in Germany needs a new online shop,» was something many people told me when I joined Galaxus. I first heard it from the managing director in Hamburg, then from coworkers at other locations. But despite this initial scepticism, the business model is catching on in Europe. With its no-nonsense attitude and a community and magazine to go with it, Galaxus has successfully filled a niche in the market. In 2022, the shop reached sales of 173 million euros in Germany, putting it in 65th place in the ranking of 1,000 largest online shops. And Galaxus is continuing to grow by a high double-digit percentage in 2023. Customers can now choose from over three million products. To mark the fifth anniversary of Galaxus in Germany, let's take a trip down memory lane.
The early days: Swiss mother helping us stand on our own feet
At the launch in November 2018, Galaxus in Germany moved to the 4th floor of Schützenstraße 5 in Hamburg-Altona. To this day, these are the headquarters of the German subsidiary. As for the logistics hub, management chose Krefeld. The city's conveniently located in central North Rhine-Westphalia, the most populous state of Germany, with manageable distances to the north and south of the country. In addition, other markets, including France, Belgium or the Netherlands, can be reached quickly. The company set up its headquarters in Hamburg for recruiting reasons. After all, many e-commerce experts live and work in the Hanseatic city.
By the end of 2018, a good ten employees took up their jobs in Hamburg and Krefeld. The main challenge: «...to impress customers in Germany of our offer and make the Galaxus brand known throughout the country,» as was stated in the press release at the time. To make this happen, Galaxus relied on online marketing – both for the products and for the editorial content. Galaxus.de is based on the product master file and the well-maintained product data from the Swiss shop. Galaxus in Germany also uses the same ERP and the same analysis tools. Our Swiss colleagues also set up contacts with important brands and intermediaries. Even most of the furniture in the office kitchens stems from the Swiss headquarters, and some of the shelving in Krefeld used to be in Swiss warehouses.
At the start, the support of mother Digitec Galaxus was essential. But soon, the German teams stood on their own two feet, with the teams in Hamburg and Krefeld making most of the decisions independently.
Self-discovery: German teams become independent
«We're convinced that with Galaxus, we can compete on an international level,» said Florian Teuteberg, CEO of Digitec Galaxus, at launch. And so, the expansion of the product range began based on the Swiss market leader's model. Galaxus.de started out with an electronics and IT range spanning 50,000 products.
It was soon joined by the first 6,000 household appliances in March 2019. By November, the total range had grown to 150,000 products, with categories including DIY + Garden, Home + Kitchen and Love + Play. 75,000 customers made purchases on Galaxus.de in the first twelve months after its launch. Glasses were raised in Hamburg and Krefeld to celebrate milestones such as the 10,000th parcel dispatched or the 100,000th product added. Meanwhile the workforce had also grown. By the end of 2019, a total of 35 people were working for Galaxus in Germany.
With the expansion of the shop, new teams were created and areas including category management and marketing in Hamburg became practically independent. Customer service, after-sales, HR and SCM teams started to develop in Krefeld alongside logistics.
The years 2019 to 2021 proved intense for the German divisions. As Galaxus became better known among suppliers and partners, representatives were increasingly involved in talks and negotiations throughout Germany. At the same time, logistics in Krefeld had to cope with ever-increasing order volumes. The first warehouse Hans, located on Krefeld's Hans-Günther-Sohl-Straße, became increasingly cramped. Covid had unexpectedly boosted online trade and Galaxus with it. More space was needed. And more staff.
Growth: the expansion has brought us closer
With sustainability and honesty as our declared goals, various innovations have been introduced. For example, carbon offset, sustainability filters, a price transparency tool and figures on products' warranty and return rates. At the same time, the challenges in Germany were growing – namely the lack of space and staff.
Galaxus was able to solve the space problem in August 2022 with Odilia, a warehouse on Krefeld's Odilia von Goch street and new workplace for a large part of the Krefeld staff. Finally, there was room to breathe again at warehouse Hans. To help recruit additional staff members, Galaxus reached for new measures – visits to trade fairs, cooperation with local media and open visiting days to name but a few. At the same time, Galaxus launched its first major marketing campaigns in Germany, which helped boost the brand's visibility. Today, over 200 people work for Galaxus in Germany.
Soon after, Germany's domestic market received some new additions. Galaxus Deutschland GmbH launched Galaxus.at in late 2021, and the following years also saw shop launches in France, Italy, the Netherlands and Belgium. «The expansion can't be shouldered by the German teams alone. So in 2021, we started to dovetail and merge the teams in Switzerland, Germany and Serbia,» says Florian Teuteberg. Today, all teams are internationalised, meaning they're all responsible for all countries.
For Galaxus.de, it wasn't all plain sailing from the start. It was a steep learning curve for both the Swiss and German teams. For example, only credit card and advance payment were available as payment methods in the early day. Other payment methods such as by invoice or PayPal were added much later than some customers would have liked (these are all payment methods currently available). Despite these hiccups, Florian is satisfied with how things have developed: «Joining our organisations in Germany and Switzerland has been completed. We can now see that this international cooperation works. Galaxus.de has developed strongly, we've been able to reach all our ambitious sales targets and have seen the company grow rapidly.» This is in spite of the fact that industry-wide online retailing in Germany has been on the decline in terms of sales in 2022. The Galaxus teams are looking forward to the next five years of working towards ambitious goals.
How do you like Galaxus.de? What needs improving?
---
---