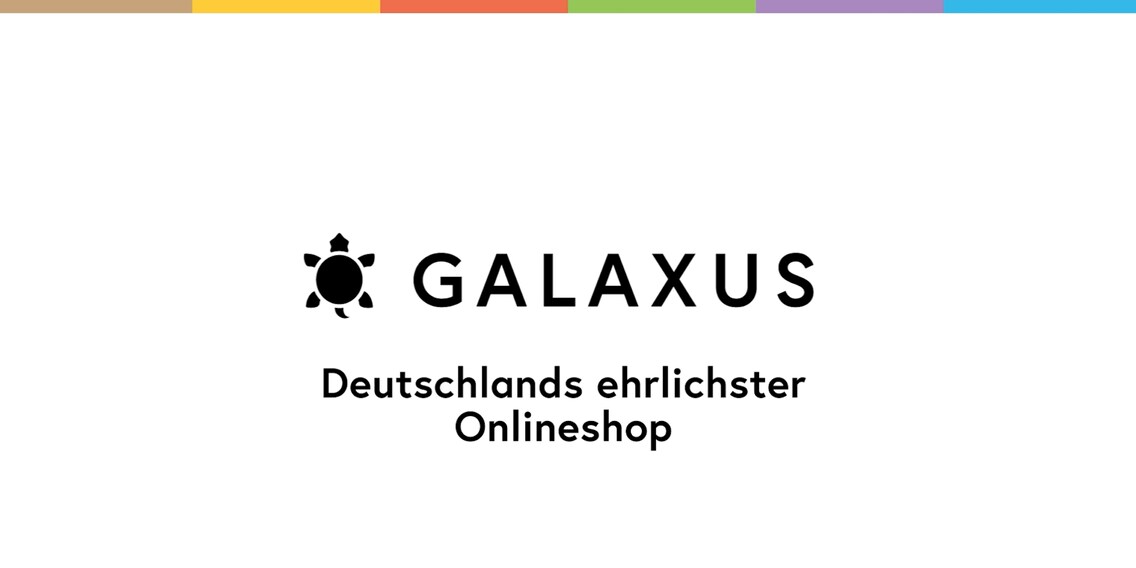 «Germany's most honest online shop» – the story behind our claim

Our campaign is currently running commercials on TV, YouTube, etc. Galaxus portrays itself as humorous, honest and down to earth. But what does being honest mean to us?
The three short video spots we're currently showing, are entertaining, funny and surprising. At least that's what test viewers thought. But why Galaxus claims to be «Germany's most honest online shop» wasn't clear to everyone. Especially not to those who weren't yet familiar with Galaxus. And in Germany, that's no less than 90 per cent, as market research has revealed. High time to reduce the number of the unaware!
So why is Galaxus so honest? So honest, in fact, that we use the superlative? Primarily, that's to do with our values and brand essence. They define that the human factor is essential in the way we think and act as a company. Concretely, this means that we believe in the dignity and sovereignty of human beings. We also believe in the freedom and responsibility all people have to develop and give purpose to their lives. That's why our online shop is a platform where anyone can engage in informal, reasoned discussions and shop according to their own wishes and principles. The online shop's honesty provides the basis for customers to make conscious purchasing decisions and act sustainably.
If this all too abstract or off-the-wall for you, here are a few concrete examples:
1. You're the one who decides what you buy.
At Galaxus, all products are equally important. For example, if you search for «irons», you'll be presented with the most relevant ones – as opposed to irons by manufacturers who have the most money and pay for their products to be ranked highest in the results list. At Galaxus, neither manufacturers nor suppliers can buy a better rank. Instead, we leave it up to you, which criteria you choose to find the next iron you'll buy. That's why we provide more filters than most shops. So you can narrow down the results to the product properties that matter to you.
2. All ratings are real.
It's said that some shops out there are struggling with fake product ratings. After all, there are companies that sell whole batches of five-star ratings to certain brands, just to make them look better than their competitors in large online stores. This means that some platforms are teeming with paid praise for alleged super products – even if they're cheap plastic junk. Product reviews on Galaxus, however, are real, honest and authentic. A sophisticated mechanism ensures that systematic fraud is detected and the fake entries deleted. It's possible that we're managing to stay on top of this because we're still a relatively player on the German market. However, in Switzerland, where we're the market leader, we know how to prevent fraud and work hard to keep it that way.
Of course, we don't delete any negative product ratings. Even though certain providers push for it. But we firmly believe we're more likely to win you as a long-term customer and be more successful customer if we show you the bad reviews, too. Why? Because they'll help you make well-informed purchase decisions you won't regret.
3. The prices on Galaxus are transparent.
Once you've decided which product you want, you'll be looking at the price. Is the quoted price good? You can find out about the development of the price in our shop. For almost every product, there's a price history that shows you how much the product cost in the past. This provides some context for the current price.
The decision whether to buy a product and when is, of course, entirely up to you. The price development simply reveals what dynamic pricing looks like in practice. Product prices change depending on several factors: the number of products available, the price at which we purchase them as well as the demand and prices of competitors. What's also good to know is that our prices are the same for all users. We don't do personalised prices, such as higher ones if you're using an expensive device to do your online shopping or if you're browsing our shop at a certain time. This is all part of what we consider to be honest and fair.
4. Our editors are here to help.
In addition to sales information and the presentation of new products in our range, you'll also find other content: product tests, reports, news from the world of tech, guides, series and a podcast – which is currently only available in Swiss German. All of this is written up and produced by the Galaxus editorial team. It's made up of professional journalists and a team of experts for video and social media – more than 30 people in total. Each of them chooses the topics they want to report on and puts in critical and independent research work. When it comes to test reports, the editors have no mercy if a product fails to deliver. Much to the displeasure of many a manufacturer. Conversely, they praise products they like.
By the way, our authors also answer follow-up questions in the comments below the articles. After all, they're experts in their respective field and can provide in-depth information. It might come across as strange that an online has its own team of independent editors. Find out why here:
PS: So far, almost all our journalists are based in Switzerland. That's why their German might contain some expressions that sound strange to readers in Germany and Austria. English readers will probably not feel a big difference.
5. Get real help in the Community.
And if you're still undecided about a product, despite all the filters, customer reviews and editorial articles, you can reach out to the Community. It's where you can express your opinion about the ugliness or beauty of gaming hardware, or receive answers to very concrete questions about products other Community members are already using. You'll often get an answer to your question within 24 hours. And a useful one at that. Not something along the lines of «Dunno, don't have this product».
We also encourage discussions about our range. Be it about dodgy filters, features the Community would like us to work on and much more. Suggestions from the Community often lead to improvements to our shop, new topic ideas for the editorial team or suggestions for products that we later add to our range.
6. Get expert assistance.
Not a single Galaxus employee works on commission. Neither for high sales, nor for selling products for certain manufacturers. In other words, all the people who work at Galaxus will provide you with expert, unbiased assistance and will only recommend products you're looking for and really need. That's why you can rely on the answers you get from the Community and our employees.
Have any other questions?
There you have it. That's what behind «Germany's most honest online shop». Do you have further questions to any of the points above? Do you think we could be more honest? Thanks for letting us know in the comments! We look forward to an exchange with you.
---



My career as a journalist began back when printing presses were still a thing. Writing pieces for a publication aimed at breeders of small animals was my first steppingstone. Several years later, I got a call from headquarters. I was put in charge of several digitisation projects and establishing audience management strategies for regional newspapers and the NZZ. I've been with Digitec Galaxus since 2020, writing articles whenever I get the chance. As I have semi-superficial knowledge of many things, my spectrum of topics is quite broad. 
---
These articles might also interest you
Skeleton Loader

Skeleton Loader

Skeleton Loader

Skeleton Loader

Skeleton Loader

Skeleton Loader