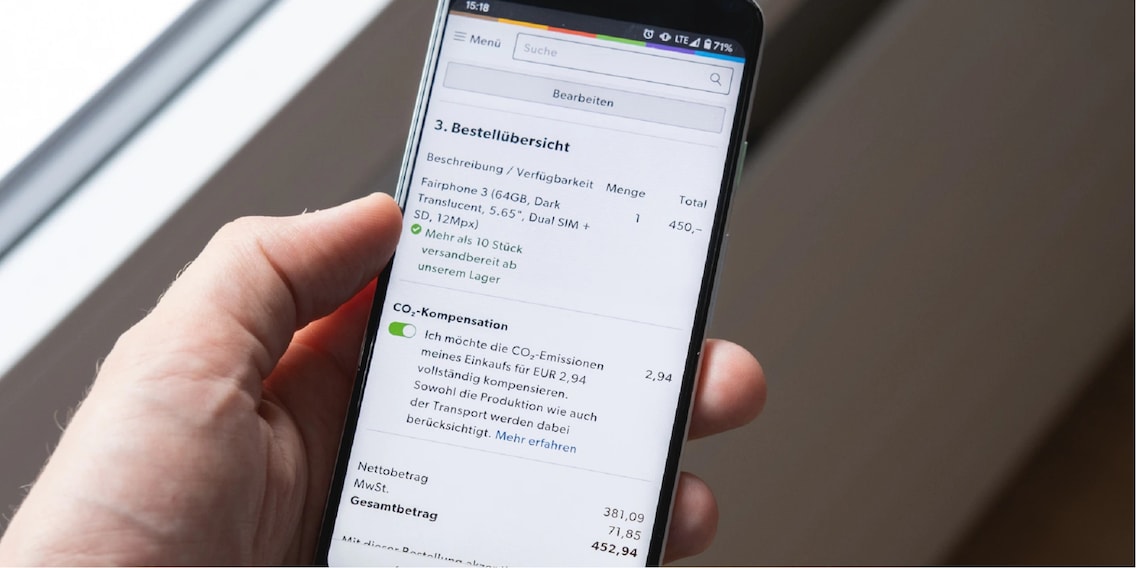 Hamburg becomes top Galaxus climate clicker in Germany
Over the past twelve months, the Galaxus Community has invested more than 1.6 million Euros in climate protection efforts. On average, Community members living in Hamburg, Berlin and Bremen have donated more frequently than those in other German states. Members in the newer federal states have made less use of our CO2 compensation option than members in older states. Contributions are most frequently made with purchases of sporting goods, clothes and beauty and health products.
Two years ago, Digitec Galaxus and its German subsidiary Galaxus became the first online retailer to launch a CO2 compensation feature across its entire product range. While the Community gave over 1.3 million Euros to climate protection projects from July 2020 to July 2021, the number increased this past year by almost 25 per cent, totaling over 1.6 million Euros between customers in Germany and Switzerland. Hamburg residents have been the most frequent users of the CO2 compensation feature in Germany, choosing the option with 12.2 per cent of orders. Berlin comes in second place with 11.7 per cent, followed by Bremen with 10.7 per cent. Bringing up the rear are the newer states of Saxony-Anhalt (6.4%), Mecklenburg-Western Pomerania and Thuringia (both 6%). Berlin and Saarland are exceptions to the typical East and West trends.
At Galaxus, we've seen a particular increase in CO2 compensation clicks in Switzerland. Usage of this feature has risen in every canton and averages almost 12 per cent across the board. In Germany, things are a bit different. Here, the average compensation rate is significantly lower at 8 per cent, while in Austria it's at 10 per cent.
Thanks to the money the Community has invested, 92,000 tonnes of CO2 have been offset (either reduced or prevented from being emitted in the first place). This corresponds to almost 50,000 flights from Zurich to New York or 230,000 trips by car from Zurich to the French surfing hotspot of Biarritz. The CO2 compensation option allows customers to make a voluntary contribution to offset the greenhouse gas emissions associated with their purchase. This money is then invested exclusively in certified projects run by our partner South Pole.
Athletes race into the lead
A look at how certain product groups are related to contribution rates shows that purchases of sporting goods, household items and beauty and health products are linked with a 13 per cent contribution rate. Customers who order furniture or pet supplies are also more likely to contribute but those who purchase vehicle or IT items are not, as shown by their respective contribution rates of 7 and 5 per cent. There's no statistical explanation as to why one in four buyers of analogue films and spare parts for headphones chooses the CO2 compensation option. It's also unclear why only 1.6 per cent of gift voucher purchasers use the feature.
Is our CO2 compensation feature too hard to find? Are there additional options you think we should offer to effectively take action on climate change? If so, add your comments below to join in the conversation.
Visuals
Contribution chart by federal state
Logo Galaxus

Press contact Germany/Austria
Galaxus Deutschland
Daniel Borchers
Schützenstraße 5, 22761 Hamburg
Phone: +49 40 334 614 772
E-mail: daniel.borchers@galaxus.de
---
---
These articles might also interest you
Skeleton Loader

Skeleton Loader

Skeleton Loader

Skeleton Loader

Skeleton Loader

Skeleton Loader