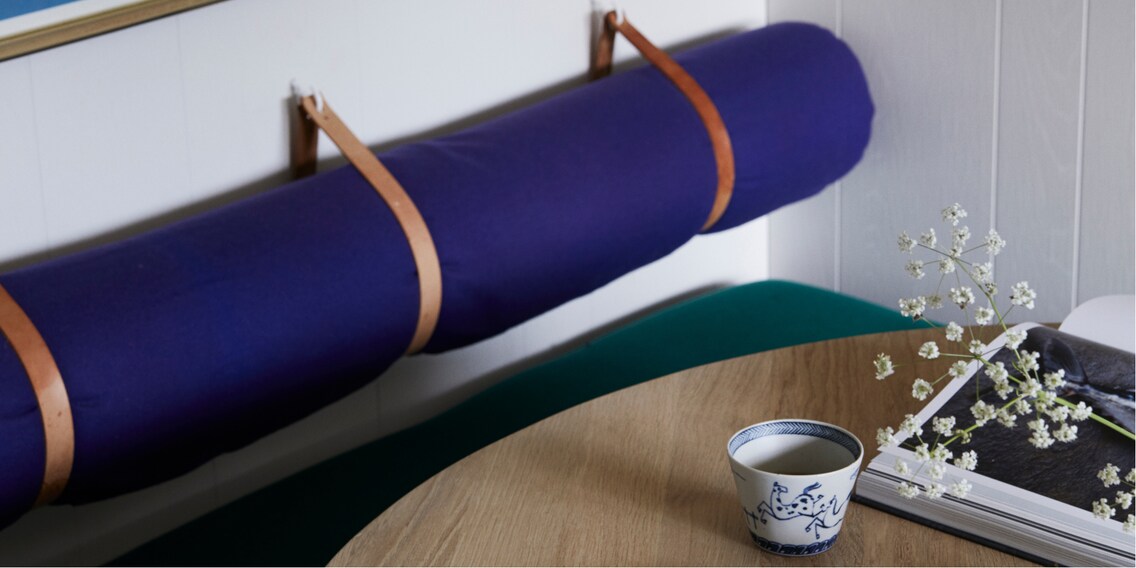 Hidden potential: how to spruce up your alcoves

Pia Seidel
Zurich, on 07.02.2022
Translation:
Katherine Martin
There's life in every corner of your apartment. And if you let your imagination run wild, you can make something out of even the smallest nook or cranny.
Maybe you didn't choose to have those old doors, cupboards or sloped ceilings. But they're there – and now you've got to live with them. Ignoring them is all well and good, but using these «lost» areas to your advantage is even better. To do that, I've turned to catalogues and interior design experts for some sparks of inspiration. Revealing some of these ideas and tricks, I'll show you how to bring even the smallest corner of your home to life.
Alcoves
Transform an alcove into part of your working-from-home set-up, a seating area or a reading corner by adding a bench or an armchair. The dining area in this photo, for example, takes up less of the available room than it would with ordinary chairs. A framed poster and a ceiling light emphasise the depth of the alcove and elegantly outline the area.
Alcoves can also be repurposed with spacious, built-in shelves. Depending on how much room you've got, you could even put in a home bar. Areas like these are crying out for highlights. By adding a touch of colour to individual shelves or by painting the wall behind them, you'll give them a certain je ne sais quoi.
Corners
Use corners to house furniture that'd otherwise get in the way – especially in narrow hallways. A filigree wardrobe can liven up an unused corner while creating more storage space.
To take advantage of every sliver of your apartment, you need to think big. Or sometimes, high. Filling the gap between the door and the ceiling with shelving creates extra space to show off your decorative accessories while keeping the floor clear.
If the corner doesn't reach the ceiling, there won't be room for tall furniture. That said, you can still make use of these spaces – now you know where to stash that chair that's only used when visitors come knocking. It can also be effective to place a side table here, which steals glances with a bit of «still life» charm.
Sloped ceilings
Get the best of your sloped ceilings by setting low cupboards underneath – preferably across the entire width of the wall. If that isn't possible, create a seating area instead. Interior design pros like to go for bar stools here.
Placing a sofa under a sloped ceiling makes the best possible use of the space. Behind it, a ledge plays the perfect host to accessories, while mounting shelves on the wall above would boost the area's potential even more.
Ledges
Whether intentionally fitted or not, ledges highlight a room's depth. You can enhance this effect by arranging souvenirs and other little treasures on them. This way, you emphasise not only the architectural detail, but the objects too.
Ledges can often be found next to or above fireplaces, but they rarely attempt to rival the fire for our attention. You can change that by being intentional with your ledge's design and decorating it with vases, for example.
The same can be said of those little crevices under furniture or kitchen units. With the right shelving, even these areas can morph into attractive storage spaces.
Furniture
When sitting at a desk or dining table, legroom is a must. With a hallway bench, which is only used for a few seconds at best, this isn't the case. Take advantage of this by filling the space under your bench with storage boxes or shoes.
Window sills
Window sills are wonderful places: the deeper they are, the more can be done with them. Bedecking them with cushions and pillows transforms them into sunny spots for reading, daydreaming or just lazing around.
---



«There are only two ways to live your life. One is as though nothing is a miracle. The other is as though everything is a miracle. I believe in the latter.»
– Albert Einstein
---
These articles might also interest you
Skeleton Loader

Skeleton Loader

Skeleton Loader

Skeleton Loader

Skeleton Loader

Skeleton Loader