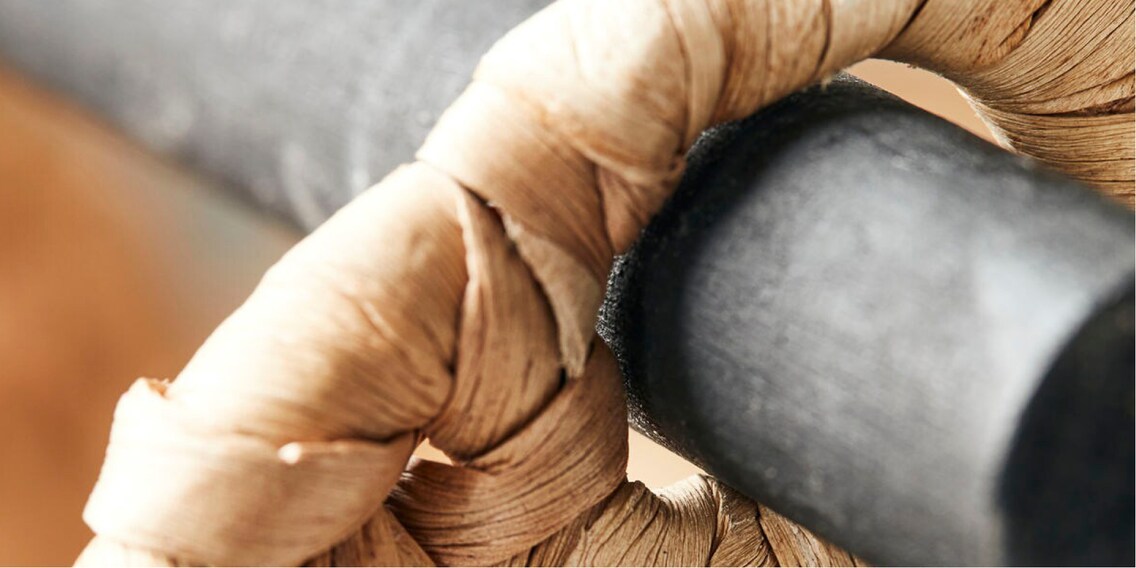 How to turn your bathroom into a second living room

Pia Seidel
Zurich, on 01.03.2022
Translation:
Katherine Martin
I want my bathroom to be clean, but I don't want it to look sterile. That's why I pick out shelves, holders and furniture according to three very specific criteria.
Compared to other rooms, the bathroom doesn't get much love. It's often accepted as it is on moving day: with drab accessories and bog-standard bathroom furniture. But it doesn't have to be this way. Even small details are enough to make the room cosier and more personal; little things to counteract the dominance of porcelain and steel. You don't have to go through the hassle of replacing all the fixtures.
1. Go for warm colour schemes
To warm up your bathroom's colour scheme, you should replace a couple of things straight after moving in – namely the built-in blinds and the chrome or stainless steel towel rails. These cold looking surfaces are anything but pleasant. In Switzerland, they often come from the same suppliers and are rarely imaginative in terms of shape. There are much more attractive alternatives in warm colours.
Scandinavian brand House Doctor is leading by example. It has two collections for bathroom fixtures, Pati and Bath, which are made of reddish-brown brass instead of silver chrome. Visually, the colour warms up the cool porcelain, while the matt finish soothes the eye. This is because, unlike surfaces made of chrome or similar materials, brushed brass isn't reflective. If you combine it with textiles in similar natural tones, your bathroom will automatically look more inviting.
2. Bring in a touch of nature
Bringing 'The Great Outdoors' indoors creates a pleasant atmosphere in any room. In the bathroom, materials like bamboo and rattan allow white sinks or bathtubs to be contrasted with softness. On one hand, the beige and brown tones are in keeping with the warmer colour scheme. On the other hand, rattan is often woven. This creates patterns and organic shapes, injecting variety into the otherwise uniform grid of a tiled room.
The Bloomingville and House Doctor brands regularly incorporate wicker into their bathroom collections. On one model, toilet paper is given a home in the form of a basket made of banana leaves and trimmed with cotton thread. On another, the toilet roll holder is formed by a hand-woven basket made of water hyacinths, which sits underneath. And the mirror? It's made of sugar cane. Decorative touches like this prevent your bathroom from looking clinical.
3. Decorate with patterns
Whether printed, braided or embroidered, patterned items make a bathroom more inviting than stark white fronts do. Because they break with the clear lines of the bathroom tiles, they're easy on the eye. Especially when the patterns are as shapely as the Viennese wicker, which is characterised by even, round openings. You can see through it, so it looks lighter than solid wood.
Kave Home, for example, carries bathroom furniture with honeycomb mesh incorporated into the facades. With this, the Spanish brand has demonstrated that Viennese wicker isn't just for seating – it's a good fit for bathrooms, too. Other patterns also lend bathrooms a bit of charm. The geometric grid on the Kave Home rug, for example, will never go out of style.
---



«There are only two ways to live your life. One is as though nothing is a miracle. The other is as though everything is a miracle. I believe in the latter.»
– Albert Einstein
---
These articles might also interest you
Skeleton Loader

Skeleton Loader

Skeleton Loader

Skeleton Loader

Skeleton Loader

Skeleton Loader