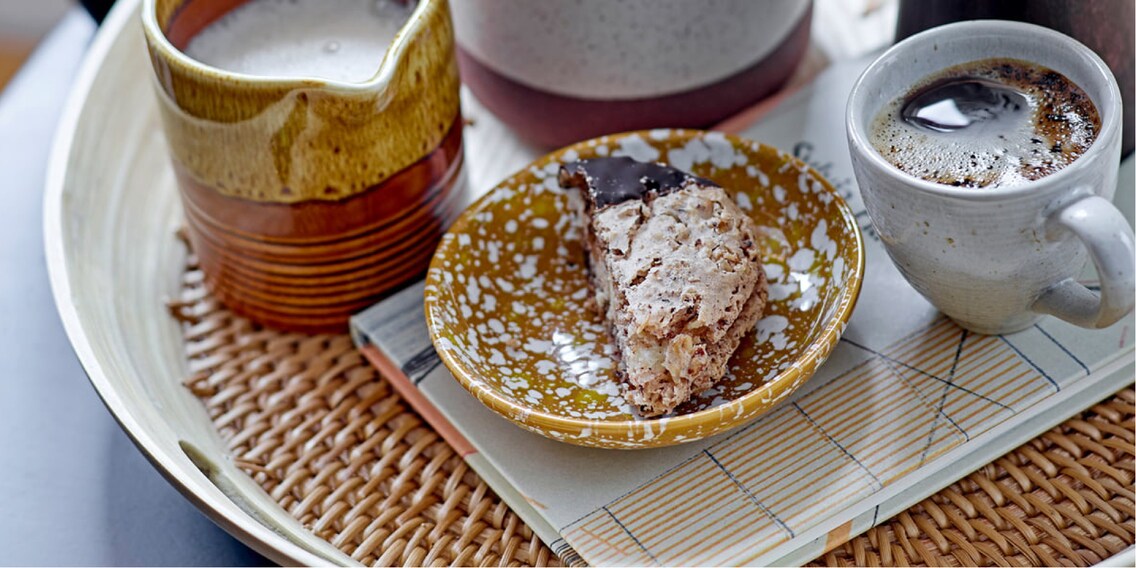 Pia's Picks: dotty about speckled ceramics

Pia Seidel
Zurich, on 15.02.2022
Translation:
Jessica Johnson-Ferguson
I regularly share items from my watch list that may appeal to you, too. This time, it's a pattern that's left to chance.
As long as they're covering my ceramics and not my clothes, I love them: stains. Or speckles, to put it more nicely. Just as freckles decorate a face, speckles and spots beautify plates, vases and bowls.
With its play of colours, a speckled glaze upgrades any cup or vase – no matter how simple. It provides a fresh look without trying too hard. For wildlife, speckles and spots often serve as camouflage. They allow the chameleon, for example, to become one with the jungle in terms of colour. Similarly, stoneware also blends in with its surroundings because of its subtle patterns. Unlike floral or checked patterns, speckled objects go with almost any style.
Try mixing white-speckled brown plates with traditional white plates, for example. As they all share a colour, the overall look is still cohesive. In addition, the brown undertone adds warmth to the dining table that a purely white tableware set doesn't.
Just like freckles on skin, speckles on ceramics are also random. To achieve this effect, the paint is deliberately applied by chance. These irregularities make each plate unique. They've also got me dreaming of the upcoming season, which will grace my skin with freckles.
Header image: Bloomingville
---



«There are only two ways to live your life. One is as though nothing is a miracle. The other is as though everything is a miracle. I believe in the latter.»
– Albert Einstein
---
These articles might also interest you
Skeleton Loader

Skeleton Loader

Skeleton Loader

Skeleton Loader

Skeleton Loader

Skeleton Loader