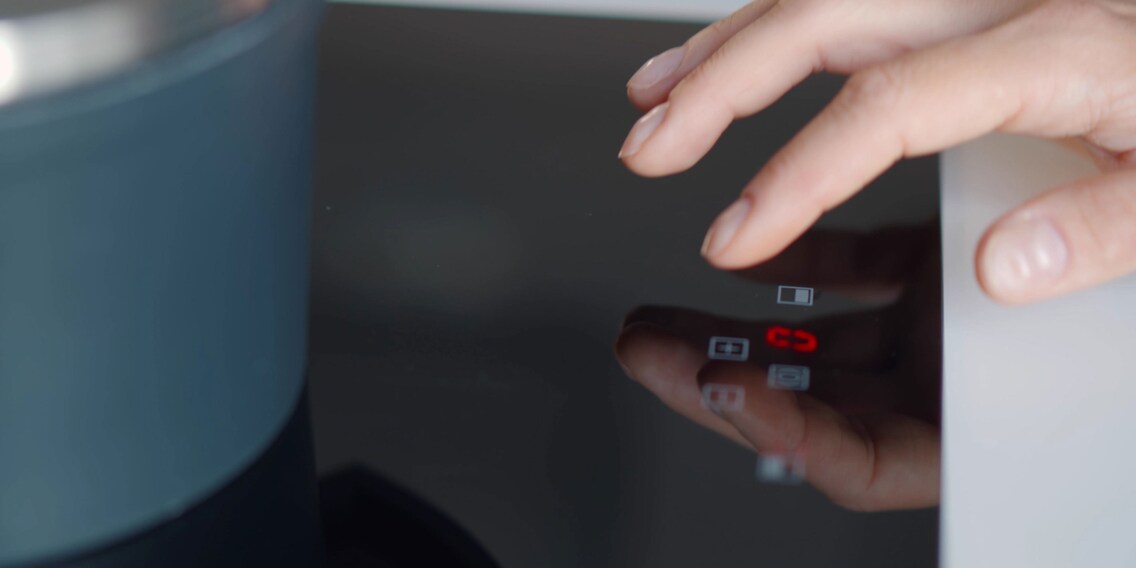 Professor of design: «Touch controls have no place in the car or kitchen»
Simon Balissat
Zurich, on 13.09.2021
Translation:
Veronica Bielawski
Form follows function? Not so in the case of touch controls in the kitchen! So why are they ubiquitous? An expert on the matter gets to the bottom of it.
My opinion pieces have rarely been as well received as the one on touch controls in the kitchen. But your criticism of this craze reaches beyond just the kitchen: you also take issue with cars, for example.
OpinionCooking

Kitchen appliances with touch controls drive me crazy
Touch controls are increasingly replacing the knobs and buttons that were once the status quo. This is happening in the kitchen, the car, on coffee machines and even in the case of doorbells. These touch controls are rarely actually useful, says Sebastian Stroschein, professor of industrial and interface design at the «Institute of Contemporary Design Practices» at the FHNW (University of Applied Sciences Northwestern Switzerland) in Basel. He also runs a bureau for product design in Berlin.
The cost factor
«The fact is touch controls don't work reliably when wet, for example. Manufacturers opt for them regardless because it's much cheaper to build digital cooktops than ones with knobs,» Stroschein explains. As developments in display technology bring in higher resolutions and fuller colours, the price of older displays plummets. You don't need the latest Retina OLED display for a stove or oven anyway, which is why manufacturers can secure these for bargain prices. The real challenge is actually implementing them in a sensible way.
Feigning modernity
Cost alone can't explain the success of touch controls. After all, even the most expensive stovetops and ovens features touch controls in lieu of the now-outmoded knobs. Stroschein cites the desire to have a modern home as a driving force for this. «If I put an apartment up for rent or sale in a new building and have a stove in there that looks old, I have to justify it. It's not long before someone questions if the apartment really is state-of-the-art.» Smooth surfaces, ideally with no protruding elements, are in. This trend didn't just stop in the kitchen. It has long since found its way into the car, too: minimalist design, no rough corners or edges, and definitely no buttons. The product designer's heart is heavy. «If everything is reduced to rectangular displays, what's left for us designers to add to the product?» Stroschein laments. And he doesn't expect the trend to end within the next few years. Manufacturers are too set in their ways and touch controls have become too commonplace.
Groupthink
The concept of peer pressure also plays its part in fuelling the touch-control hype. If your competitor starts selling only appliances with touch panels, you'll also want a piece of that pie. And you'll have to act fast; otherwise you'll have no chance to make it on the gravy train. This helps to explain why touch controls may often seem half-baked. «You can't spend months on testing, because the next development in technology is already on its way. As designers, we often work on products that won't enter the market for a few years,» explains Sebastian Stroschein. The mills of designers grind slowly. «In the future, it should at least be possible to continually update the software to remove certain issues.» Tesla has been doing this for some time now. Kitchen appliances increasingly feature an Internet connection and may soon follow suit.
Where touch controls actually make sense
The professor of design by no means wishes to demonise all touch controls. In the case of fully automatic coffee machines, for example, touch screens make a lot of sense. «A few years ago, Jura built a non-touch display into its coffee machines. Everyone kept trying to control it via touch, since that's what we're used to.» In this case, having a touch screen makes sense. It allows you to easily select your preferred espresso, cappuccino or lungo. In Stroschein's eyes, the same goes for washing machines. «Using the classic large knob to select the programme you want is actually super annoying. You only use three or four of the washing machine programmes, anyway. Simply tying these to a touch panel saves a lot of time.» Stroschein isn't trying to write off touch controls in the kitchen or car on principle, either. New inventions and technologies could still make them work. Induction stovetops with touch controls are space saving, which makes them an attractive option for small kitchens. «You could add a hinge to the plate, for example. That way, you can simply flip it up when not in use and have more space to work,» Stroschein imagines.
The future of the kitchen
There's a trend towards simplifying the work done in the kitchen – there are touch screens that display the recipe, and food can be semi-automatically steamed and cooked. «While a return of the old control knob is conceivable, it probably won't be in its previous form.» According to Stroschein, having multiple controls, as has been the standard in cars for twenty years, is a possibility. In very high-end kitchens, we could even see a return to «real materials» like stainless steel for control knobs. He explains that nowadays a lot of materials are fakes. «For years now, Gaggenau has been covering plastic elements with metallised film to imitate stainless steel. The consequence is that grease and cleaning agents cause these elements to quickly become unsightly.» An easy-to-clean touch panel seems preferable to that.
So touch controls aren't totally useless. The main issue seems to be one of quantity and quality. Sebastian Stroschein advocates the well thought out use of touch controls – in places where they really make sense. «This trend of plastering a screen onto every product is absurd. You can find razors with displays and toothbrushes that come with an app. We sure have crossed into strange territory!»
---
Simon Balissat
When I flew the family nest over 15 years ago, I suddenly had to cook for myself. But it wasn't long until this necessity became a virtue. Today, rattling those pots and pans is a fundamental part of my life. I'm a true foodie and devour everything from junk food to star-awarded cuisine. Literally. I eat way too fast. 
---
These articles might also interest you
Skeleton Loader

Skeleton Loader

Skeleton Loader

Skeleton Loader

Skeleton Loader

Skeleton Loader