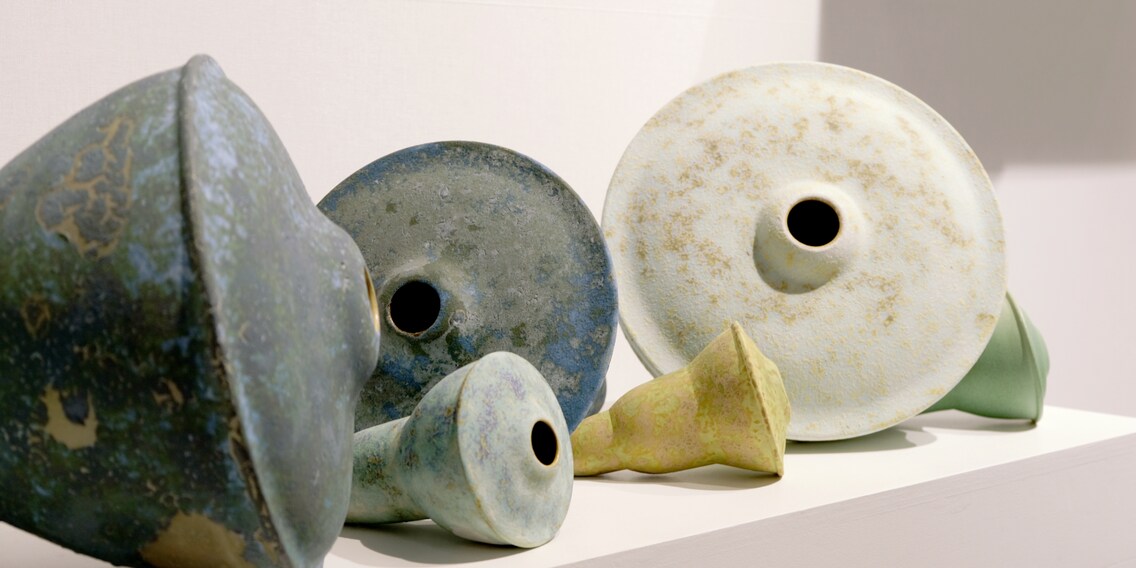 This article was translated automatically.
Stoneware objects with standing man qualities

Pia Seidel
Zurich, on 25.05.2022
Designer Daniel Cavey brings zest to the kitchen shelf. He makes stoneware storage jars that wobble but should never fall over.
I've always been fascinated by stand-up men, because they stand up on their own. Yet everyone knows how difficult it can be to find one's own center again. That's why I'm all the more impressed by the objects created by ceramic artist Daniel Cavey - especially his jar with "rocking jar" qualities. Instead of wood or metal, it's made of stoneware.
When I discovered the standing jar at the "Maison et Objet" furniture fair and was given permission to touch it, I had to poke at it right away. Before that, I couldn't believe it would catch. She is part of a whole series of such objects. The Blue Footed series consists of storage solutions that either want to wobble at times or seem to melt.
The North American designer, who lives in Italy, deliberately wanted to work with openings rather than closed forms. Because that challenges him more in his work and us as viewers. "I want to question the boundaries between artistic and functional pieces and deliberately test the viewer's perception," he tells me later in the interview.
An exploration of evolutionary biology - and appendages.
For one thing, the forms are inspired by animal motifs, images and symbols found in pre-Columbian, Central and South American ceramics. For another, the designer looked at biological processes. For example, how cells become limbs. He then translated this process into abstract forms. "In pre-Columbian ceramics, it was common to incorporate body parts such as legs and feet into an everyday object, even though they could break off quickly," Daniel explains. "But the closeness to nature was so great that it was risked. In some cases, there were molds of some cups or containers to quickly replace broken pieces."
Daniel has found that in today's European-influenced culture, we do things differently. We don't even buy a vessel with legs for everyday use. And if it does, it sits on the shelf instead of strutting across the kitchen counter. "We don't think of ceramics as movable pieces because we don't want them to break." That's true. I keep puzzling over whether the standing vessel without a ball inside will fall over. Or whether the bubble container called "Cluster Jar" will topple off the shelf with one wrong move and shatter into a thousand pieces.
But how do you actually clean the beautiful pieces? "It depends on what you put in it," he says, grinning. In other words: If you want to, you find ways. It's like with thin-necked drinking or oil bottles, where I can't really get everywhere with a brush either. Meanwhile, I know how to help myself. For example, I use special tabs to clean my water bottles thoroughly.
The magic of not always being able to identify things
So far, only one art historian has managed to decipher all the elements of his earthenware objects. I'm glad I'm different. Without concrete associations, it's more magical. The bubble containers seem like they're from another world. Or as if they had sprung from a 3D rendering. But Daniel explains to me that he draws them by hand, then sculpts them and fires them in a gas kiln with a self-built heat exchange system. The clay comes from Europe. "I get my material from the German clay company Witgert as well as Sibelco, a much larger company with quarries in the Westerwald and elsewhere." And Daniel built the kiln himself. "The ceramist Rolland Bottani was kind enough to show me his model, a Feller kiln. Actually, the Feller system was designed for wood stoves, but I adapted the heat exchanger and ventilation system for my gas stove. By preheating the air before mixing it with the fuel - in his case, liquid gas - in the burner, the process is now more efficient and environmentally friendly."
When I ask Daniel if his work is as well received by everyone as it is by me, he says, "People are either impressed by the objects or disgusted by them. Many associate them with something sexual." Admittedly, I can already see the similarity of the lids to nipples. At the same time, Daniel says, they are an example of how functional aspects have also influenced design. After all, a butter dish or a cooking pot has such similar handles. "Categorizing is a human trait, and I think it's nice to break away from that and stay away from trends."
The one bandwagon Daniel jumps on is going back to nature. He's fascinated by Baroque art and the different suggestions there were for things back then. "Today, forms are guided by economics," Daniel says. In woodworking, for example, there is much less waste in making straight, rectangular pieces than curvy ones, he says. With his designs, he wants to bring soft and playful shapes back home - without neglecting sustainability. People should be surprised again when they use things in everyday life. This has definitely worked for me. His stoneware containers put a smile on my face and make me want more designs with a stand-up character.
What kind of people are they who are constantly looking for better design solutions? Who design a new chair or table, even though there are already thousands of them? In this series, I'll introduce you to such people and their guiding principles. Follow me to keep the next post on your radar.
---



«There are only two ways to live your life. One is as though nothing is a miracle. The other is as though everything is a miracle. I believe in the latter.»
– Albert Einstein
---
These articles might also interest you
Skeleton Loader

Skeleton Loader

Skeleton Loader

Skeleton Loader

Skeleton Loader

Skeleton Loader