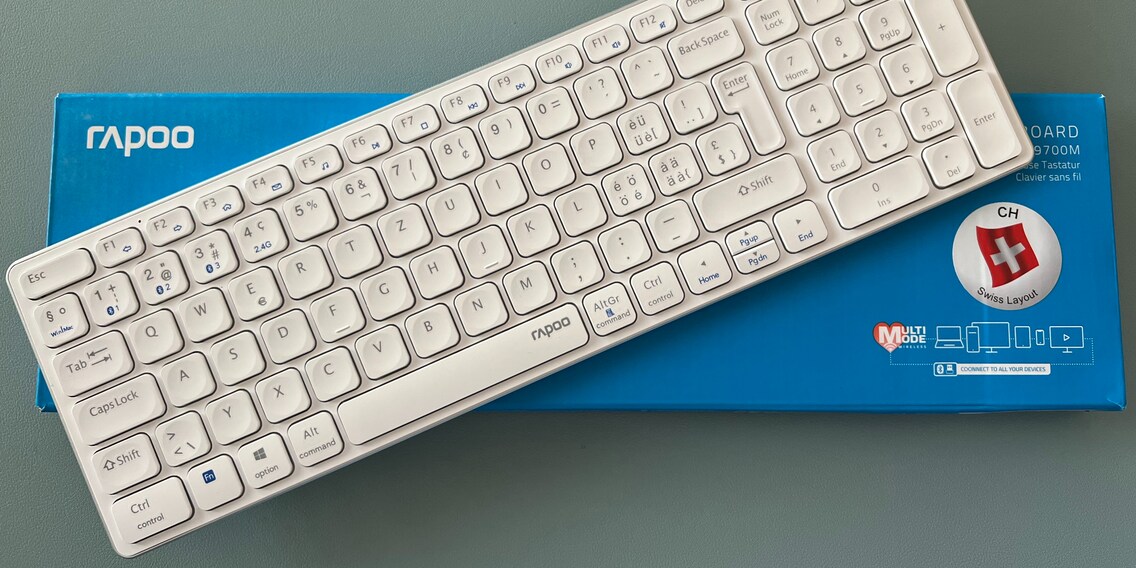 The Rapoo keyboard is a solid piece of kit – and cheap as well

Martin Jungfer
Zurich, on 03.06.2022
Translation:
Julia Graham
You don't always have to go for Apple, Microsoft or Logitech. Rapoo, the Chinese keyboard manufacturer, can now also play with the big kids, as my test of these office keyboards demonstrates.
It's that time again to put my workplace setup through its paces. Rapoo gave me a set of its latest keyboard creations in solid black and white to road-test. The E9700M and the mouse and keyboard set called 9800M are aimed at business users. The special thing about the E9700M model is its form factor. In spite of the number pad, it's distinctly shorter than classic 100% keyboards. Which is why I decided to focus on this fascinating model when I was doing my product test.
Both of the keyboards feature a flat design and a short key stroke. The similarities to Logitech's MX Keys are striking and probably not accidental. The models are hybrid, meaning they're suitable for both Windows and Mac users. You can switch between these two worlds with the Fn key on the top left of the keyboard.
Rapoo
E9700M (CH, Wireless)
Rapoo
9800M (CH, Wireless)
Up until now, my home workplace peripherals have been firmly in Logitech hands. I use MX Keys to input text, while the mouse is the MX Master 3. The Logitech keyboard only ousted Apple's Magic Keyboard after a bit of trial and error. On the other hand, saying goodbye to the Magic Mouse was easy. As far as I'm concerned, the MX Master 3 is the obvious front-runner in the office world.
ReviewOffice

Switching keyboards: why MX Keys are making Magic obsolete
Can Rapoo, a company based in the Chinese tech metropolis of Shenzen, stay level with established manufacturers in the West? Their peripherals have reportedly made them the market leader in China – both in terms of office products and colourful kits for gamers. Talking more specifically, in 2011 they reported a 43% market share in wireless peripherals in China (site in German). In 2015, the company started selling to Europe, which is considered «a central growth market» (site in German). However, things have quietened down over the last few years. Their last press release is from 2018, even on their own website.
Rapoo keyboards haven't been flying off our shelves so far, to put it mildly. Less than 1% of all keyboards sold bear the Rapoo logo. And there's no upward trend in sight.
In spite of all of that, the price tag of Rapoo keyboards essentially makes them interesting. They cost about a third less than comparable Logitech products. Does that mean they're also a third worse?
Good material, solid finish
The keyboards I put to the test look very sturdy at first glance. And at a second. The plastic housing on the smaller 9700 and the plastic-aluminium housing on the larger 9800 are stable. You can hardly bend or twist either of them. Apple's Magic Keyboards bend much more easily. And that's despite the fact that they're made from an aluminium block and will set you back more than twice as much. The plastic on my Logitech MX keys also creaks during the same bend test.
Rapoo only has one circumferential frame and a base plate made of aluminium alloy. All in all, the design is a success. Standing on five rubber knobs, the keyboard remains stable and allows you to type vibration-free on its chiclet keys. While I was testing it, I wasn't bothered by the fact the angle of the keyboard is quite flat and there's no way to set it higher. Besides, a flat angle of no more than 12 degrees is meant to be best (site in German) for the wrist.

However, Rapoo keyboards aren't quite perfect. For one thing, the USB-C port on the back of the keyboard isn't quite in the middle of the recess. So far, this hasn't posed any further problems, but I have to be careful when plugging in the cable to make sure it's sitting properly. The other issue – and this is the main flaw – is that the key names are only glued on rather than being printed in a sublimation process as normal.
This could be explained by the fact the required workload is high for a small market such as Switzerland – as is the local key assignment to program machines specifically for us. But by the same token, people buying keyboards here are also spoiled and used to a better standard. I'm in the same camp.
At least the stickers don't show any signs of wear and tear yet, or worse, signs that they're coming off. Even four weeks of intensive testing wouldn't be long enough to get a proper idea. But for now, the stickers are holding up. My editorial colleague David Lee told me he's got «decades-old keyboards» that are still top quality. Maybe that's a good omen for the Rapoo glue.
Features and connectivity
Rapoo isn't missing any of the useful options you'd reach for on a standard day in the office. You can connect the keyboards as well as the mouse via the Bluetooth 5.0 standard or less. There's also the option to connect them to your device via a 2.4 GHz connection thanks to a USB dongle.
Rapoo keyboards draw power from an in-built battery, which was still 90% charged after four weeks of daily use during this test. According to Rapoo, the in-built lithium-ion battery should supply electricity for up to 12 months and be «environmentally friendly». But it's not clear what that means in concrete terms. Maybe it's just that you don't have to buy batteries.
As with Logitech keyboards, you can connect the Rapoo model to as many as three devices at the same time and select them at the touch of a button. This is handy if you type up documents on different devices, for instance on an iPad and then the office computer. Pairing via Bluetooth is seamless each time. What's more, I didn't have any issues with the connection dropping.
There are also a few «multimedia hotkeys» you can use to control the volume of your Spotify playlist or skip songs. And of course, a few obligatory shortcut keys to your mail or the home screen.
Verdict: well made, but will the stickers hold?
The main advantage of the 9700 model is the form factor. You get a keyboard with a number pad and together it's still just over 36 cm long. This represents 7 centimetres of space saved on your desk. This made a small but significant difference for me. It means I don't bump into the right edge of the keyboard with the mouse as much as I do with my MX keys.
What also won me over was the typing sensation it offers as well as the aluminium body, which looks extremely solid. The keys are a little rougher than those on the MX or Apple's Magic Keyboard. The recesses are less pronounced than with my usual MX keys, but this doesn't affect the feeling when typing. I really like the incredibly flat angle of the Rapoo keyboard. You can also use it to write longer articles without my body getting tired.
I still haven't decided if I'm going to stick with the MX Keys or permanently switch over to the Rapoo 9700. When it comes to comparing them in everyday use, they seem almost identical to me. That's why I'll keep using both for the time being. If only because I want to test the lifespan of the key names that are stuck on. If you have faith in good adhesive and want to save some money, Rapoo offers a really good office keyboard.
Got questions about Rapoo keyboards? Or do you already have one and want to share your experience with it? Let me know in the comments below.
---



Journalist since 1997. Stopovers in Franconia (or the Franken region), Lake Constance, Obwalden, Nidwalden and Zurich. Father since 2014. Expert in editorial organisation and motivation. Focus on sustainability, home office tools, beautiful things for the home, creative toys and sports equipment. 
---
These articles might also interest you
Skeleton Loader

Skeleton Loader

Skeleton Loader

Skeleton Loader

Skeleton Loader

Skeleton Loader