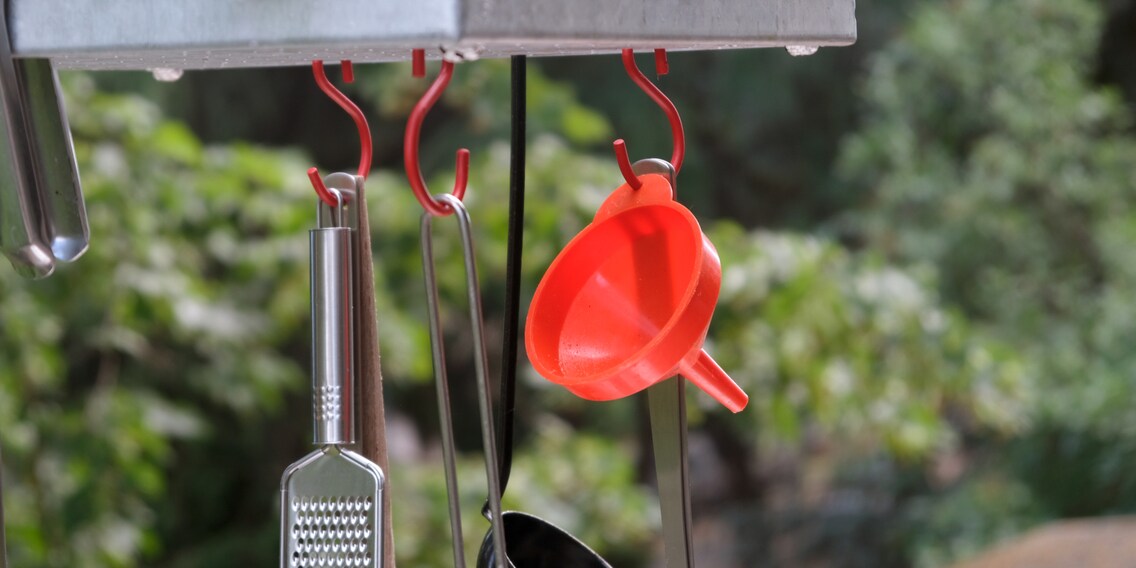 This article was translated automatically.
This is what our kitchens could look like in the future

Pia Seidel
Zurich, on 08.07.2022
To keep up with the times, design research studio Chmara.Rosinke has designed ergonomic and mobile kitchens that make you want to say goodbye to standard built-in kitchens.
Colorful, freestanding, curvy and made for people who cook coffee more often than elaborate dishes. This is the "Neo Modernist Kitchen" and just one of the forward-thinking kitchen concepts presented by Chmara.Rosinke at the Alcova exhibition at the recent Milan Furniture Fair to break the current norms in kitchens in terms of design, workflow and space.
Experimental kitchens to challenge the future of cooking
The Berlin and Vienna-based studio was founded by Ania Rosinke and Maciej Chmara. After studying architecture and design, the creative minds aspired to "decode pleasure and deliver design solutions in the context of food and contemporary culture," as they say. That's why they spent more than a decade studying the history of kitchens and used their findings to make new proposals for tomorrow's kitchens. The "Neo Modernist Kitchen" is aimed at design enthusiasts and singles like me.
The kitchen features a graphic style reminiscent of Bauhaus and offers just enough space for preparing small meals or drinks. Because it is mobile like a piece of furniture and can stand freely in the room, it clears the way for other things. An easel, a drum kit, or whatever else is hard to fit in the apartment could stand next to the kitchen this way.
Next to the "Neo Modernist Kitchen" is the customizable kitchen "NPK01" made of stainless steel and plywood. In keeping with the current Curvy Design living trend, it has a rounded work surface that is designed to simplify movement.
There's also a ceiling bar for hanging utensils, storage space for fermenting food and an oven on casters. "The design language is kept graphic, light and elegant, reducing the objects to an archetype," says the duo, who also point to their source of inspiration: Otl Aicher's book "The Kitchen for Cooking," in which the graphic designer and author makes design suggestions far removed from uniform built-in kitchens.
The design "OFIS" - "Office for important stuff" - is also reduced to the essentials. It refers to the pandemic, during which the kitchen became the office for many, and consists of a movable island with a sink and a cooktop.
The OFIS collection also includes furniture such as an office chair or desk that can shine side by side. Another concept that shows how we could use spaces differently if kitchens were like furniture. Without having to neglect the look, because all the pieces from the collection share the same design language. Therefore, in the eyes of Ania and Maciej, the kitchen will not disappear for a long time. But their ideas give me hope that at least dusty fitted kitchens will disappear. So we could explore not only new ways to cook, but also to live.
---



«There are only two ways to live your life. One is as though nothing is a miracle. The other is as though everything is a miracle. I believe in the latter.»
– Albert Einstein
---
These articles might also interest you
Skeleton Loader

Skeleton Loader

Skeleton Loader

Skeleton Loader

Skeleton Loader

Skeleton Loader