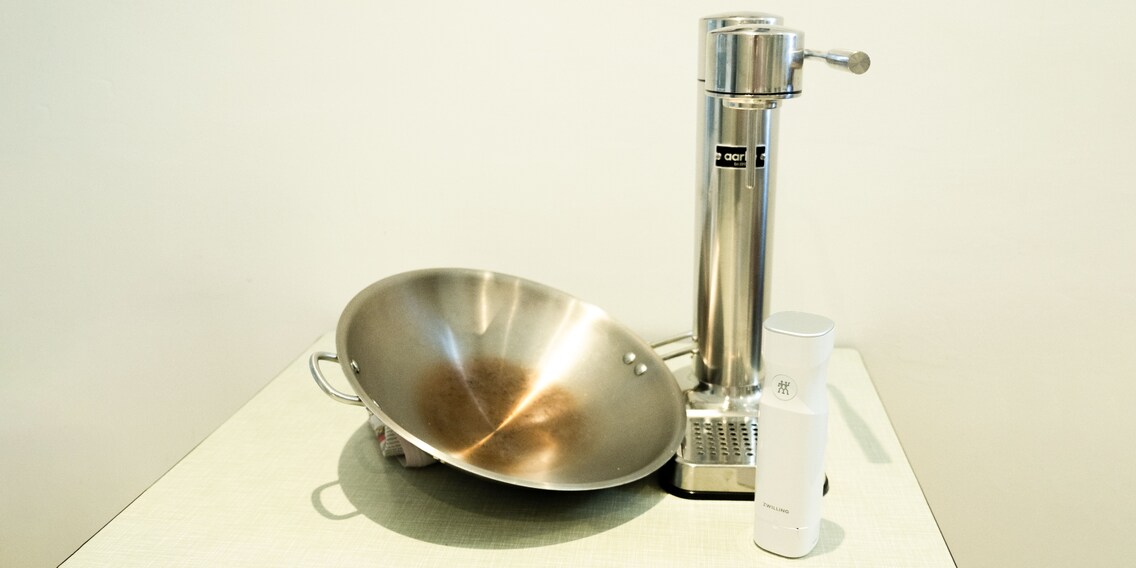 Water, woks and vacuum packing: three short reviews for summertime
Simon Balissat
Zurich, on 13.07.2022
Translation:
Katherine Martin
Not going away this summer? No problem! Thanks to these three household items, there's a wave of holiday spirit coming nonetheless. I'll be putting a sparkling water maker, a wok for an induction hob and a vacuum system through their paces.
My plan for the summer holidays goes a little something like this: vacuum seal the rice I had yesterday, use the wok to turn it into fried rice, then wash down the feast with «home-brewed» sparkling water from a highball glass. Sitting on a stool made of a repurposed beer crate, it feels exactly like visiting a food stall under the railway line in Tokyo. Seeing as I've cunningly taken three products that I was supposed to test ages ago and summarised them in one article, it's time to sit back and relax.
Aarke sparkling water maker
If you've ever ordered sparkling water abroad, you'll know the score: Swiss water isn't fizzy enough. Even water labelled «sparkling» has, at best, about as much oomph as a card game at a nursing home. It's the height of tastelessness when water is sold as «légère» (light) and has as much fizz as an open beer that's been sitting in the fridge for three days. Nip across the border, however, and the bubbles will practically set your throat on fire, the first sip ripping its way out as a belch before the second has even reached your stomach. Exactly how sparkling water should be. So, for that holiday vibe, I take the plunge with the Aarke Carbonator and churn out my own sparkling water. Incidentally, the first test device was faulty and wouldn't stop bubbling.
My second test device runs flawlessly. Screw in the gas cartridge at the back, do the same with the water bottle at the front, press the lever a couple of times and your sparkling water is ready.
For a refreshing summer treat, pour two fingerbreadths of Japanese schochu into a glass, add a couple of dashes of lemon juice, fill with ice and sparkling water and you've got yourself a highball.
Electrolux induction wok
While we're on the topic of Asia: the selection of woks for regular ceramic or induction hobs is negligible. No surprises there, given that genuine cookware from the Far East requires a very hot flame and not a lukewarm ceramic stove. Most woks are also the wrong shape for the hob, with flat instead of rounded bases. Electrolux has now launched a wok for the induction stove, which I vilified until I got the hang of using it.
Place the pan and its metal stand on the stove, and the induction plate will heat up from below. Consequently, the sides of the wok don't get particularly hot – which is actually supposed to be the goal. The wok should be nice and hot all over so that vegetables, rice or noodles can cook by way of constant stirring, charring slightly at the same time. This is the make or break when it comes to the taste. The first results with the Electrolux wok were sobering. The fried rice was completely burnt onto the bottom of the wok, while the sides of the pan didn't heat up properly. As it turned out, this was my mistake. I didn't stir it enough, and the wooden spoon I was using was too puny. Only by bringing out the big guns in the form of my skimmer spoon was I able to achieve appealing results.
If you're a stickler for spotless kitchen utensils, this wok isn't for you. Right after the first use, there was some discolouration I couldn't get rid of. This doesn't bother me at all. Quite the opposite: I like the wok's weathered look.
Zwilling vacuum sealer
Astute readers may be wondering what vacuum systems have to do with going on holiday. With Zwilling's sealer, you can seal the air valve vacuum bags contained in the set, as well as plastic or glass tubs with a valve in the lid. The latter keep your on-the-road snacks fresh when you're taking a family trip by car or train. Because the vacuum stick is no bigger than a hand mixer, it's brilliant to take with you on vacation. This'd definitely please my esteemed colleague Martin Rupf.
Background informationVehicle

10 packing tricks to avoid a car boot fiasco
For my staycation, I need the vacuum containers for leftovers (such as cooked rice, which will be turned into fried rice the following day) and vacuum bags for sliced fruit or vegetables (I recommend tropical fruit to get that holiday feeling). That way, it all stays fresh for longer. The process works just as it should. One of the bags was stained by my frozen goulash, but other than that, I don't have any complaints about the containers. It's pretty simple: pop the food into the tub or bag, place the vacuum stick over the valve and suck out the air. The bags have a zip lock; the tubs have a rubber valve which lets in air upon opening the tub.
The vacuum stick has a rechargeable battery. If it runs out, I need to charge it on the lid, which brings the vacuum sealing process to a halt. This is unfathomable. And if that wasn't enough, the stick has a micro USB and not a USB-C port. On mobile phones, micro USBs were replaced by USB-Cs as many as four years ago. In 2022, this development should've hit kitchen devices too.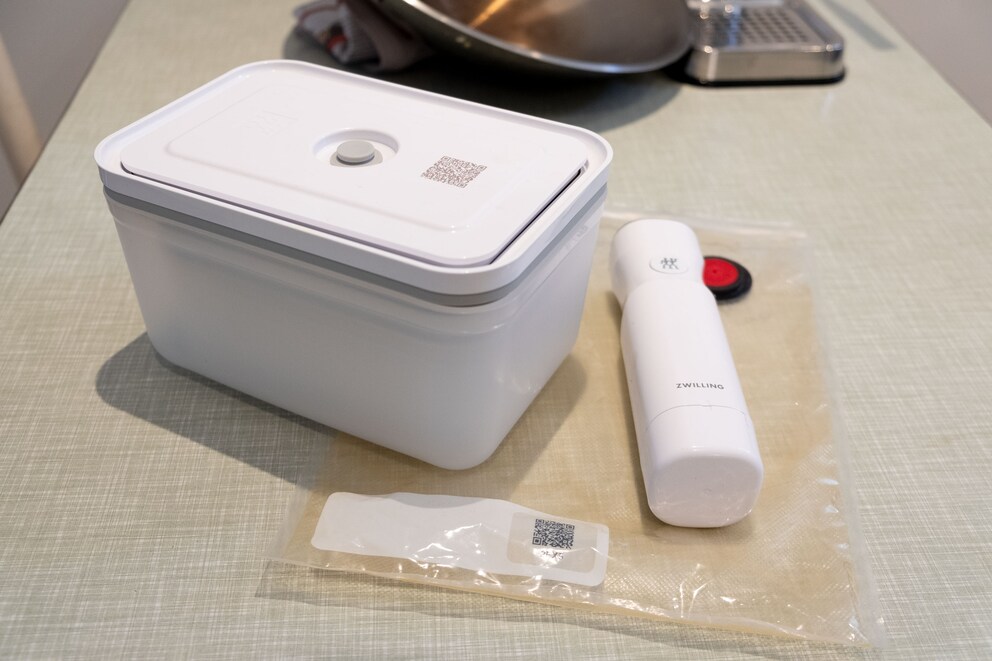 The Zwilling app leaves me completely cold. I could use it to scan a QR code on the vacuum bag and virtually label my frozen sausage, complete with use-by date. A classic problem that isn't actually a problem at all since pen and tape are easier, more efficient and analogue.
What's your kitchen companion this summer?
Have you been inspired by my random trio of kitchen favourites during my laborious attempt to imagine that I'm in Asia? Then let me know which devices you're going to use to turn your kitchen into a summer paradise.
---
Simon Balissat
When I flew the family nest over 15 years ago, I suddenly had to cook for myself. But it wasn't long until this necessity became a virtue. Today, rattling those pots and pans is a fundamental part of my life. I'm a true foodie and devour everything from junk food to star-awarded cuisine. Literally. I eat way too fast. 
---
These articles might also interest you
Skeleton Loader

Skeleton Loader

Skeleton Loader

Skeleton Loader

Skeleton Loader

Skeleton Loader