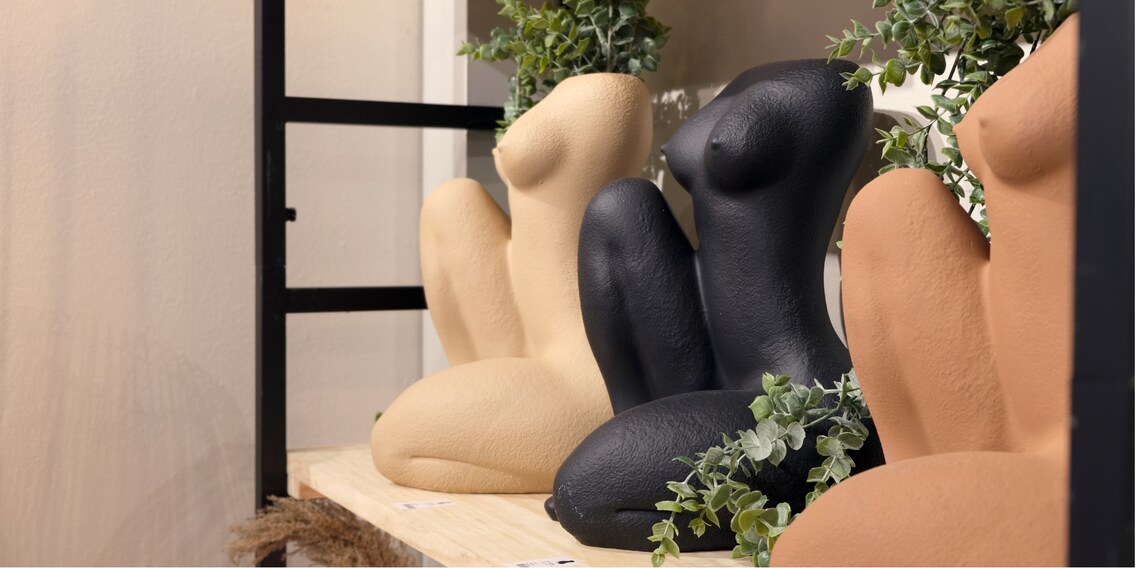 This article was translated automatically.
3 decor trends that are catching on

Pia Seidel
Zurich, on 04.04.2022
At the Paris fair "Maison et Objet" there was a lot to see, but not much new. Why I like it and why it's not too late to get yourself a trendy piece.
Although I had to skip the international furniture fair "Maison et Objet" for three years, I don't seem to have missed any big decor trend. Chunky, color blocking and bodyshape design were already trends in the design language of the presented collections last time. And other trends that have emerged, such as homemade candles, have not passed me by either. On the one hand, this shows that the World Wide Web has done a good job of keeping me up to date despite the pandemic. On the other hand, it keeps me aware that interior design ticks slower than fashion. And that's a good thing.
1. chunky design: the more mass, the better.
What the sneaker with a chunky sole is to fashion, the coffee table with chunky legs is to furniture. One like that of designer Hamilton Conte. His coffee table is a colossus of wood. In my eyes, it is more like an architectural work of art and makes a powerful impression. For this very reason, its silhouette is probably no exception.
Chunky design radiates strength. Even small objects look big with it. The tea light stands of the Dutch brand Lemon Lily are an example of this. Compared to small candles, they are real giants. Some models reach up to over half a meter above the floor. Others remind me of building blocks from my childhood. None of these pieces look particularly delicate, but they are guaranteed to attract attention.
Even chunky designs like the lamp from Maison de Vacances do away with minimalism. Why shouldn't a table lamp come with an elephant foot base either? In any case, the brand is more likely to accent the room with it than with a tiny sparkle.
2. color blocking: dissimilar but complementary
Someone once told me that pink and orange bite each other in an outfit. But the interior design world doesn't care. When two colors clash, a contrast is created between them, which designers:inside consciously use in the design of products. They use it, for example, to make something otherwise inconspicuous more exciting. In the case of Hübsch 's basket, the round edge becomes a lilac-colored bling in this way.
Because I don't like to choose just one color, color blocking seems like a good compromise. The candles from Broste Copenhagen even combine rich and pastel tones with each other. This makes the wax figures something special.
Sophie Lou Jacobsen 's cocktail glass also proves how well two mismatched colors can blend together. Even more so when the material shows through.
3. bodyshape design: adaptable shapes.
Last year, designer Anisse Kermiche 's plump butt vase went viral. Since then, numerous bodyshape vases like the one by Present Time have been circulating. The torso vases round out bouquets of flowers and their organic shape, making it hard for me to distinguish them from a work of art.
Bodyshape design inspires imagination. Whether it's a torso, a face or a hand, the unusual shapes add an artistic touch to objects. The golden nipples on the lamp by Jordane Somville, for example, make you think of bodies, but the ceramic shade around it reminds me of shells at the same time. However, the designer reveals to me that it is actually the imprint of a breast - her own, to be precise. In the wake of the #FreeTheNipple movement, which protests the censorship of the female body on social media, she has turned it into a design piece that is popularly viewed and liked there.
Regardless of what I see in the shape, the designs are one thing above all: easy to integrate into interiors. With their curves, the decorative body shapes just nestle into their surroundings and instantly make the space feel more alive.
Because of such advantages, the trends in home accessories and furniture will certainly remain current for a while. So it's high time to embrace one of the hottest decor trends. The novelties shown are not yet available - but their chunky, multicolored or curvy harbingers are.
---



«There are only two ways to live your life. One is as though nothing is a miracle. The other is as though everything is a miracle. I believe in the latter.»
– Albert Einstein
---
These articles might also interest you
Skeleton Loader

Skeleton Loader

Skeleton Loader

Skeleton Loader

Skeleton Loader

Skeleton Loader