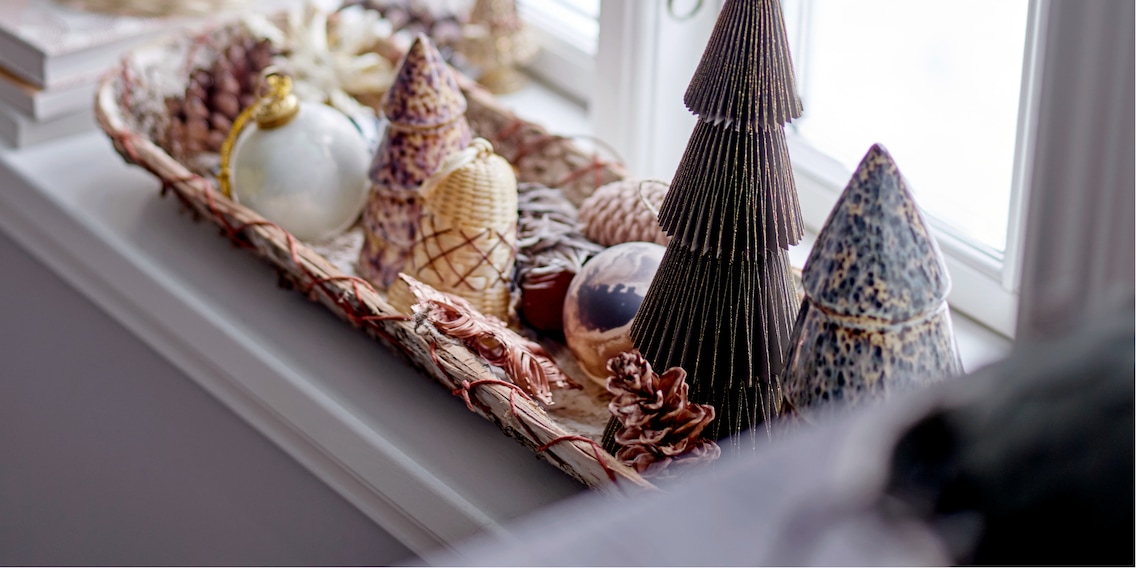 Forget the classic red-green combo: 10 creative Christmas decoration trends

Pia Seidel
Zurich, on 27.10.2021
Translation:
Julia Graham
In 2021, it's twist candles, drained fir and radiant rhinestones that are bringing this year's Christmas spirit. At least, that's the case if you're going according to the interior trendsetters in northern Europe.
Christmas is within reach, but my decorations aren't. They're still in the basement. Before I go and get them, I'd like to think about a concept for my design this year. My favourite source of inspiration is Scandinavian brands. Bloomingville, Broste Copenhagen and Ferm Living are masters of decorating with style. Here are the ten Scandi decoration trends I spotted for the run-up to Christmas.
1. The more, the merrier
If you're anything like me and have a hoarding habit, it's finally paid off. Now we can get all our candlesticks out the cupboard. Rather than placing them individually around the flat, we can now arrange them in big groups on a bench or window sill, just like Bloomingville. This hack helps even the smallest decorations come into their own. As part of this trend, you're allowed to mix colours, textures and materials. It doesn't matter if your little trees are made of wood or ceramic – the set-up thrives on variety.
2. Not your usual greenery
You don't always need to go the whole hog and get an entire Christmas tree. Scents, lights and cherished decorations are what create the Christmas spirit. Bloomingville shows how you can decorate a berry bush with baubles and ornaments. This alternative is quite a bit more environmentally friendly and mixes things up a bit. The same goes for the other examples:
It looks best when you accentuate individual branches in neutral vases or baskets, then complement them with a small, round blanket that helps to frame the arrangement.
3. Good-mood Christmas
Bold colours are on trend. The brand Hübsch carefully curates and combines a variety of candleholders in light and dark colours. The creative minds behind the brand also play with various sizes of holder and different materials. It's slightly unusual, but I like it. The prosaic red-green combination year after year gets a bit tiresome. Having a higgledy-piggledy, multicoloured house like Pippi Longstocking is a welcome change. The other great thing about it is that you can use something from your decorations box that never seemed to fit into your concept before.
4. Flowers in winter
The approach at Hübsch is to make things more colourful with flowers. Rather than standard fir green, the brand has opted for pink Advent wreaths made of a flowering plant commonly known as baby's breath. Even pink looks Christmassy when you pair it with a golden tray and a bit of candlelight. Find out what other kinds of flowers are suitable for decorating without needing water:
Alternatively, grab a bouquet that's made up of colour coordinating flowers and make them into a wreath or some other natural creation.
5. Paper decorations
At Ferm Living, you won't find any grandiose baubles festooning the tree. Instead, the brand has gone for modest paper ornaments. They have the decisive advantage of withstanding any accidents when they're dropped on the floor. You can either buy the paper decorations or make them yourself from scraps of paper. And as the ornaments are timeless, you can continue using them long after Christmas – assuming you make them in less seasonal designs.
6. A festive twist
Swirl candles are a perennial hot topic. Last year, I even DIYed them:
So, this year I'm allowed to be lazy. Bloomingville and many other brands created their own candles so you don't have to get yourself into a twist making them. The sculptural nature of them refreshes even the most boring candlestick.
7. Spiky matters
This year, it's not just dried flowers that get Santa's seal of approval. Plants are also on the 2021 nice list. The brand Serax has even made succulents festive. Normally, I move my plants around at Christmas. It's all a question of getting the right style and Advent feel. By surrounding them with things like candles and Christmas stars, the perfect scene is set. Adding red plants into the mix also brings a touch of warmth.
8. Classics reimagined
Talking of Christmas stars, all different shapes and sizes are now allowed. The main thing is you have some in your decoration collection. It's up to you to decide if you want paper or bamboo stars. Ferm Living revealed a design with fewer spikes, while Bloomingville showcased stars with a modern touch, made from new materials such as bamboo.
9. Change of scene
This winter you can safely swerve clear of spruce trees and alternatives. House Doctor's example highlights that Christmas tree decorations can sparkle just as well in other places. Think a decorative bowl or a raised tray. The choice selection of baubles works well on tables or window sills.
10. A bit of bling
2021 Christmas trends are for kitsch decorations on a big scale. House Doctor, for instance, opted for lovely, sparkling hanging decorations. A bit of rhinestone never hurt anyone. They reflect light in a subtle way and guarantee that bit of glitter that's essential in the run-up to Christmas.
---



«There are only two ways to live your life. One is as though nothing is a miracle. The other is as though everything is a miracle. I believe in the latter.»
– Albert Einstein
---
These articles might also interest you
Skeleton Loader

Skeleton Loader

Skeleton Loader

Skeleton Loader

Skeleton Loader

Skeleton Loader