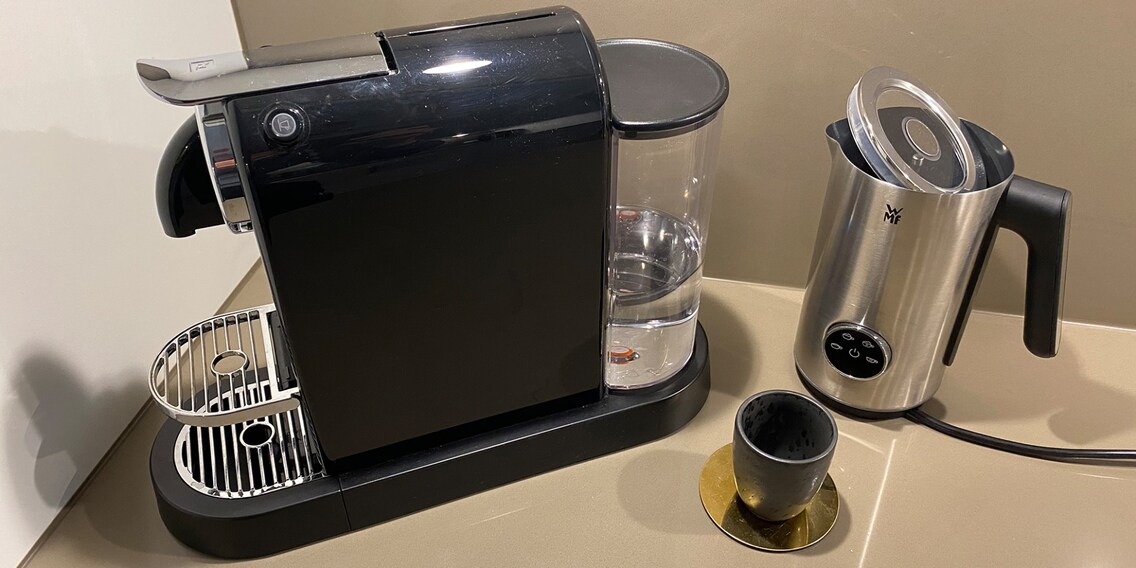 How to clean your coffee machine

Raphael Knecht
Zurich, on 19.07.2021
Translation:
Octavia Hurst
Many people can't start the day without it: coffee. To make sure it gets really hot and smells great, you need a well-maintained coffee maker – and that includes descaling it.
I don't drink coffee, but I do notice how invigorating the elixir can be. After two or three cups, the restless sleep is overcome and the throbbing headache or bad mood fade away. The more time you spend working from home, the more coffee you drink and the more strain you put on your coffee maker. Neglecting your coffee machine can harm the beverage in many ways: it no longer smells the way you're used to, the coffee turns into a lukewarm brew, or the coffee maker stops working completely. It's time to decalcify. But descaling is only half the battle. It also takes thorough cleaning to enjoy your coffee again.
Know-howHome

How to clean your fridge properly
What you'll need
For descaling, you either need a chemical descaler or you make do with home remedies. I've generally had better experiences with chemical cleaners, as home remedies often leave a smell lingering in the machine much longer than their chemical counterparts. If you still want to go the home remedy route, you'll need vinegar, citric acid, denture cleaner tabs or baking soda. You should also have a microfibre cloth on hand to wipe the coffee maker and kitchen paper to dry it afterward. For exterior cleaning, an ordinary cleaning cloth and dishwashing liquid can be helpful. You'll also need a large cup or bowl in which to collect the water that – along with the descaler – passes through your coffee maker.
How long it takes
If your coffee maker has a descaling program, it will take you at least as long as the programme takes. Usually about 30 minutes. If you don't have a descaling programme, put the descaler into the water tank, let it run through once and rinse with clear water. This can also take up to half an hour. Descale your coffee maker every three to four weeks if you use it frequently. If you use the machine only rarely, it's enough to descale it every two months. It also depends on the hardness of the water. General advice: the harder your water, the more often you need to descale the machine. You can achieve softer water with water filters. Words of advice: water that is too soft – especially in capsule machines – can lead to insufficient pressure being built up due to the lack of magnesium in the water. If possible, wipe and dry the outside of your coffee maker every evening after daily use. This shouldn't take you more than a few minutes. Deep cleaning – including the water tank, drip tray and other accessories – takes about an hour. Do this every three to four weeks, if you use your machine frequently. If you rarely use your coffee maker, thorough cleaning every two to three months is sufficient.
Decalcifying
The shiniest coffee maker is worth nothing if you don't descale it regularly. The coffee won't taste good. Lime changes the taste and reduces the performance of the machine. The coffee no longer gets hot properly and there isn't enough water flowing through the pipes. There are several ways to get rid of the white deposits.
Chemical descaler
Not necessarily the most ecological, but the most efficient weapon are chemical descalers. They're specially designed for coffee machines and ensure that no funky taste remains after cleaning. Since they're specifically made for coffee makers, things such as steam wands or filters aren't damaged by the solvent. They always come with a dosage indication, so you can't go wrong – whether your machine has a descaling programme or not. Although I don't drink coffee, I still regularly descale the coffee maker in my household. The best product I have used so far is Ceragol. Compared to many products provided by the coffee machine manufacturers, this product is available at a decent price and the results are flawless. Of course you can use other descalers, the principle is the same for all of them: pour the correct dosage into the water tank, run it through the machine and rinse.
Citric acid
You need to be careful, because not all coffee machines tolerate acid, especially when heated. Read the operating and care instructions for your coffee maker before using citric acid to descale it. If the machine and accessories tolerate acid, mix two tablespoons of it with a litre of water. Pour the mixture into the water tank and let it run through the machine – without coffee powder, beans or capsules, of course – until the tank is empty. After that, you need to run at least one full tank of clean water through the machine before making your next coffee. To make sure there are no more deposits in the machine, run a second tank of water through the coffee maker's nozzles and filters.
Vinegar
Vinegar is somewhat less efficient than citric acid, but it's also less aggressive on the machine parts. It's best to mix it in a ratio of 1:1 and run it through the machine via the water tank. You'll need more than one or two tanks of water for rinsing, because the smell of vinegar is much stronger and more persistent than that of citric acid. Wipe lime stains and other deposits that have accumulated on the outside of the machine with the vinegar solution and a microfibre cloth. Do the same with citric acid. Once again, be careful, because not all materials withstand citric acid. If in doubt, refer to the manual or refrain from using it. Otherwise remove these stains with dishwasher liquid and a cleaning cloth without damaging the machine.
Denture cleaner
Denture cleaner tabs dissolved in water descale your coffee maker. The advantage over vinegar is that the tabs don't have a strong flavour of their own and don't change that of the coffee, even if it hasn't been rinsed out completely after descaling. In addition, denture cleaners are less aggressive towards nozzles, filters or other plastic parts. With one litre of water in the tank, you need two tabs for descaling. Don't dissolve the tabs in the water tank, but in a separate bowl to avoid damage to the machine from the dissolving process. Then rinse with at least one tank of clean water. In some cases, denture cleaning tabs can cause discolouration. If the coffee machine surface is white or light-coloured, take care to avoid splashing when descaling.
Cleaning
Descaling is an important part to get the perfect coffee. Cleaning the machine plays a major part, too. And it's a well-known fact that appearance factors into enjoyment as well. Therefore, the outside look of your coffee machine is just as important. It's crucial to clean the individual parts of your machine. For example, the water tank, drip tray, steam wand, portafilter, and brewing unit.
Water tank
Before cleaning, empty the water tank. Some coffee makers have dishwasher safe tanks – this information is in the manual. Otherwise, wash the water tank by hand, with a cloth and some dishwashing liquid. If you use an automatic coffee maker, remove all parts that can be removed and wash them with detergent and warm water as well. Here, too, certain parts can be cleaned in the dishwasher. Also, if you use your coffee maker frequently, I recommend that you wash out the water tank every evening and fill it with filtered water the next day.
Steam wand
If your fully automatic machine or your portafilter has a steam wand or a milk frother, remove dried milk with a damp cloth. If it doesn't all go away, run some steam through the nozzle before trying again with the cloth and warm water. By doing so, the inside of the wand is rinsed and cleaned at the same time. Again, I recommend you wipe the wand clean after each use to avoid buildup and crusts. Otherwise, the foam quality and the efficiency of the coffee machine will suffer.
Accessories
Other accessories are best cleaned with a cleaner that's not too harsh or with ordinary dishwashing liquid and warm water. For surface cleaning, use a microfibre cloth to get rid of any remaining streaks and stains after cleaning. Never use benzine or similar cleaning agents, as they may dissolve the paint or remove the shine. Also never use water for the parts where the beans or coffee powder is in. The moisture will cause the steel grinder to rust and stop working. Try using a small hand vacuum, brush or household paper to loosen the dirt. The sieve of the portafilter must be counter-rinsed with a so-called blind sieve to get it clean again. In addition, use coffee fat solvent to get the portafilter extra clean. However, make sure that the handle doesn't come into contact with the cleaner. If you follow these tips and tricks, your coffee machine – regardless of whether it's a portafilter, fully automatic or capsule machine – will continue to serve you well for a very long time.
---



When I'm not stuffing my face with sweets, you'll catch me running around in the gym hall. I'm a passionate floorball player and coach. On rainy days, I tinker with my homebuilt PCs, robots or other gadgets. Music is always my trusted companion. I also enjoy tackling hilly terrain on my road bike and criss-crossing the country on my cross-country skis. 
---
These articles might also interest you
Skeleton Loader

Skeleton Loader

Skeleton Loader

Skeleton Loader

Skeleton Loader

Skeleton Loader