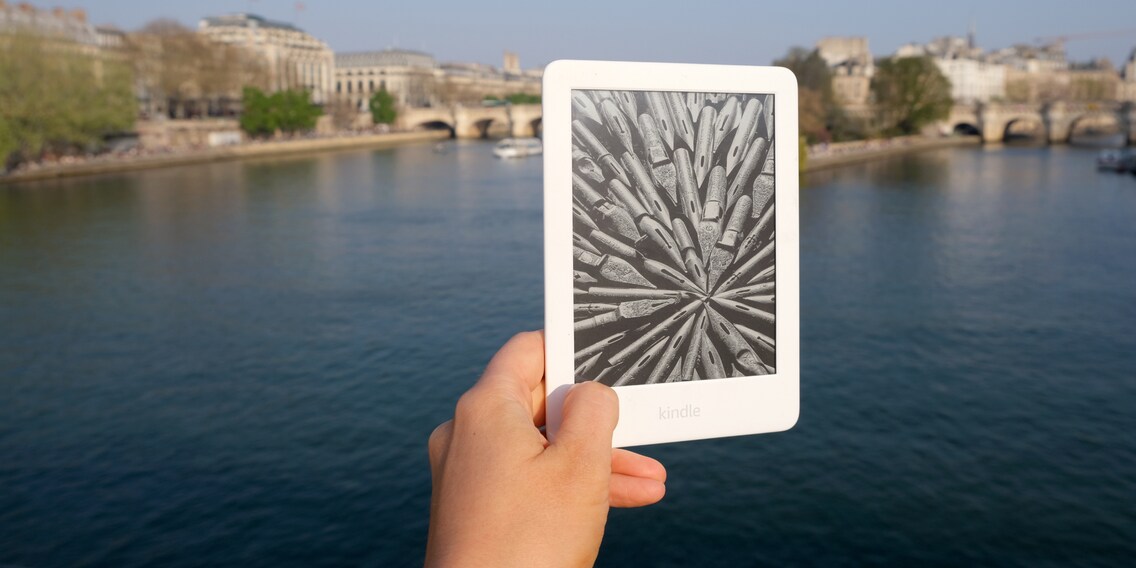 Why I don't want a bookcase

Pia Seidel
Zurich, on 19.05.2022
Translation:
Julia Graham
Order always reigns in my bookcase – because I don't have any books. Magazines have advantages over these tomes.
I don't have to tidy my books away because, thanks to my Kindle, my paper companions travel round the world with me. As electronic versions, they can even fit in the smallest handbag without my arm falling off under the weight. At the same time, it means I get to keep my shelves at home free and automatically tidy. Because I always think bookcases look messy. It doesn't matter how carefully it's been curated. I don't like different sizes and book cover colours clashing. But what bothers me more than anything is the books that lean to one side and take up unused space in between.
When you have magazines, it looks completely different. They have so many merits over books.
They provide a uniform picture
Books always come in different sizes, the covers in varying colours and the titles in all kinds of fonts. That stresses me out. How can I bring in some visual calm? By turning all of their backs to the wall? But even arranging books by shade in a rainbow is too colourful for me.
My colleague Natalie Hemengül does have a trick up her sleeve for filling those book gaps. She places books on the shelf horizontally, but I don't even get to that stage. Even before I buy my bookcase, I make sure to get one that will accommodate piles of books or magazines in a DIN A4 size. All while leaving a gap at the top for new editions and enough space horizontally that I can use it to its full potential. This also helps to create a coherent overall picture.
My magazines go together right from the start. It may be a coincidence, but they're mostly in DIN A4 format and the back of the magazines are uniform and mostly white when they're from the same publisher. That's what lets them become one with their surroundings. When magazines are more colourful, their back is so slim that it's hardly noticeable. This means I can fill up my shelves evenly and easily stick to a colour scheme.
They make art more accessible
I don't mind if words are on real or electronic paper. But when it comes to pictures, it's important for me to see them printed out. Because they're bigger, they don't go down with one click or with the infinite scroll. They seem simple. But the feel of paper brings them more to life. By contrast, when it's words on paper, they dance around less and remain trapped in their format. If I like a photo or an illustration, I cut it out, frame it and hang it up. It's not like with bound illustrated books. With everything else, there's nothing stopping me cutting out bits here and there. Snippings have meant I've already been able to afford many a work of art.
Survey
How do you prefer to read books?
With the e-book reader.
What a question – printed!
The competition has ended.
They stimulate creativity
I've already used newspaper clippings to make «art» myself. Or rather, collages to be more precise. At the start of the pandemic, I experimented with different techniques (article in German) and even made my dream interior, which is still hanging on my wall to this day. Magazines provide the material that you can use as creatively as you like. It's as though they were designed to make birthday cards, collages or objects out of them.
They can replace furniture
As magazines are usually larger than traditional books, when they're stacked up, they serve as a shelf space. You can use them as a self-designed coffee table or plant stand. Each individual magazine is an opportunity to decide the perfect height or colour of your stand. You can even wrap magazines in paper, label them, stack them and, as a special finishing touch, add a tray on top. If you don't want to create stacks yourself, you can get a newspaper rack with an appealing design to do the job for you. Some of them even look like sculptures. Rather than them taking up an entire wall like a bookcase, you can place them throughout your flat and use them as decoration.
They keep the press alive
When it comes to print media, I find it difficult to give magazines away or replace them because they're already on the endangered species list. To give you an example, the shop called Print Matters that sold independent and gorgeous-looking magazines in Zurich had to shut last year (in German). But on the other hand, if we're talking about books, I don't mind giving away a copy right after reading it or swapping it for the electronic version. This stops me ending up with a «chaotic bookshelf», as my colleague David christened it, with titles that are easy reads for when you're out a cafe, at the pool, in Paris or pretty much anywhere.
Survey
Do you own a bookshelf?
The competition has ended.
*Chaotic, chronological, alphabetical; by colour, by size, by mood; geographical, autobiographical, thematic. We all have our own ideas about how books should be arranged on a shelf. We, the Digitec Galaxus editors, are allowing you a sneak peek into our very own bookshelves.
Find all published articles from this series here:
---



«There are only two ways to live your life. One is as though nothing is a miracle. The other is as though everything is a miracle. I believe in the latter.»
– Albert Einstein
---
These articles might also interest you
Skeleton Loader

Skeleton Loader

Skeleton Loader

Skeleton Loader

Skeleton Loader

Skeleton Loader